Proceeds from Rolling Stone Australia and Bonds' new Father's Day calendar will go to Support Act. Featured artist Big Twisty pays tribute to his greatest supports.
Rolling Stone and Bonds recruited several prominent Australian musicians like Big Twisty for their Father's Day calendar, which highlights Bonds' new Total Package™ underwear. The Total Package™ undies are distinguished by their Total Support Pouch™, ensuring neat downstairs organisation.
Proceeds from the calendar will go to music industry charity Support Act, which delivers crisis relief services to musicians and other industry workers. The featured musicians, including members of Short Stack, Clowns, The Cat Empire and Big Twisty & the Funknasty, have taken this opportunity to doff their caps to their greatest supports—i.e., those who've helped grow their careers and looked out for their overall wellbeing.
Dom Littrich is the day-clothes name of larger-than-life MC and bandleader Big Twisty. Here, Littrich speaks of the support he's received from his manager Kirsty Kassabis (Mushroom Group) as well as his band mates in the Funknasty.
Big Twisty's Greatest Supports
In early 2021, I was managing Big Twisty & the Funknasty myself and then I got an email from Kirsty saying that she'd been watching the project grow and that she'd love to be a part of it. She was also kind of keen to work with me personally, doing my own socials and covering everything I do as one, which has been amazing
It's blossomed into this thing where Kirsty's my manager, but it's also just such an amazing friendship. I'm performing at her wedding. We've just become really tight, good mates, which is such an awesome thing.
Even if it's not business related, we'll call each other just about life issues. Often Kirsty will call up and we're meant to be talking work stuff and then we'll chat for about half an hour about our life and be like, "Oh, wait, what are we calling for?" It's a really cool relationship.
Before Kirsty, there was a few people that came along that were interested in the project and I'm glad that I held off and just waited. A lot of people were promising a million things, but learning through the industry, having been in it so long, you can kind of sniff it out a little bit. So, I held off and I'm really glad I did because it's all come together perfectly.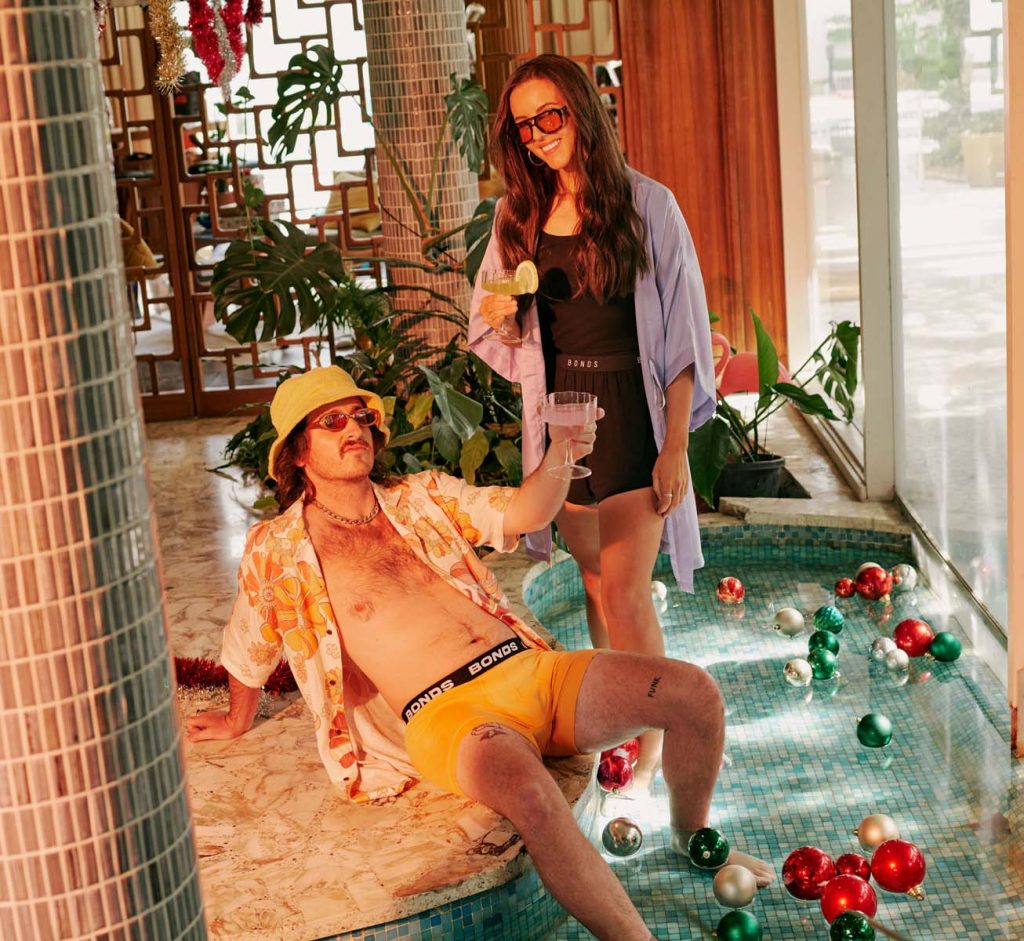 Who is Big Twisty?
When performing and in videos, I take on this character of Big Twisty, who's kind of like a Vanilla Ice-style American rapper. It's a bit tongue in cheek. You know, when I first started out, I was driving around in a shitty Ford Laser and trying to pretend that I was living the high life of a rapper.
I find it a lot easier when performing, as soon as the bucket hat and the sunnies come on, I just become that guy and I say what he says. "What's up baby, how ya feeling?" Being that character opens up a whole new world.
Kirsty's had such an amazing vision with the project and moving it from the hip hop world more into the funk space, into that hip hop/funk kind of room. It's really helping with targeting that niche and creating our own little special thing.
She's brought so many opportunities—just a whole lot of things that I didn't really think of, branching into the corporate world, the ad world, and creating a public figure out of Big Twisty rather than just a musician.
The Funknasty
The whole thing I've really wanted from the start is letting the audience know that it's fun. Onstage, there's 11 of us in the band. It's something you can go to and it's not too serious. I just wanted to create this character where people can let their guard down a bit and let themselves go.
When we're all together, just the energy of having 11 people onstage, everyone's got their stage names, so everyone else is in their own characters, we've got our outfits; it's just so much fun. I don't think I'd ever want to perform live just as me. I think what makes the whole thing is having the Funknasty.