Illustration by Katie Taylor for Rolling Stone AU/NZ. Created on iPad Pro using Apple Pencil (second generation)
After more than 15 years of marriage, a couple with children made the decision to trade monogamy for polyamory.
Some names in this article about open marriages have been changed by Rolling Stone to protect the anonymity of the people who agreed to be interviewed for this story.
When Claire opened the dating app for the first time, she was apprehensive. She had recently ended a long-term relationship and was worried that she had forgotten how to date. With a successful career and now in her late thirties, Claire was trying to navigate how to be single again. While swiping through what felt like an unlimited number of matches, she came across Jack. "This guy will be an expert," Claire chuckles as she remembers what crossed her mind when she discovered Jack's profile. Jack, a handsome guy also in his late thirties, was very transparent about being in an 'open relationship' with his wife.
"For me, at that time, I was dipping my toes into the dating world. The fact that he was in an open relationship was more appealing because I knew the score… He was very clear about what his situation was, and it made things really easy and safe for me." Within a matter of weeks, Claire and Jack arranged their first date. They met up at a cosy neighbourhood bar to play board games over a glass of wine, and had what Claire describes as a very "traditional" first encounter. "It was really funny and fun, and he was just so respectful… he was never pushing anything." Claire talks very fondly about the four months she dated Jack and how much she admired the relationship he has with his wife. "The emotional intelligence that you need to pull that off, and the communication skills… it's actually inspiring," she tells Rolling Stone. Their relationship ended after Claire met someone she wanted to be exclusive with. But she keeps in touch with Jack and the two remain friends.
Claire isn't chasing an open relationship with her newfound partner, but she hasn't ruled out the possibility either. "I don't aspire to have an open relationship, what I aspire to is to have a relationship that I can have that conversation in." Even though she's happy with her current monogamy, she acknowledges the things you can miss when you're committed to one long-term partner: "The first kiss, or working each other's bodies out, you don't get to do that again."
Psychotherapist and couples therapist Melissa Ferrari has seen thousands of couples throughout her career. She explains the ongoing question of love and sex: how we balance "that need to be desired and wanted, and the rewards you get from a relationship that may be monogamous but provide enormous safety and security". Where couples can run into trouble is when they assume they know what their partner wants, without actually having these difficult conversations. When it comes to marriage, Ferrari says, "For some, the representation of marriage brings the safety and security that is required to keep the brain a bit more settled in the relationship."
Having recently celebrated their 20th wedding anniversary, Jack and his wife, Sophie, have experience when it comes to navigating marriage. The two appear very much in love, repeatedly checking in with each other throughout the interview and often finishing each other's sentences. Both in their late thirties, they got married at a young age and have four children together — three of whom are young and live with them. Jack works in IT for a government agency and Sophie works part time for an NGO while studying. They are both warm and personable and seem at ease talking about their unorthodox marriage. It's impressive to watch two people dissect their relationship with such candour. Few couples boast the emotional intelligence and self-awareness to be that honest with themselves, let alone their spouse.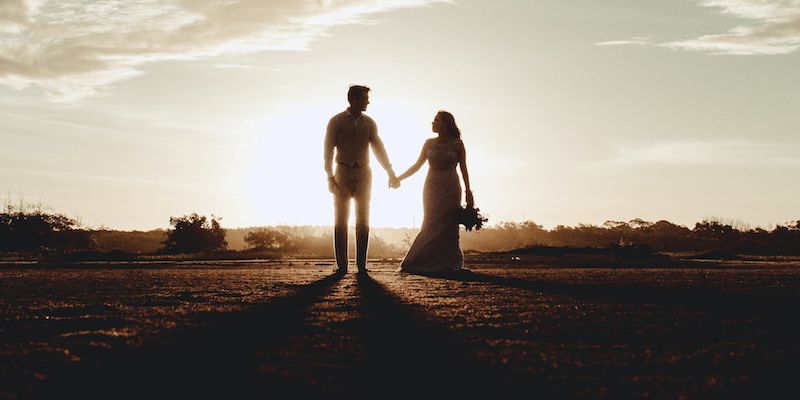 Despite the two decades together, Jack and Sophie only decided to open their marriage a few years ago. "We started jokingly talking about finding a third person for the marriage," Jack explains. The jokes continued between them for a few years and eventually evolved into more serious discussions. Sophie identifies as bisexual, and conversations about that part of her identity began to happen. "It was something we knew but we hadn't had conversations about. There was one particular night where I initiated a pretty intense discussion about this being something that I really want to [explore]," says Sophie. They joined a Facebook group dedicated to polyamory and toyed with the idea of introducing a third person into the relationship, but ultimately decided that wouldn't work because they both have different 'types'. Instead, they opted to meet people separately and have been swiping through dating apps Bumble and Tinder for potential matches.
Feeling their way through unchartered territory, Jack and Sophie began this new phase of their relationship without laying down any ground rules — but pivoted almost immediately when they realised how quickly things escalated. "As we both got into these fairly intense relationships, suddenly rules felt like they were going to give a lot of security, so we added close to a hundred rules," Sophie explains. They tried to cover all bases and set boundaries around everything they could think of: they had to check in with each other by a certain time and wayward love bites or scratches were forbidden.
The red tape, however, made things more complicated and tense between them. Jack and Sophie began to argue. "It wasn't helpful in the end… it was meant to provide security, but it didn't," Sophie says. 
They've since done away with the rule book in lieu of mutual "understandings": always practice safe sex; Sundays are reserved for family; no sharing of pet names and they let the other person know when a relationship hits a certain milestone. Jack explains how it works: "If we're going to see a new person, we would generally communicate that, or if we've said I love you or something like that… making sure that the other person is communicated with about the status of relationships." They both readily admit that there have been times when they haven't liked the person their partner was dating, but neither has tried to intervene. There's a fundamental reason, Jack explains, why they don't have veto power. "If I was seeing someone and Sophie said you can't see that person, then it would damage our relationship, there would be resentment."
"We still struggle heaps… we're three-and-a-half years since the first date and we're still growing in different ways."
Jack and Sophie admit they have separate bedrooms now — but still sleep together often. Sophie likes to have her own space and it means they won't wake the other up after a late-night rendezvous. They seem like they've found an arrangement which works well for them, but it's the product of trial and error. "We still struggle heaps… we're three-and-a-half years since the first date and we're still growing in different ways," Jack confesses. 
Having four kids, a spouse, working, and dating multiple people takes a lot of organisation. And while the youngest children don't know all the details of their parents' relationship, all their dates are pencilled on the family chalkboard to keep track of Jack and Sophie when they're out with their respective "friends". 
Their polyamory, however, appears to bring a lot of positives. They've each found their independence and have been able to find in other partners things they can't offer each other. 
"Sophie needs a lot more space, and I need a lot more affection. Before we opened up, it was always me kind of smothering [Sophie] a little bit… that's actually an incompatibility with us and being open helps." Sophie confidently declares that they have always had a very good sex life before laughing and adding, "Well, in my opinion." Jack returns the laugh and agrees with her wholeheartedly. "We've always had a very experimental sex life. Part of the opening up journey was also getting more involved in the kink scene and the swinging scene." 
While they don't have sex with each other's respective partners, they have had group sex together in "sex party type environments". Their busy dating lives mean they might not have as much time to have sex with each other anymore, but being open certainly has its perks. "It's been a pretty awesome journey to get to know other people and I think it does make you better," Jack says before Sophie cuts in with a cheeky smile to add "and bring home new tricks".  
"The thought of being our own independent people… seems scary and lonely… but in hindsight, it's better."
When asked whether their relationship is stronger since they opened their marriage, there's a rare flicker of discomfort. They don't shy away from the question, but it's the first time during the interview where they both take a moment to think. Sophie looks at Jack to gauge his reaction before turning back and saying, "I think having kids so young, I never really got that chance to develop my own personality, almost. I didn't know what I liked, and I didn't know what I wanted to do because it was all about other people." 
Jack sits back on the couch while he reflects on this. Sophie continues, "If I had seen it back then, I probably wouldn't have been happy with how it's developed… We were still so entwined that the thought of being our own independent people… seems scary and lonely… but in hindsight, it's better."
Jack and Sophie live in a small town in New Zealand's North Island, about an hour from the nearest big city. They don't broadcast their relationship status, nor do they keep it a secret. "The circle of people who know is quite small. We live in a small community, so we keep it vaguely tight-lipped," says Sophie. Their closest friends all know and so does their eldest son, who likes to check in on them and see who they're dating. They're both openly on dating apps and as a matter of respect, it's important to them that the people they date never feel as if they're some kind of dirty secret. One of Jack's girlfriends joined the family for Christmas lunch last year, bringing presents for the kids. Jack's mouth morphs into a timid smile when asked whether their families know about their arrangement, "it's a funny story." They both laugh and look at each other, pausing for a moment before explaining what happened. Jack had just finished his first date with another woman and Sophie wanted to know all the details. "I'd sent about six or seven messages and realised it was a group chat with my parents," Jack bursts out laughing as he recalls the story. After furiously searching the internet for a way to recall the messages, he had to bite the bullet and call his folks to explain what was happening in his marriage. While his parents know the deal, Jack says they never talk about it. 
Where and when do we formulate our ideas of what relationships should look like? It could be from our parents, or the books we've read, or the couples we've watched in movies and TV shows. No doubt it's a combination of many factors. Our concept of a relationship is not something we necessarily revisit or reconsider as we move through life. Like many things in society, we tend to follow what is established. With twenty years as a psychologist and as one of the dating and relationship experts on Married At First Sight, Mel Schilling has just about seen it all. Schilling has three key principles when it comes to polyamory: consent, boundaries, and respect. 
"All of the principles that apply to healthy positive relationships become a little bit more exaggerated when we're bringing in other parties because there's great emotional risk involved here." Schilling says that true consent in opening up a relationship requires both parties to come to that decision freely. She's seen situations where one person feels pressured to consent out of fear of losing their partner. "I think that initial contract between partners needs to be really explored very thoroughly. I think it needs to be a decision that can be drawn out, because it's the kind of thing someone might make an initial desperate reaction to but it might not be what they actually want," explains Schilling. 
What meaning can we attribute to contemporary marriage, an institution derived in many cultures from an era in which the social norms and conventions bear no resemblance to the society we live in today? Schilling says that "the concept of marriage is still useful" but believes if we want to make the most of this traditional device, then "we have to make it our own," she explains. "I think the best marriages are the ones where the couples have these conversations about 'What do we need, what are our boundaries, what is normal for us?'" 
In Australia, marriage is legally defined as "the union of two people to the exclusion of all others, voluntarily entered into for life." Just as the definition was amended in 2017 to recognise that marriage does not have to be limited to a man and a woman, perhaps the law might one day recognise that the exclusion of all others is not necessary to sustain a meaningful, loving and enduring bond. There's no concrete data on how prevalent open relationships are, and there's no typical profile for a polyamorous couple. 
"I don't believe it's about a certain type," Schilling says, "there will be people walking around in your community that will be in an open relationship that you wouldn't have picked in a million years."
"You can love someone without taking away from someone else, but you can't give someone time without taking away from someone else."
Some people might question how you can love your partner and want to date other people. "Love is infinite, but time is not," Jack explains. "You can love someone without taking away from someone else, but you can't give someone time without taking away from someone else, and that's the balance, that's hard to learn." The wisdom that Jack and Sophie have to share from their experience is fitting to all relationships, whether monogamous or not. Really understanding your needs, and communicating those to your partner, is key to any healthy, sustainable relationship. For those flirting with the idea of a polyamorous arrangement, Jack and Sophie suggest finding a therapist familiar with polyamory. "You have to accept that your relationship is going to change," Jack says. Sophie looks at him, nodding quietly before saying, "Go for it, but go for it with your eyes wide open."
---
This article features in the June 2022 issue of Rolling Stone AU/NZ. If you're eager to get your hands on it, then now is the time to sign up for a subscription.
Whether you're a fan of music, you're a supporter of the local music scene, or you enjoy the thrill of print and long form journalism, then Rolling Stone Australia is exactly what you need. Click the link below for more information regarding a magazine subscription.