SXSW Sydney 2023 Wrap-Up: Music, Mexican-Inspired Flavours and More
How Old El Paso™ brought the Mexican-inspired vibes and secret headliners to The Courtyard Presented by Rolling Stone
Live music. Sunny skies. Chunky Salsa Dip. Taco Tuesday beer holders. Friends piled on bright yellow lounges. That's the fun, easy-going vibe punters were greeted to at the recent The Courtyard Presented by Rolling Stone at SXSW Sydney 2023.
The multi-day music event, hosted in partnership with Old El Paso™, delivered an unforgettable experience from October 18th to 21st in the Powerhouse Museum Courtyard in Ultimo.
With an epic lineup of artists, including Alter Boy, Dean Brady, Phoebe Go, and Gold Fang, it was an opportunity to fuse music with Mexican-inspired food and connect with friends and strangers alike.
But it wasn't just the good times and great food people got excited about. Rolling Stone and Old El Paso™ surprised the crowd with secret headliners, including rock-trio Skegss, alt-rapper Who Shot Scott and Aussie icon Jessica Mauboy.
It's safe to say, they loved every minute of it.
"The crowd was amazing, the event was incredible," Mauboy said. "I just didn't want it to end."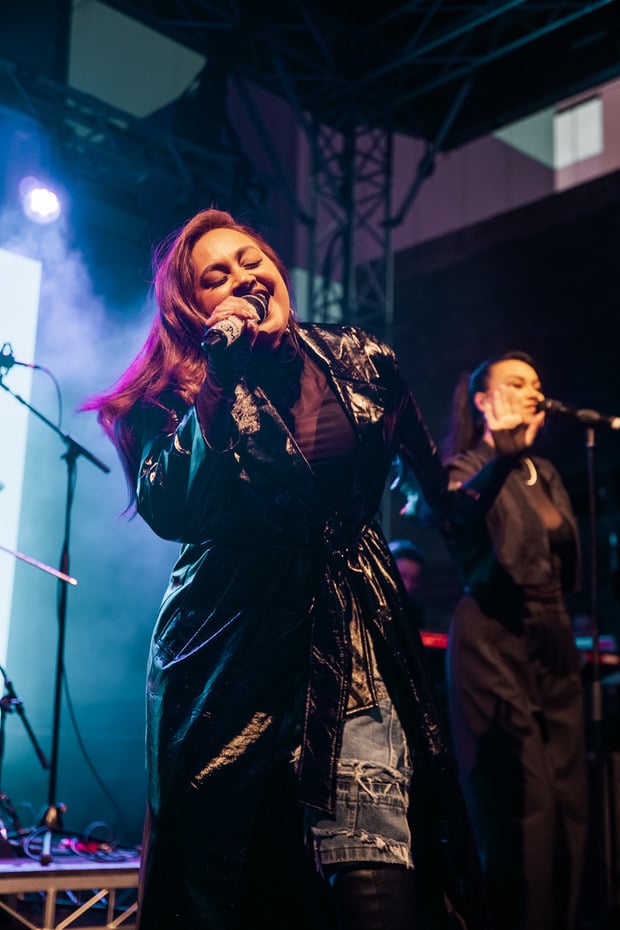 Proudly sponsored by Old El Paso™, the event drew inspiration from the brand's 'Make Some Noise' platform and paid homage to Mexican-inspired culture. It was a celebration of the joy of coming together, unplugging from your phone, grabbing the metaphorical taco with both hands, and sharing moments of laughter on the dance floor.
The perfect headliner, Mauboy's music is all about connection too – whether that's impacting one person's day or an entire crowd. "It's about the unity and the connection that we have through music," she said.
"If I can continue to make music and for them to continue connecting and being able to  embrace and perhaps reflect on themselves – if I can do that through music then I'm happy."
As Byron Bay natives Skegss took the stage, the energy went up. Dressed in the Old El Paso™ colours with a yellow bucket hat and red sunglasses, lead singer Ben brought the good vibes to the day's event.
In an interview after the show, Ben revealed what the spirit of connection through music and food means to him.
He's happiest when "hanging out with friends and my family," he said. "I think backyard BBQs are always a gem. It's usually when you're homesick that you're thinking of those times."
As we look back on the artists who rocked the stage and the love people shared for Mexican-inspired food and culture, it's clear the Rolling Stone Courtyard with Old El Paso™ will be an epic memory for everyone who attended.
Want to keep the Mexican-inspired vibes going at home? Discover the range of Old El Paso™ tacos, nacho kits, burritos, and tasty new innovations that will tickle your taste buds. It's sure to transform any ordinary week day meal into a fiesta, and it will be a hit for the whole family.
Check out the range HERE.