Rolling Stone Australia talks to athlete, advocate and philanthropist, Dylan Alcott, about his goals as the newly-appointed Australian of the Year.
Dylan Alcott does not do things by halves. 
Alcott is a four-time Paralympian, who's represented Australia in both wheelchair basketball and wheelchair tennis. He won his first Paralympic gold medal at the 2008 Beijing Games when he was just 17 years old. The following year he received a Medal of the Order of Australia.
After winning silver with the Rollers at the London 2012 Paralympic Games, Alcott switched from basketball to men's quad tennis. Over the course of his seven-year professional tennis career, Alcott collected 15 Grand Slam singles titles, including seven consecutive Australian Opens. 
Alcott's talents and achievements go beyond the sporting realm. For instance, there's a section of the population who first encountered Alcott when he was on-stage at the 2014 Meredith Music Festival. 
View this post on Instagram
Alcott is a self-proclaimed '90s hip hop tragic. One of his heroes, Wu-Tang Clan's Ghostface Killah, played an early evening set on the second night of the regional Victorian music festival. 
It was December 2014, meaning Alcott had already won two Paralympic medals and was one month away from his first Australian Open singles title. But when Ghostface went looking for a Method Man stand-in for a rendition of Wu-Tang's "Protect Ya Neck", Alcott raised a hand and crowd surfed to the stage. 
Never mind the fact that Ghostface Killah is one of hip hop's great icons—the ever-unflappable Alcott seized the moment and was unanimously crowned king of Meredith for the rest of the weekend.   
Alcott is now 31 years old and the recipient of the 2022 Australian of the Year award. Last year's recipient, Grace Tame, essentially redefined the role of Australian of the Year by using the increased media attention to further amplify her advocacy for survivors of sexual assault.
Labor leader Anthony Albanese summed up Tame's contribution in an address to the National Press Club last month. "I want to take a moment to thank Grace Tame for her quite extraordinary courage and her fierce advocacy," he said.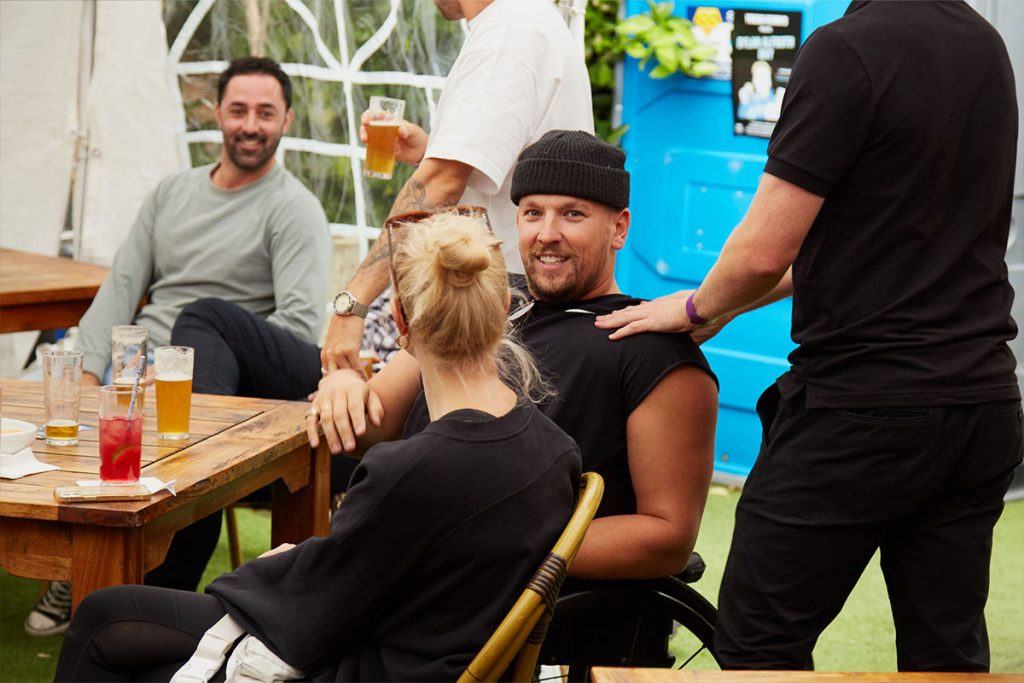 They're big shoes to fill, but if anyone's capable, it's Alcott.
"Tamey's a weapon. If I could be even a shadow of the Australian of the Year that she's been, I think I've done my job," says Alcott, speaking to Rolling Stone Australia from Melbourne saloon bar, Le Bon Ton, where Gadigal Street artist Jesse Wright (@JESWRI) recently painted a mural in Alcott's honour.
Alcott joins a long list of sportspeople to be named Australian of the Year, including tennis players Evonne Goolagong and Pat Rafter. But Alcott is the first person with a visible disability to be named Australian of the Year in the award's 62 year history, and he's determined to not waste the opportunity.
"My goal is to give [more people with disability] the opportunities they deserve so they can feel the same way that I do about my disability," he says. "I'm very passionate about my community and I'm going to do everything I can to represent them the best way that I can."
In his Australian of the Year acceptance speech, Alcott said he used to hate having a disability. ("I hated being different and I didn't want to be here anymore," he said.) There's no doubting Alcott's exceptional talents with a racquet in hand, but his story is all the more inspiring for how he determinedly rejected the dominant narratives of what constitutes normative behaviour.
"Growing up, I'd turn on the TV and I'd never see anybody like me and that made it really hard," says Alcott, taking a sip from his can of Young Henrys pale ale. "And if I ever did see someone like me, it was a road safety ad where someone has an accident then the next scene is me: someone in tears because their life's over. And I was like, 'That's bullshit.'"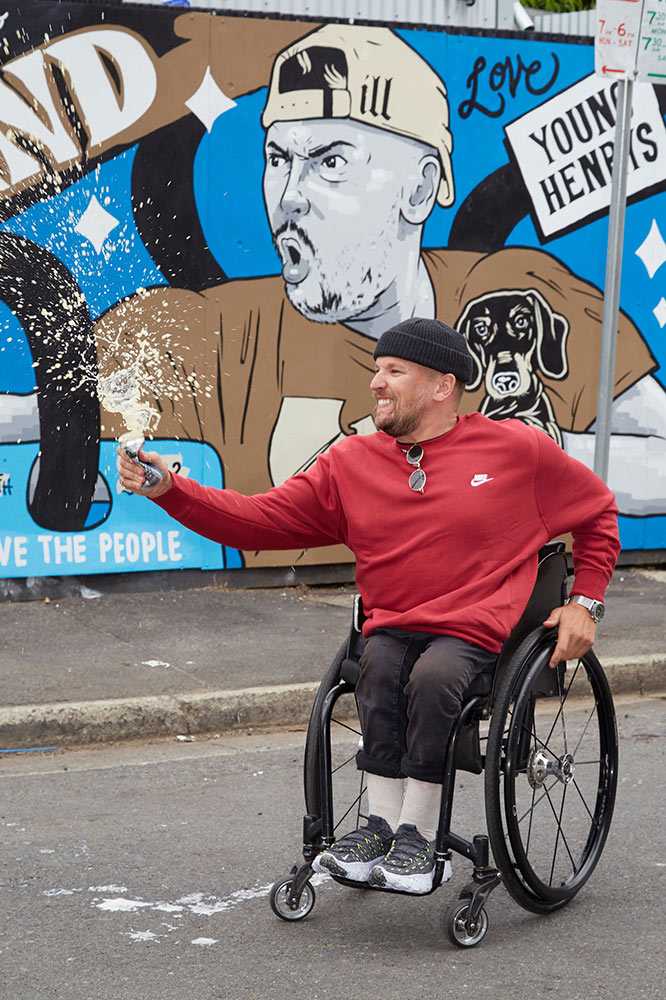 Alcott's early sporting heroes included Paralympic wheelchair racers Louise Sauvage and Kurt Fearnley and Grand Slam-winning wheelchair tennis player Danni Di Toro. But his advocacy isn't rooted in Paralympic ambitions—to the contrary, he wants to overturn the public's unconscious biases by mainstreaming disability. 
"People with a disability often don't get the opportunities they deserve to get out and be the people they want to be, whether it is in their work life, dating life, even just their social life— going to the pub and having a beer, something a lot of us might take for granted," he says.
Alcott grew up in Melbourne in the nineteen-nineties and two-thousands, many years before the Australian Government introduced the National Disability Insurance Scheme (NDIS). Labor Prime Minister Julia Gillard put forward the bill to establish the NDIS in November 2012, with the aim being to create a centralised support system that'd cover the costs associated with living with disability. 
However, following Tony Abbott's landslide victory in the 2013 federal election, various amendments were made to the rollout of the scheme, including a significant reduction in the number of staff employed by the National Disability Insurance Agency (NDIA). Subsequent Liberal governments have continued to reassess and generally trim the NDIS budget, while also appointing private contractors (namely the British PLC, Serco) to manage the scheme.
As far as Alcott is concerned, a well-funded NDIS is indispensable to a functioning democracy. 
"Disability should be a bipartisan thing. It should just be agreed upon by everyone. When I see people using it as a political football, I go, 'Get fucked,' because we are just trying to get the healthcare and funding that we need just so we are equal to you," he says.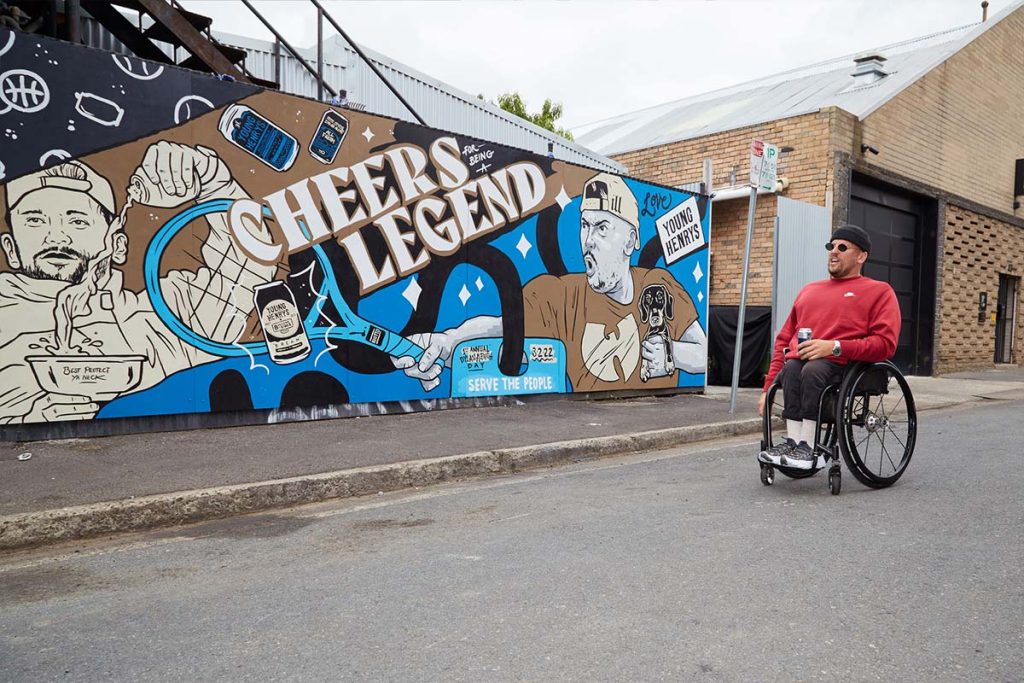 In 2017, Alcott created the Dylan Alcott Foundation, a charity that helps young Australians with disabilities gain self-esteem and respect. The following year he launched Ability Fest; a fully accessible music festival based in Melbourne. 
After a Covid break, Ability Fest returned in November 2021 with performances from the likes of Alex the Astronaut, Eves Karydas, Confidence Man and JK-47.
"We just want to show other music festivals—like Coachella, like Falls, like Beyond the Valley—what can be done when you just ask questions and put a bit of effort in, and [also show] how important it is to be fully inclusive of everyone in the best way that you can be," Alcott says.
Ability Fest is currently Australia's only fully accessible music festival and proceeds from the event go straight back into the Dylan Alcott Foundation. 
"We raised almost half a million bucks this year," says Alcott. "Out of that we've paid for university scholarships for young people with disabilities to get degrees; we've paid for start-ups for people who couldn't get a job so they've started their own business now; we've bought equipment for young athletes who've now become Paralympians and won medals. Crazy shit."
To help bolster Ability Fest, Alcott brought in his close mates, Sydney independent brewers Young Henrys, who've not only supplied the festival with beer, but also used it as a launchpad for their first-ever Gin and Tonic RTD. 
View this post on Instagram

To celebrate the strength of their bond, Young Henrys named 3rd February, 2022, Dylan Alfroth Day and commissioned Jesse Wright (@JESWRI) to paint the aforementioned mural. A portion of Young Henrys sales profits for the month of February will go to the Dylan Alcott Foundation.
"For them to donate a portion of sales for the whole of February for every Young Henrys product sold, whether it's at a pub or in store, it's pretty special," says Alcott. "That'll go to enriching the lives of young Aussies with disability so they can pursue their dreams like I've been lucky enough to do."
Nearly 20 per cent of the Australian population lives with some form of disability. As Australian of the Year, Alcott is committed to not just improving the lives of people living with disability, but erasing stigmata associated with disability.
"If you don't know anybody with a disability or you've never been affected by it, you're missing out on enriching your own life by educating yourself on 20 per cent of the population," he says.
"We need to listen a lot more to people with lived experience. So rather than dispute what we say, just listen to what people with disabilities say because we know what we need to be able to start being contributing members of our society."