One year on from the release of her groundbreaking debut album, Thelma Plum has announced a special anniversary edition vinyl pressing of the record.
Originally released on July 12th, 2019, Better in Blak was a long time coming for Plum, who had released her first single seven years earlier. A powerful record, it not only boasted amazing songs such as its title track and "Homecoming Queen", but it featured the likes of Paul McCartney and Gang of Youths' David Le'aupepe, while also managing to peak at number four on the ARIA charts.
Most notably though, the record helped to instigate a dialogue around Indigenous matters, with Plum noting her desire to succeed came from a need for representation to be available for young Indigenous people.
"When I was a kid, there wasn't that much mainstream representation, and it really does something to you as a child when you don't see anyone who looks like you on the TV," she told Rolling Stone earlier this year.
"It's hard to put it into words, but it can really skew your idea of beauty and loving yourself, and I just think it's really important that young kids are exposed or just aware that you can do that.
"I feel very grateful and very blessed that someone could look up to me in that way. It's daunting, but it's a role that I'm very happy to take on."
To celebrate the record's first anniversary, Plum has now unveiled that a special vinyl edition of the record will be released in early September, with the vinyl's colouring and label arranged so as to mimic the First Nations/Indigenous Flag.
While pre-orders are available now, the record's announcement also comes alongside the official lyric video to "Homecoming Queen", which follows on from Plum's cover of Powderfinger's "These Days", which arrived in late May.
Though she's currently working on songs for her second studio album, Thelma Plum is set to hit the road in mid-November, with her Homecoming Queen tour kicking off alongside Kira Puru following its rescheduling from May due to the COVID-19 pandemic.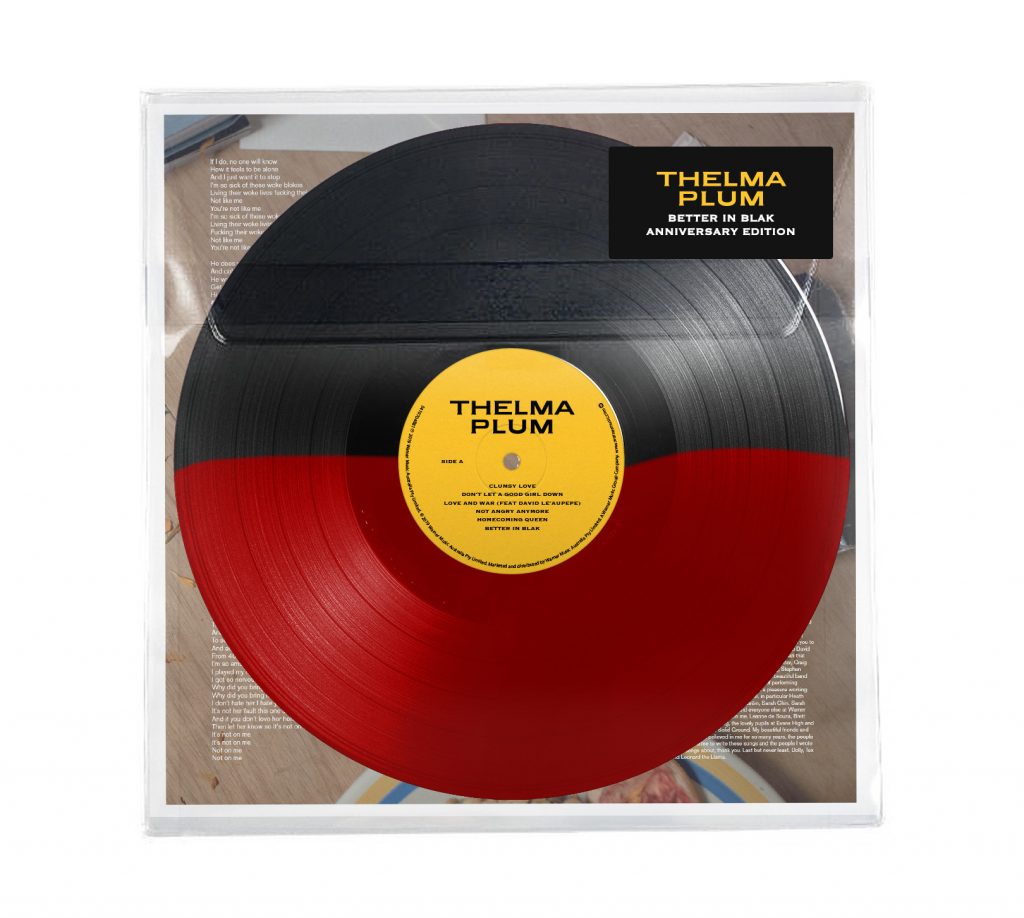 Thelma Plum – The Homecoming Queen Tour
With special guest Kira Puru
Wednesday, November 11th
The River, Margaret River, WA
Thursday, November 12th
Astor Theatre, Perth, WA
Sunday, November 15th
The Gov, Hindmarsh, SA
Friday, November 20th
Armitage Center, Toowoomba, QLD
Saturday, November 21st
Big Pineapple Festival 2020
Woombye, QLD
Thursday, November 26th
Anita's Theatre, Thirroul NSW
Friday, November 27th (SOLD OUT)
Metro Theatre, Sydney, NSW
Saturday, November 28th (Second Show)
Metro Theatre, Sydney, NSW
Sunday, November 29th (SOLD OUT)
Forum, Melbourne, VIC
Friday, December 4th (SOLD OUT)
Torquay Hotel, Torquay, VIC
Saturday, 5th December (Second Show)
Torquay Hotel, Torquay, VIC
Thursday, December 10th
Newcastle Exhibition & Convention Centre, Newcastle, NSW
Friday, December 11th
UC Refectory, Canberra, ACT
Saturday, December 12th
The Uni Bar Hobart, Sandy Bay, TAS
Friday, December 18th
Kingscliff Beach Hotel, Kingscliff, NSW
Saturday, December 19th
Fortitude Music Hall, Brisbane, QLD
Tickets on sale now via Thelma Plum's website