Irish rockers Fontaines D.C. have returned with a new single, the first taster of their highly-anticipated second album, A Hero's Death
Having released their debut album, Dogrel, in April of 2019, Fontaines D.C. have spent much of the last year cited as one of the best new rock bands on the scene, receiving widespread acclaim for their debut and fiery live shows.
Australian fans had hoped to catch the group performing live as part of the Laneway Festival back in February, though they soon made an 11th hour withdrawal from the fest, citing "recording commitments" as the reason.
While a rescheduled tour was soon planned for April, these dates too were cancelled, with their first-ever local visit now set to take place in December. However, by the time they finally make their way down under, it seems they'll have a new record under their belts, detailing the album and sharing its first single earlier today.
Titled A Hero's Death, the new record will release on July 31st through Partisan Records/Liberator Music, and features "a heady and philosophical take on the modern world and its great uncertainty", as per a press release accompanying its announcement.
Sharing the title track as its first single, the tune is accompanied by a music video that features actor Aidan Gillen (Game of Thrones, The Wire, Peaky Blinders), who helps to take the song's hypnotic intensity and add a sinister layer of surrealism.
"The song is a list of rules for the self, they're principles for self-prescribed happiness that can often hang by a thread," singer Grian Chatten explains of the track and its video. "It's ostensibly a positive message, but with repetition comes different meanings, that's what happens to mantras when you test them over and over.
"There's this balance between sincerity and insincerity as the song goes on and you see that in the music video as well. That's why there's a lot of shifting from major key to minor key. The idea was influenced by a lot of the advertising I was seeing – the repetitive nature of these uplifting messages that take on a surreal and scary feel the more you see them.
"The title came from a line in a play by Brendan Behan, and I wrote the lyrics during a time where I felt consumed by the need to write something else to alleviate the fear that I would never be able follow up Dogrel. But more broadly it's about the battle between happiness and depression, and the trust issues that can form tied to both of those feelings."
Fontaines D.C.'s A Hero's Death is out July 31st through Partisan Records/Liberator Music, with pre-orders available now.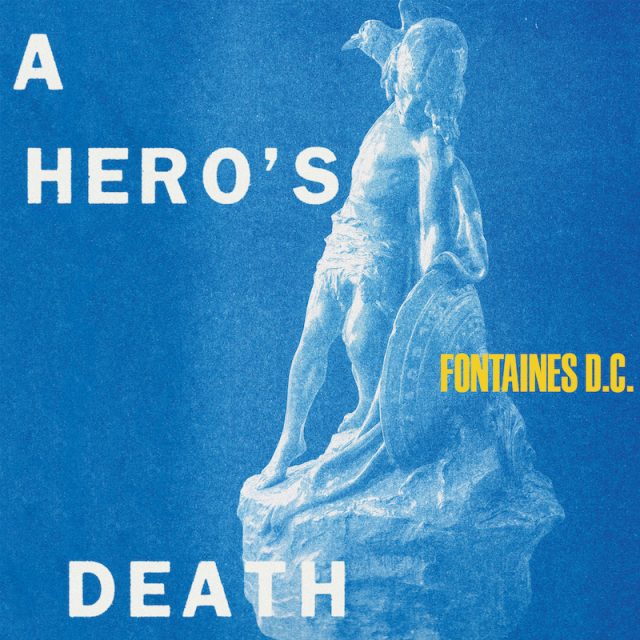 Fontaines D.C.'s A Hero's Death tracklist:
1. "I Don't Belong"
2. "Love Is The Main Thing"
3. "Televised Mind"
4. "A Lucid Dream"
5. "You Said"
6. "Oh Such A Spring"
7. "A Hero's Death"
8. "Living In America"
9. "I Was Not Born"
10. "Sunny"
11. "No"
Fontaines

 D.C. Australian Tour 2020

Tuesday December 8th (Sold Out)
Metro Theatre, Sydney, NSW

Thursday December 10th
The Triffid, Brisbane, QLD

Friday December 11th (Sold Out)
The Croxton Bandroom, Melbourne, VIC

Sunday December 13th (Sold Out)
The Corner Hotel, Melbourne, VIC

Tickets on sale now via Handsome Tours