Almost five years on from their last visit to Australia, alternative metal icons Faith No More have announced their long-awaited return.
Having last undertaken a global tour campaign in support of Sol Invictus, their first album since their 1998 split, the last few years have been somewhat lacking in terms of activity from Faith No More. Performing only twice in 2016 (with former frontman Chuck Mosley at the helm), the band had remained relatively quiet since then, with only the occasional rumour of new music emerging.
This all changed in November last year, when the group emerged from their slumber to announce a trio of European dates, which have since expanded into larger run of shows.
"Five years, four colonoscopies, two root canals and a handful of prostate exams tell us that it's time to carpe diem our asses back to Europe asap," the group explained in a statement at the time.
However, things began to get a bit more interesting for their Australian fans when Frontier Touring recently hinted towards the announcement of an Aussie return for Faith No More.
Now good news has arrived, with Faith No More plotting their first Australian tour dates since 2015 earlier today.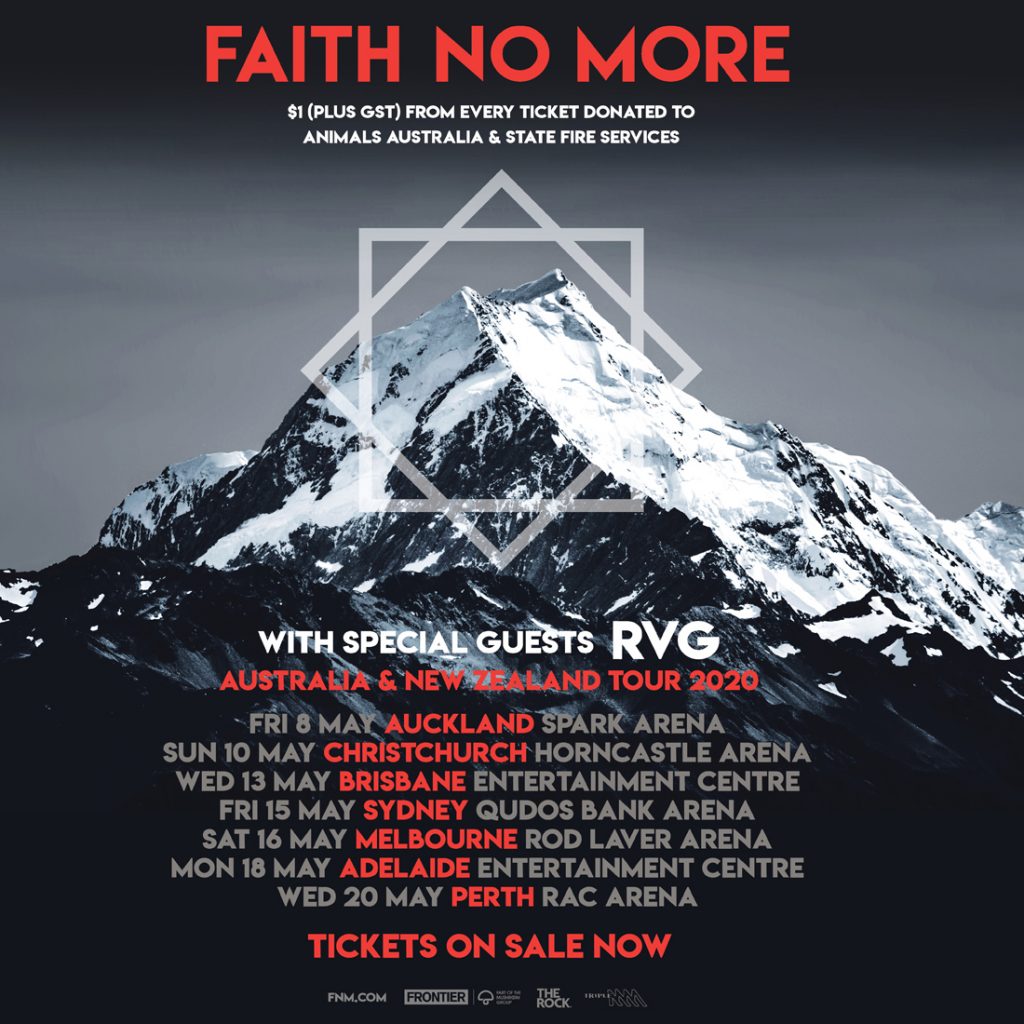 Last visiting for the Soundwave festivals in 2010 and 2015, these shows will serve as their first headline tour of Australia since the release of Album of the Year in 1997.
"Faith No More has taken many twists and turns over the years, and both Australia and New Zealand have been with us every step of the way; this is something that we have always appreciated," explained bassist Billy Gould.
"Nevertheless, we realise that it's been 20 years since our last proper tour there. If we wait another 20, we'll be in our 70's. This shit stops NOW!"
Supported by RVG, Faith No More are set to begin their trek down under in May, visiting Auckland and Christchurch before coming over to Australia for shows in Brisbane, Sydney, Melbourne, Adelaide, and Perth.
The band are also set to use their music for a good cause as well, with $1 (plus GST) from each ticket sold across Australia and New Zealand being donated to Animals Australia, and state fire services in affected areas, including: NSW Rural Fire Service, Country Fire Association VIC, SA Country Fire Service, Rural Fire Brigades Association QLD. This follows on from news that all proceeds from their upcoming gig in Manchester this June will also benefit Australian charities.
Tickets to the group's long-awaited tour go on sale from Wednesday, February 12, with pre-sales kicking off in the preceding days. Read below for more details.
Faith No More Australia & New Zealand Tour May 2020
With special guests RVG
Friday, May 8th
Spark Arena, Auckland, NZ (All Ages)
Tickets: Ticketmaster | Ph: 0800 111 999
Sunday, May 10th
Horncastle Arena, Christchurch, NZ (All Ages)
Tickets: Ticketek | Ph: 0800 842 538
Wednesday, May 13th
Brisbane Entertainment Centre, Brisbane, QLD (All Ages)
Tickets: Ticketek | Ph: 13 28 49
Friday, May 15th
Qudos Bank Arena, Sydney, NSW (All Ages)
Tickets: Ticketek| Ph: 13 38 49
Saturday, May 16th
Rod Laver Arena, Melbourne, VIC (All Ages)
Tickets: Ticketek | Ph: 13 38 49
Monday, May 18th
Adelaide Entertainment Centre, Adelaide, SA (All Ages)
Tickets: Ticketek| Ph: 13 48 49
Wednesday, May 20th
RAC Arena, Perth, WA (All Ages)
Tickets: Ticketek | Ph: 13 48 49
Frontier Members pre-sale runs 24 hours from Monday, February 10th
General public on sale from 12 noon local time, Wednesday, February 12th