Bag Raiders Continued Jim Beam Welcome Sessions With a Vibrant Adelaide Performance
Top-shelf musical brilliance has been everywhere lately, but no more so than in Adelaide this past weekend, when superstar producers Bag Raiders headed to South Australia for a massive DJ set as part of the 2023 edition of Jim Beam Welcome Sessions
Top-shelf musical brilliance has been everywhere lately, but no more so than in Adelaide this past month, when superstar producers Bag Raiders headed to South Australia for a massive DJ set as part of the 2023 edition of Jim Beam Welcome Sessions.
First announcing their current roster of events earlier this year, Jim Beam Welcome Sessions entered 2023 in a big way, expanding upon their initial foray. Since then, things expanded to Australian shores last year, with beloved artists like Flight Facilities, Client Liaison, and The Veronicas all performing before the homegrown crowds that have admired them since day one.
Needless to say, the memorable experiences it provides for the artists at the centre of the performances are matched by those in attendance, witnessing the magic happen thanks to the folks at Jim Beam.
We're only a few months into the year, but already the action has been turned up to eleven thanks to some of the biggest names in the country. So far, we've seen the likes of Lime Cordiale showing a Sydney hometown crowd what they're made of, and we've witnessed Drapht bring the good vibes to Perth for a summery celebration of what makes him a beloved artist.
Now, we've seen things taken to the next level thanks to none other than Bag Raiders, who headed to Adelaide on Saturday, March 25th to take over The Moseley Bar & Kitchen for a massive DJ set.
Having formed back in 2006, Bag Raiders have maintained a reputation as one of the country's finest electronic acts. Pairing an ear for slick hooks and stellar beats with a knack for masterful production and unforgettable live performances, Bag Raiders have never been too far from the airwaves, with singles and records arriving all the time.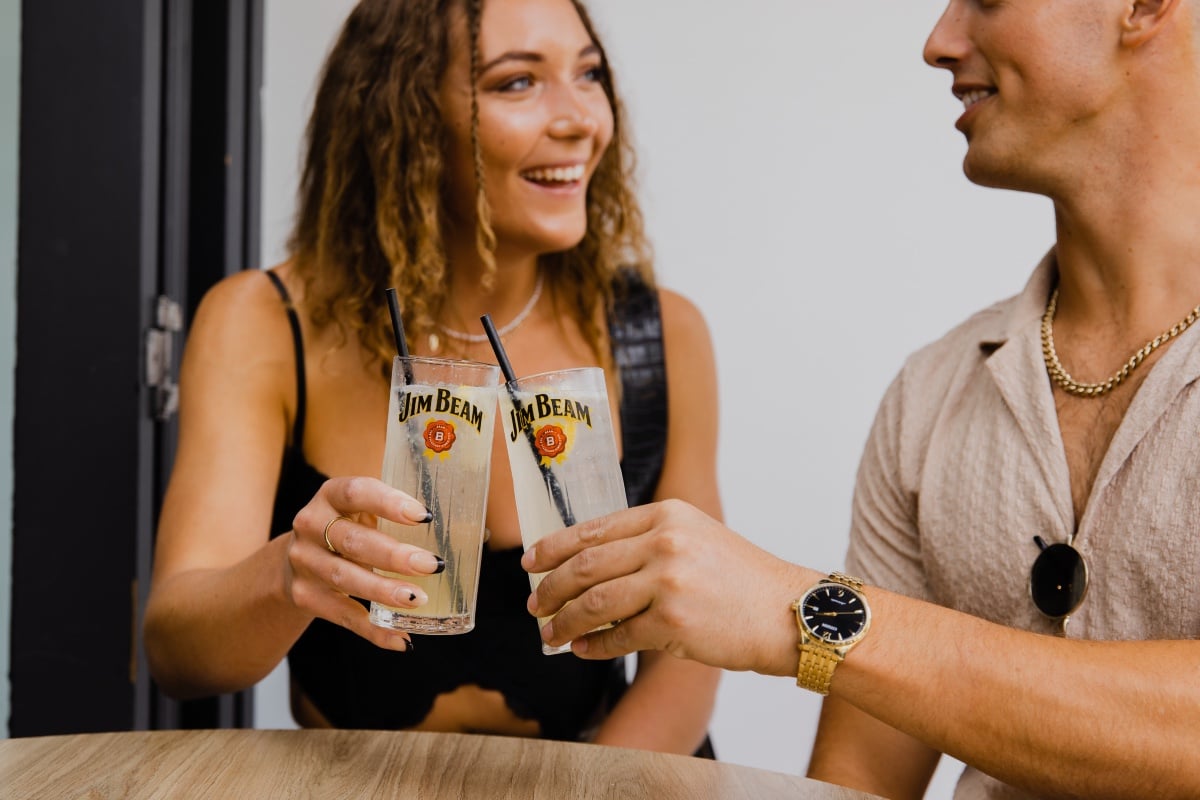 Thus, this was the sort of energy they wanted to bring to their South Australian fans when they descended upon the City of Churches. "I think Australians are just always down to have a good time," Glass recently told Rolling Stone Australia of their upcoming performance, and that's exactly what Bag Raiders ensured they could deliver.
Kicking things off with a unique vibe at the venue, the pair bought a fun, bassy, and can't-help-but-dance set to The Moseley Bar & Kitchen, turning the beachside location into what felt like a classic house venue, even as the afternoon sun illuminated the nearby surroundings.
With an eclectic and celebrated discography in their pocket, Bag Raiders were undoubtedly spoilt for choice when it came to track selection, doing their best to ensure that fans were well-catered for, and picking only the biggest and best for their appearance.
With refreshing Jim Beam serves in the hands of the lucky fans in attendance, the thumping bass of Bag Raiders' set soundtracked the afternoon, with the crowd going into overdrive when their iconic hit 'Shooting Stars' blasted through the venue. Even for those who would consider themselves casual fans of the duo, it was impossible not to get lost in the moment, allowing the joyful strains of the beloved banger to overtake you as the music connected with their myriad fans for a myriad of different reasons.
All told, it was an immersive, delightful, and truly unique experience for everyone lucky enough to witness the affair, with Bag Raiders turning up the heat to ensure that the Jim Beam Welcome Sessions once again reached new heights.
If you missed out on recent editions of the 2023 Jim Beam Welcome Sessions, don't fret too much, with the festivities set to continue when The Jungle Giants take over Osborne rooftop and bar in Melbourne. Full details are available below, but be sure to click here for your chance to win and see The Jungle Giants gig at Jim Beam Welcome Sessions.
For further information about Jim Beam Welcome Sessions, head along to their official website, or stay tuned to Rolling Stone for more updates. 
Jim Beam Welcome Sessions 2023
The Jungle Giants
Saturday, April 29th
Osborne Rooftop and Bar, VIC
Enter here for your chance to win tickets.