Broken feathers were seen lining the streets surrounding Mt Smart Stadium last night, signalling the presence of a popstar in our midst. Harry Styles had arrived – and fans had been lining up for hours to catch their favourite heartthrob on his Love On Tour showcase. 
Walking into the stadium from the top of one side above the main floor of the arena, my eyes were struck by a sea of pink in the adjacent seating area. But it wasn't just one section of the stadium kitted out in festival-esque attire: Styles' fans everywhere had leapt at the chance to dress in bold variations of colour with all sorts of accessories. 
Some wore funky 70s-style floral glasses; face jewels were as common as water bottles; quirky dresses and flared pants roamed the grounds and there were even a couple of banana costumes which were hard to miss. It was clear this was a safe space to come as anyone you wanted to be – the more advanced your efforts, in fact, the better. 
Before the gig, a genre-defying series of smash hits filled the pre-set playlist, and it was a pleasant surprise to witness how many people within the all-ages crowd knew every word. I'd expected the three teenage girls behind me to belt out every word to Natasha Bedingfield's "Unwritten", but was slightly more surprised by their accuracy – as well as the many thousands more – when it came to Queen's "Bohemian Rhapsody".
By the time Pātea Māori Club's "Poi E" came through the speakers, everyone tingled with a rush of excitement before once again shouting the lyrics towards the stage – a special welcome to our English guest. 
The sun had truly set when Styles eventually emerged after keeping the crowd waiting just long enough for us to be mega-hyped without stirring alarm or impatience. Shrieks and screams filled the air as the 47,000-strong audience acknowledged his arrival onto the stage, launching straight into his well-known hits like "Golden", "Adore You" and "Keep Driving".  
He broke the ice after his first few songs by reciting the first line of  "Tūtira Mai Ngā Iwi"; in awe, the crowd compelled themselves to complete the song for him amidst the glee of hearing him celebrate our Indigenous roots. Shocked at the continuation of the waiata, he told fans: "It's much longer than I was told it was." 
 He then greeted the crowd with a bellowing "Good evening the people of Auckland… And surrounding areas. My name is Harry," as if we didn't already know.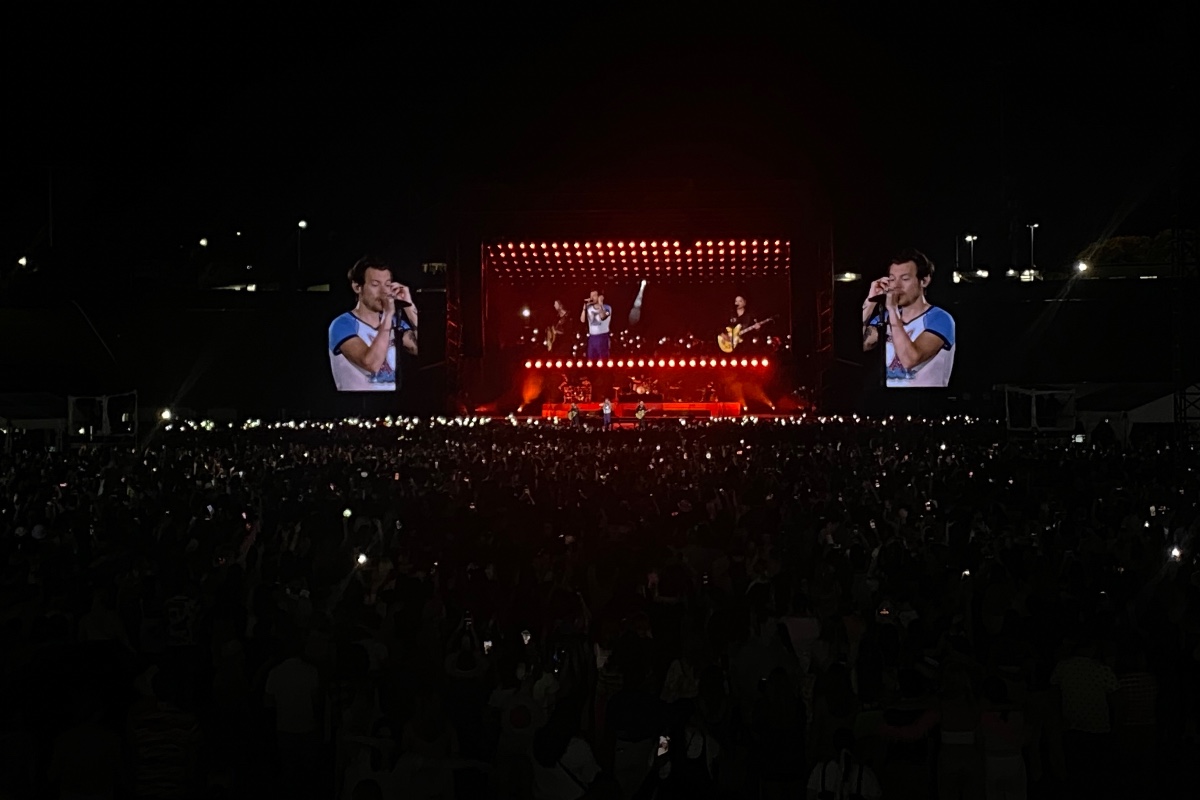 Styles then heaped praise on the group of Kiwis for choosing to spend their night with him and even mentioned it being Census night when the official population count of New Zealand is held. "As long as we're all accounted for, then we can continue," he joked. "I've been told that if anyone hasn't done it, then we're gonna have to stop the show, fill out the paperwork, and then we'll be able to continue."
Styles' stage production was minimalist compared to the likes of Ed Sheeran whose revolving central stage and adjoining halo screen intensified his performance almost a month ago – but I realised with completely different star power, this didn't matter – not in the slightest.
The lighting panel above Styles hosted rows of LED circles interchanging colours to the beats of his songs like "Cinema" and "Treat People With Kindness". 
His band, which included Kiwi musician Ny Oh, were a high point of the night outside of being elevated on colourful risers. Their instrumentals took Styles' songs to another level, particularly "What Makes You Beautiful", which was truly mesmerising. The revamped version featured key changes and note variations from its original, and even those of us who were slightly ahead of One Direction's fame were taken aback and couldn't help but sing. 
Outside of his vocal ability – which was pretty much record-perfect – Styles won the night with his interactions with those who love him most. He pulled a Tino Rangatiratanga flag from the crowd, and moved to drape it over his microphone where it stayed for the rest of the show.  
The chats with his audience were comical and entertaining. After encouraging die-hard fans who had taken time to write signs to hold them high, he called out to a couple of their creators for a chat. It was then we learnt about a young woman who had "sold her cat's leg" to be there, and another who had broken up with her boyfriend because he didn't prioritise her. These interactions avoided being cringey because they were genuine. 
He found the two banana-clad fans in the crowd, and relaunched a song out of it by finding others dressed as fruit: "She's dressed as a banana, she's dressed as a banana… there is not an aubergine… I see two fried eggs over there."
Styles went on to deliver an invigorating rendition of "As It Was" when I saw the young girl in front of me take a seat. She couldn't have been more than 10-years-old and had been on her feet all night, dancing along as so many others did, so I presumed she needed a rest. 
But she then tugged on her mum's jacket, pulled her down and once they were at eye level, the little girl gave her the biggest hug. It was a truly heartwarming moment to catch. Their embrace lasted a few seconds, before she was up again for one final boogie to "Kiwi".