It's the event famed for harnessing an orchestra to play electronic music's biggest bangers to create magic – and next week, Synthony returns to Auckland bigger and better than ever before. 
Just six years ago, the event kicked off to a humble audience of 2,300 – now, with its ambitious new owners at the helm, Synthony is taking on new heights which is seeing the brand appear all around the world. 
Across seven hours and two stages, next weekend's event will see a turnout of more than 20,000 people – with acclaimed acts including Dave Dobbyn, Kimbra, Sachi, and more set to appear.
Here Rolling Stone AU/NZ explores Synthony's evolution – and how it came to be one of Australasia's most popular events. 
David Elmsly remembers the feeling that came over him after watching a video of music fans losing themselves to a live showcase of Ibiza Classics on YouTube. The BBC production, filmed at the iconic Royal Albert Hall in London, of the praised compilation album by Pete Tong, Jules Buckley and the Heritage Orchestra inspired an idea. 
"It was a mind-blowing show. We wanted to replicate that vibe but with a Kiwi slant," he tells Rolling Stone AU/NZ.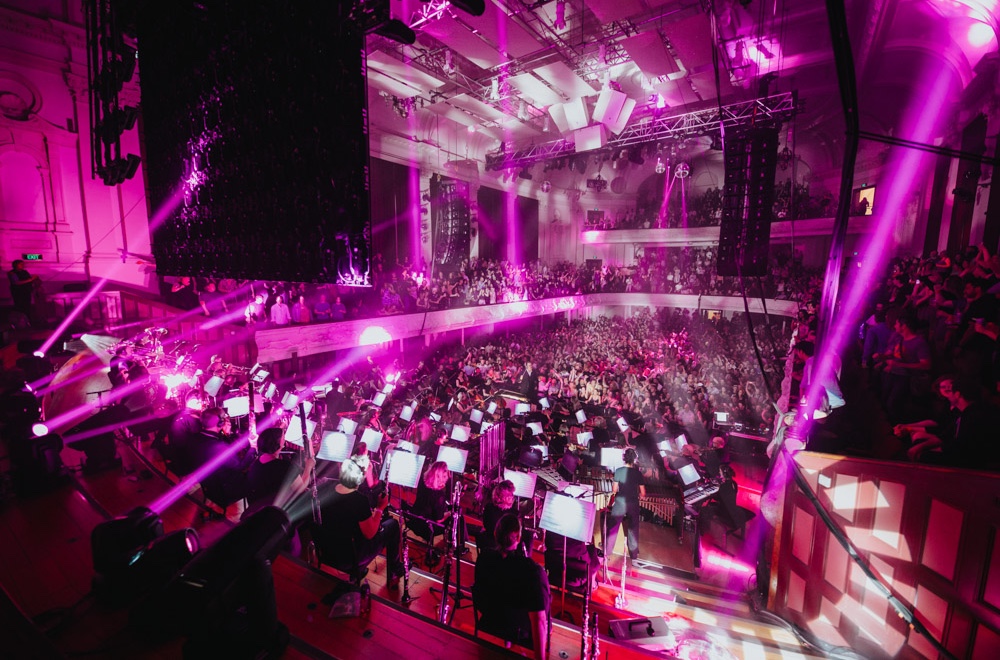 In October 2016, Elmsly and and co-founder Erika Palmer (nee Amoore) began researching and preparing how to produce a concert of similar nature from scratch. She came up with the name, launching the start of their creative journey, but as Elmsly recalls there were still "quite a few large knowledge gaps to be filled."
They poured their energy into learning as much as they could, but by the time they were watching the fourth rehearsal, he knew he had something special in front of him. 
"It started to all come together," he fondly recalls. "Standing in the middle of the orchestra belting out Robert Miles' "Children" sent shivers down my spine. I knew then that the audience would love the show."
In just under a year since deciding to make it happen, the first Synthony took place at the Auckland Town Hall in September 2017. A sold-out crowd of over 2,000 people danced the night away to classic drum and bass hits played out by the eighty-strong Auckland Symphony Orchestra. 
They nailed hits like Daft Punk's "One More Time", "Galvanize" by The Chemical Brothers, and "You Don't Know Me" by Armand van Helden, covered by local artists including Tali, Laughton Kora, and Helen Corry. 
Fans were left mesmerised – but despite its success, the pair knew it was going to take expertise for it to reach its full potential. He turned to his friend, David Higgins, who had a rich history of creating bold, global events from nothing.
Higgins founded his company Duco Events in 2004, which was renowned for its creation of the NRL Auckland Nines, speaking events with people like Richard Branson, and other esteemed New Zealand-wide sporting showcases. 
"We were attracted to things that we thought would be successful but also interesting," as Higgins puts it. He'd never ventured into the music space before, but when he took the call from his pal Elmsly, his mind started racing. The pair set up a meeting, during which Higgins interrogated Elmsly about the vision. 
"There were a few things that struck me in that very first meeting," Higgins admits. "I thought 'if they've created this magic in Auckland, why wouldn't it work in every other city.'
"In my head, I was thinking 'Synthony' is such a great word that captures it, we could trademark that in multiple countries, we could create different set-list and number them Synthony no.1, no.2, no.3, and we could build the event in size into arenas and then outdoor.' And that's what we did."
Duco Events invested and effectively bought Synthony, with Erika staying on as Director until 2021; since then, she and the Duco team have grown it into locations such as Spark Arena and played outdoor at the Bowl of Brooklands in Taranaki. 
View this post on Instagram
Higgins has taken Synthony on four tours around the country and also introduced it to the rest of the world with three tours of Australia and being the closing entertainment at the Tour De France Singapore in October last year. 
With a broad vision that shows no limits, Higgins says the model can be applied to outdoor amphitheatres and arenas but it can also be plugged into sports events like Formula 1 or the aforementioned Tour De France. "It's very scalable and can apply to different situations," he says.
It also helps that Synthony has full control over elements like picking the date and venue, as well as owning the brand. "That's quite liberating. It's very flexible and that's quite unique and one of the things that attracted me to it," Higgins adds.
Outside of the positives on the operational side, though, it's about how good the content is. "I think the most important thing is the people who go to it – even if they're not into electronic dance music, they're blown away," he insists. 
"If people go and don't enjoy it then they're not going to come back, so the fact it's grown from 2,000 at Auckland Town Hall, to 20,000 plus this year, is testament to how magic the event is."
Elmsly agrees, touting the event for its ability to tap into the forgotten favourites people grew up listening to. "I think the growth really comes from harnessing the feelings of nostalgia with the biggest tunes of dance music history," he says.
"There are so many people that work on the Synthony show.  It's a massive creative juggernaut.  With all those people sharing their love of the show, you grow your audience pretty quickly." 
The upcoming Auckland show on April 1st will be their biggest yet – more than 20,000 people will witness the worldwide debut of a new setlist, "Synthony no.4", including EDM bangers and big hits with the Auckland Philharmonia Orchestra, guest vocals, and immersive visuals.  
Elmsly has watched as Synthony has reached new heights, acknowledging its evolution has been "far grander than I ever saw for it."
"Duco grew it way faster than we would have," he insists. "They have invested a lot into the growth of Synthony." 
Part of the beauty of Synthony has been the opportunity for emerging singers, performers and musicians – who might not have big names – to get experience playing in front of a big audience. 
Looking ahead, Higgins hopes to formally provide opportunities to younger orchestral players, singers, and musicians to be part of it and get experience in front of a big audience. "The future looks bright. We're really excited.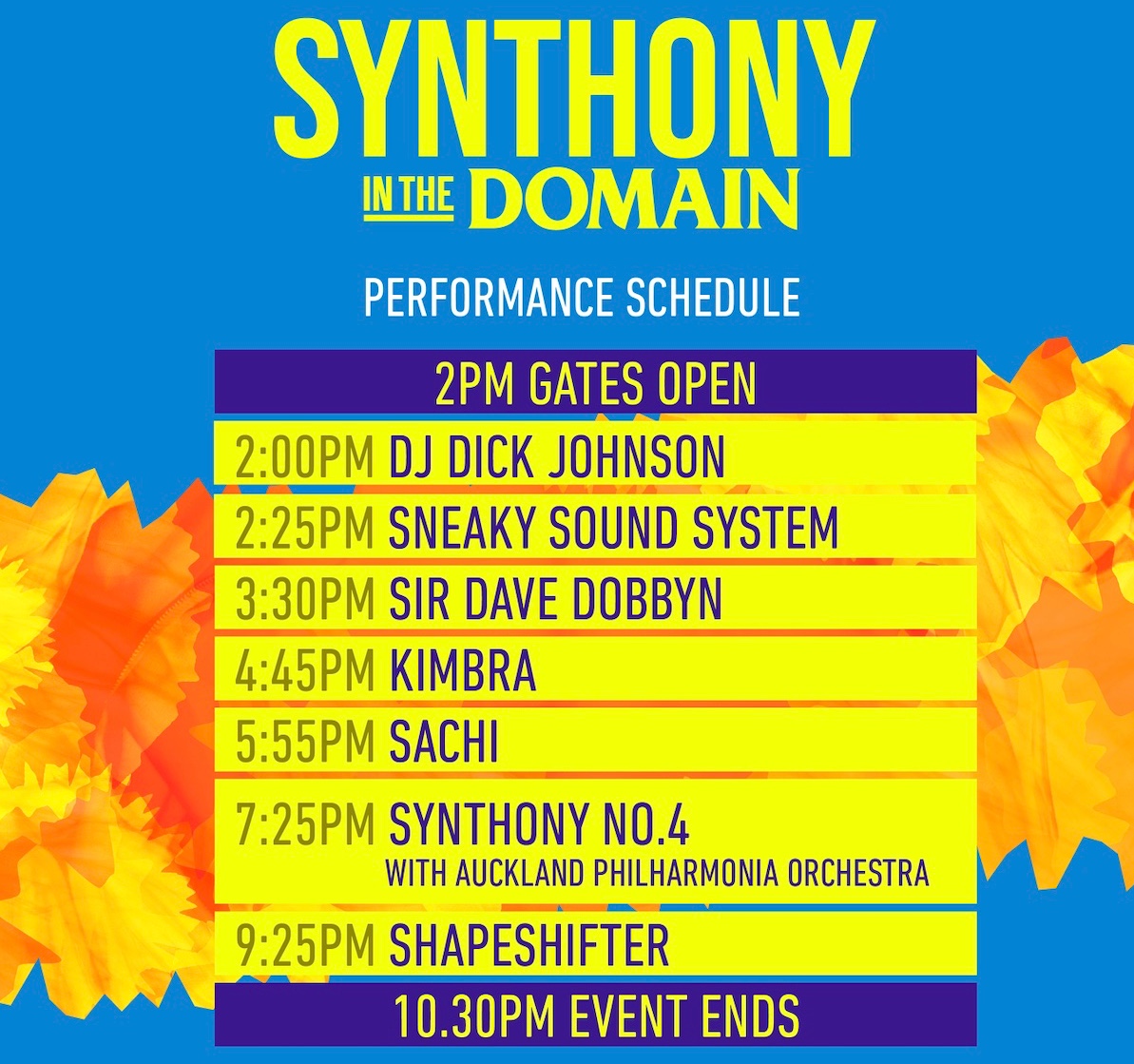 Synthony in the Domain
Saturday, April 1st
Auckland Domain, Auckland, NZ
Tickets available now via synthony.com
Lineup
Shapeshifter
Kimbra
Dave Dobbyn
Sneaky Sound System
Sachi
Synthony No. 4 With Auckland Philharmonia Orchestra (Conducted by Sarah-Grace Williams)
Synthony No. 3 Australian Tour
Saturday, March 25th
Riverstage, Brisbane, QLD
Saturday, April 22nd
Aware Super Theatre, Sydney, NSW
Tickets available now via synthony.com
Lineup
Natalie Bassingthwaighte (Rogue Traders)
Ilan Kidron (The Potbelleez)
Thandi Phoenix
Cassie McIvor
Greg Gould
Matty O
Mobin Master
Super Disco Club
Aroha (Host)