The iconic SXSW is being held in Austin, Texas, this week, and Australia and New Zealand is well-represented. Pickle Darling, Hans Pucket, ASHY, Hope D, and more have headed to the famous festival to showcase the music this side of the world has to offer.
Kiwi singer-songwriter Georgia Lines is also there, ready to bring her R&B-inflected pop to industry professionals and music fans. After her  2022 EP, Human, a vulnerable exploration of love and loss, debuted atop the New Zealand Albums Chart last year, she's now writing and recording her long-awaited full-length debut, which should take this proudly independent artist's career to the next level.
Rolling Stone AU/NZ asked Georgia to take us through her SXSW 2023 experience, and you can read all about her final day at the festival below.
More information about SXSW 2023 is available here.
Day 5 At SXSW
As day five comes to an end, there is quite a sense of sadness paired with a big sigh of relief that we did it. We made it… seven shows in four days. SXSW 2023. Absolutely WILD. Today has been the biggest of them all and the best of them all.
The day started very late… with a sleep in until 10:30am. The big days have really been catching up with me and I am really starting to feel it in every place possible. As I woke up, I received a message from the first gig to say my check in time at the venue was at 11:30am, which obviously did not leave me much time to get myself sorted.
Luckily, my new hairdo was very receptive to a two minute little spruce up, and I seem to be able to get ready fast when I need to. Once again, we rolled downstairs with the giant keyboard which at this point everyone is verbally hating, so we ordered an Uber downstairs. As this was a solo gig, we only had the keyboard and sound gear to carry, but none of us had the energy or time spare to walk. When our Uber arrived, the keyboard wouldn't fit. Of course. Even with the seats down, for some reason, it was not going to play ball.
So we had to order an Uber XL… which by the way, would be very handy in NZ when flying with that silly keyboard (which I love dearly, just strongly dislike carrying it around for blocks at a time). I have had multiple experiences where the Toyota Prius has seen me on the side of the road and then cancelled my ride, leaving me stressed and stranded on the side of the road with a giant keyboard trying to catch a flight.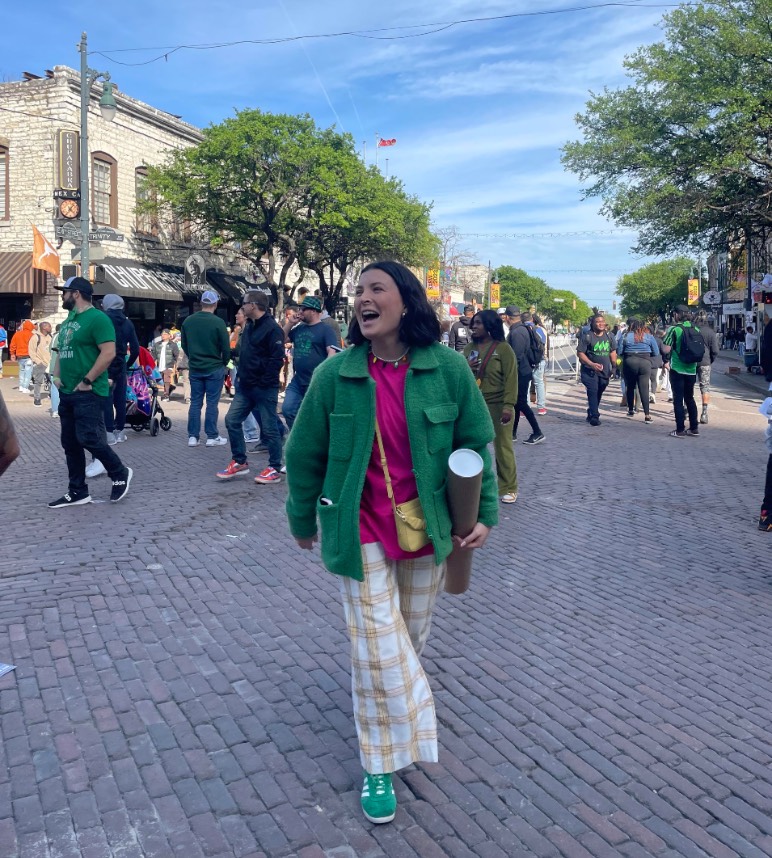 On arrival to the first gig, which was called Tiny Van, we waited for about 10 minutes standing outside the tiny van, wondering if the people running the show were still asleep as there was no life outside and no sign of any gig happening. We then realised that we hadn't read the instructions properly and just had to walk inside the back door of the building we were standing in front of.
It was a bit of a strange gig set up, but it ended up being very fun! The stage was behind bars, and in a comedy club, which didn't feel very comedic. With only half my band, Mikee my manager, the odd member from the previous band and the band playing after me as my audience, I played to six people. Somehow we ended up doing the 2 step (line dancing) in the middle of the show, after I shared once again my strong dislike for macaroni and cheese and a few of my other favourite experiences in Austin the last few days. I even made up a song about doing the 2 step, while Dave my guitarist and Logan my bass player who had both been out line dancing last night demonstrated their new skills to the five people in the audience.
With one gig left to go, I decided I needed to get a nap in while everyone went out to eat more BBQ. At this point I had hit an extreme wall of tiredness, actually well past the point of tiredness, and ended up in a full laughing fit… it was either that or crying at how tired I was feeling and I honestly couldn't stop laughing. If you have never seen the Youtube video "Grape Lady Falls", you need to pause reading this and head to YouTube and watch it…. It's one of my most favourite YouTube videos, and it accurately describes how I felt.
When the rest of the crew came back, they had found a mechanical bull on their way home from lunch and came to find me before riding it, which I am stoked about. I would have been so sad if they had gone without me. Of course, in my excitement I jumped out of bed and changed into some kind of appropriate attire for mechanical bull riding.
Forgetting that it was also St. Patricks Day, the streets had come alive even more, including the Buck Wild Bar on 6th Street.
Watching another lady go first ahead of us, who looked like she got whiplash coming off the bull, really got me panicking and then realising that I still had one more show to go and couldn't afford to brake an arm before my last hurrah.
However, my pride definitely got the better of me, and I wasn't going to pull out now, and mentally I had decided I would 100% go on stage with a broken arm if I needed. With no broken arms, or whiplash, but with a lovely rope burn on my upper thigh, we left mildly unscathed.
Once again, we made our way from the hotel to Esther's Follies for our final show for the week. At this point the pre-show nerves and adrenaline had taken over any tiredness we were feeling prior to the show and we were ready to play. Doing my best to try and describe what the venue looked like on the inside, it was almost as if previously in another life the venue was a swimming pool. There were fish murals, real-life fish living in a piano turned fish tank, pink bathrooms, giant sea horses, ventriloquist puppets, gold statues, tiered seating, swimming rules plastered on the walls and a fountain inside, with the most delicious taco truck right outside.
View this post on Instagram
Last night during the lightning storm, our friends Foley had their show cancelled due to the weather and needing to move everyone inside, but they managed to get a make up show at the same venue, opening the night. Their energy was electric and drew in people from the streets as they played their set. Felt very proud to be from NZ watching them do their thing and absolutely crush it!
9pm rolled around very quickly and we jumped on stage, for our final show. Show number seven. With a little band huddle and a whole heap of adrenaline, we started our show. The venue was absolutely packed and buzzing.
When I got to my "Hine e Hine" moment, my keyboard had decided not to work. With no time to fix it, and needing to move on in order to not lose any songs in our set, I decided to jump off stage into the crowd and sing "Hine E Hine" a cappella, and on my way down caught my favourite green Wynn Hamlyn dress on the foldback speaker, ripping a hole in the fabric. No time to panic, or grieve my favourite dress, I sang the lullaby to a dead silent room.
Any last reserves of energy we had was thrown at the show, and we came off stage feeling very satisfied, tired and so happy. We ended the week with the best, biggest version of our show and I felt so incredibly proud of my team for the week.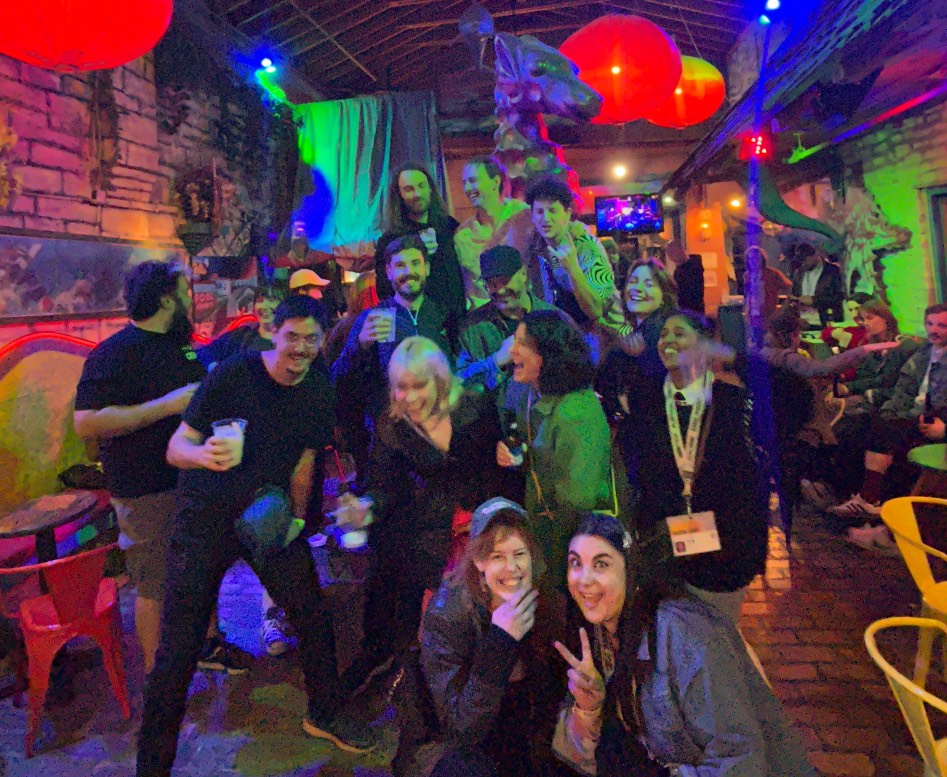 As I sign off for the night, and the week, it has been an absolute privilege to be here in Austin for the week. I can't believe that we are playing on the other side of the world, and people are connecting to what I'm creating. What an absolute dream to do this as a job.
Today has been absolutely wild and my heart feels so full with such a wonderful week. I love my band, I love my team, and I love America.
Until we speak again.
Much Love,
Georgia