When it comes to longevity in Australian rock, you'd be hard-pressed to find someone with a more distinguished career than music legend Jimmy Barnes.
But in contrast to the rough and tumble rock he was renowned for as frontman for Cold Chisel, Barnesy's 20th solo album, Flesh and Blood, is a family affair that introduces fans to a softer side of the 65-year-old rocker as he explores the theme of family and the bonds that bind us.
Along with a duet with his wife of 40 years, Jane, Flesh and Blood sees Jimmy's son Jackie play drums on the record, while daughters Mahalia, Eliza-Jane and Elly-May all contributed vocals, as did Jackie and granddaughter, Tyra Harrison.
"My children — my flesh and blood — they've got the best of me, and they've got the worst of me," Barnes explained Rolling Stone Australia.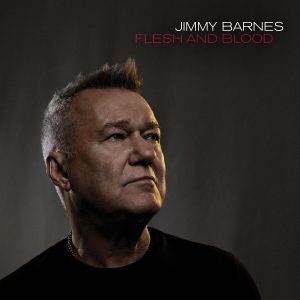 "For years have tried to corral and protect them, but I've realised over the last few years that you all you can do is lay all the groundwork — you give them an education, you teach them about pride, patience and sharing, and then you send them out and let them make their own mistakes and they'll come up with different answers," he continued.
It's a sentiment all parents would undoubtedly be familiar with, and given Barnsey's well-documented wild past that was synonymous with the rock 'n' roll lifestyle of the time, it's easy to understand the singer's initial struggle to come to terms with the life lesson.
"No matter how much you try and slow that down, they're going to do that anyway, so you might as well let them because they're probably going to get better answers than what you did," he laughed.
"And that's sort of my message to myself, let them do their thing. And while they do get the best and worst of you, but it's all part of growing up."
"That's one aspect of Flesh and Blood. There's another aspect about relationships and families and I looked at my parents' relationship in the late '50s when we had no money, we had five kids, there were cycles of alcoholism and violence.
"They were trying to raise a family and have a loving relationship in the middle of all this and it was just in bleak, cold, poverty-stricken suburbs of Glasgow," he said, adding, "So I wrote a song about that."
Another key element throughout Flesh in Blood, Barnes said, is the idea of presenting your true self to loved ones and having them accept you entirely — warts and all.
"Some people go through life without ever learning the truth about who they really are — it's not just about what you've done, it's about who you really are," he explained.
"Until you really look at the truth of who you are, and what you've done, you really can't move progress as far as you possibly could in a relationship."
It was this idea that inspired Jimmy and Jane's emotional track "Love Hurts", a song that was born from Barnes laying everything on the table to his wife of four decades.
"At one point during mine and Jane's relationship, I got to the point where I decided that I was going to lay everything on the table, all the good and the bad, and the horrible, and everything I've done in my life, and say 'Jane, and now this is what you've got, can we start from here.'"
Barnes continued: "It was either going to see us break up, or we would be much stronger for it. And even if we broke up, we would be better for it, because the truth will set you free."
"It was a huge, integral, pivotal point in my life. And so I wrote about that. I think a lot of this stuff came from me going to therapy and all the stuff that came up from my childhood."
Barnes credits his decision to go to therapy for being able to adequately deal with the painful traumas of his childhood, most of which was documented in his autobiography, Working Class Boy, which he also reflected upon while working through his traumas.
"I had to really look at all the stuff that I'd had hidden, all the abuse and trauma. I had to look at that for myself, otherwise, it was going to kill me," he said.
"In the process of doing that, I got quite a bit of therapy, and I believe that opening up made me become a better person."
While Jimmy said working on himself has allowed him to "get a handle" on his demons, he warned, "The thing about the demons is, you never really get rid of them. They just hide, just waiting to pounce. You've got to keep on top and keep working on yourself."
Barnes' track "'Til The Next Time" touches on this idea, as well as one's ability to push through said demons despite the doubts they raise.
"Sometimes I'll be watching a movie, then I'll see something in the movie that reminds me of something bad about myself.
"And I'll start doubting myself and be unable to sleep, and I'm looking at the clock and it's three in the morning and I'm thinking, 'Am good enough for the family? Am I a good enough person? Do I deserve this?'"
"But then I tell myself, I've been through all this, I'll work through this, you can deal with this. And everything's gonna be okay," he said, adding, "'Til the next time."
The crux of  Flesh and Blood, however, is being able to relate to the struggle that each and every one of us faces each day, something Barnes hopes resonates with fans when listening to the deeply personal album.
"We all struggle with the same things. We all want to be better people, we all want to grow, we all want to see our families do well, and we all will have doubts. But we also all have hopes and dreams."
Having originally announced the run of tour dates back in April, Barnes was due to hit the road on Friday, in support of his latest album, Flesh and Blood. However, due to the uncertainty of border closures, Barnes last week postponed Friday's Perth date until August, with Frontier Touring noting that no other dates were affected at that time.
Now, the full tour has been rescheduled for September, with ongoing uncertainty cited as the reason behind the decision.
"I would rather be on stage than nearly anywhere else in the world but I would never want to endanger any of our Australian music fans," Barnes explained in a statement. "So due to COVID, I have had to reschedule my shows.
"I didn't want to postpone and postpone, week after week so we've moved the shows back by a month or so. I hope we get on top of this by then and we can all celebrate live music together again."
The new run of dates will now kick off in Brisbane on Thursday, September 2nd, before wrapping up in Perth on Wednesday, September 22nd. While all current tickets will be honoured at the upcoming shows, full details can be found via the Frontier Touring website.
Jimmy Barnes' album Flesh and Blood is out now.
Jimmy Barnes' 'Flesh And Blood' Australian tour
Rescheduled Dates
Thursday, September 2nd
(Previously Wednesday, July 28th)
Convention & Exhibition Centre, Brisbane, QLD
Friday, September 3rd
(Previously Sunday, July 25th)
The Star, Gold Coast, QLD
(Previously Convention & Exhibition Centre, Gold Coast)
Wednesday, September 8th (Sold Out)
(Previously Friday, July 30th)
State Theatre, Sydney, NSW
Thursday, September 9th
(Previously Saturday, July 31st)
State Theatre, Sydney, NSW
Saturday, September 11th (Sold Out)
(Previously Friday, July 16th)
Thebarton Theatre, Adelaide, SA

Sunday, September 12th
(Previously Saturday, July 17th)
Thebarton Theatre, Adelaide, SA
Saturday, September 18th (Sold Out)
(Previously Thursday, July 22nd)
Palais Theatre, Melbourne, VIC

Sunday, September 19th
(Previously Friday, July 23rd)
Palais Theatre, Melbourne, VIC
Wednesday, September 22nd
(Previously Friday, August 13th)
Riverside Theatre, Perth, WA
Tickets on sale now via Frontier Touring