In this personal essay, Gretta Ray details the long journey to writing her new single, "America Forever", a collaboration with Maisie Peters and Carol Ades. The track features on her forthcoming album Positive Spin, a pure pop project that's released on August 18th (pre-order here). 
I so vividly remember the moment in March of last year, when I received the message that my newly issued passport had been sent my way. After two long years of the pandemic sending my home city of Melbourne into several lockdowns, the international borders were finally opening back up. I could book my flights!
The big wide world was calling, and as a writer, I was hungry for new inspiration and desperate to reconnect with the parts of myself that I can only seem to access when I am in London or America, places that I often refer to as the 'homelands' of a lot of my music.
Aside from getting hit with the dreaded COVID itself six days into my travels, I was overcome with joy being back in London. I'd never been happier strolling along Southbank in my heavy winter attire taking countless film photographs, walking to and from the tube, and as if nothing had changed – as if time hadn't practically stood still for two years.
When my sickness subsided, I left London to head to Nashville to begin some songwriting sessions. Though I had been writing frequently in lockdown, there was something about working with new collaborators in another hemisphere that felt like a slow stretch. I was warming up, frustrated that the creative cogwheels in my mind were a little rusty but, like anything, I eventually felt my songwriting muscles re-engage.
By the time I landed in LA for my final week, I felt wholly back on track. Every session felt like a massive win; I had this newfound energy and self-confidence that I hadn't felt in myself in years.
I owed it all to that sweet, sparkly, very real thing that I like to call 'America Magic': that golden light that glistens over LA symbolises a feeling in the air that makes any creative person feel almost invincible. I've had several conversations about my 'America Magic' theory, and I believe it to be particularly effective on Australians.
I adore so much about having grown up in Australia; it shaped me into the woman and artist I am today. But what a gift it is to escape the tiresome, 'Tall Poppy Syndrome' that works against dreaming big. This bizarre way of thinking is conditioned into us. So many Australians preach the importance of "staying humble" to the point where one becoming "too big for their boots" seems like the worst thing in the world.
In my experience, places in America like LA and Nashville seem to have the opposite approach. They champion those who are ambitious, shine a bright light on new talent, and give hard work credit when it's due. My trips to America have helped me fully believe in my abilities as a writer and validated my work ethic and passion. 
While I believe that humility and grace are vital, especially in the creative industry, I think that the pressure many Australian artists put on one another to "stay humble" has perhaps gone too far, and it can limit creatives who have big, bold visions.
Ok, rant over. 
On my last full day in LA, I was miserable. I knew that I only had so long to benefit from that 'America Magic' before I had to board my flight home to Melbourne. I had one more writing session that day with top-liner Caroline Pennell. On my way to her house, I attempted in vain to hype myself up and get out of my funk before walking in the door.
On arrival, I was met by a wide-eyed brunette woman, her hair in two braids, glowing with enthusiasm. "Hey, I'm Caroline! Thank you for meeting me at mine!" she beamed, greeting me with a hug. "How's your trip been? How have your sessions been so far, do you have anything you want to play me?"
I shyly opened my phone and went through some demos with her. I'd been making a lot of lushly produced pop songs over the past week, and as she listened intently I wondered whether that would be the sonic direction we would go in today.
"Well, I don't have a studio set up," she explained "so maybe we could write something just on guitar?"
I was already in a slightly bratty mood, quite tired from a busy week, and I couldn't recall when I had last written a song with just a guitar. Sensing my mood, Caroline asked how I was feeling. 
"I'm sad," I eventually admitted to her. "My flight is tomorrow morning and I don't want to go home yet. I've been having such a good time here."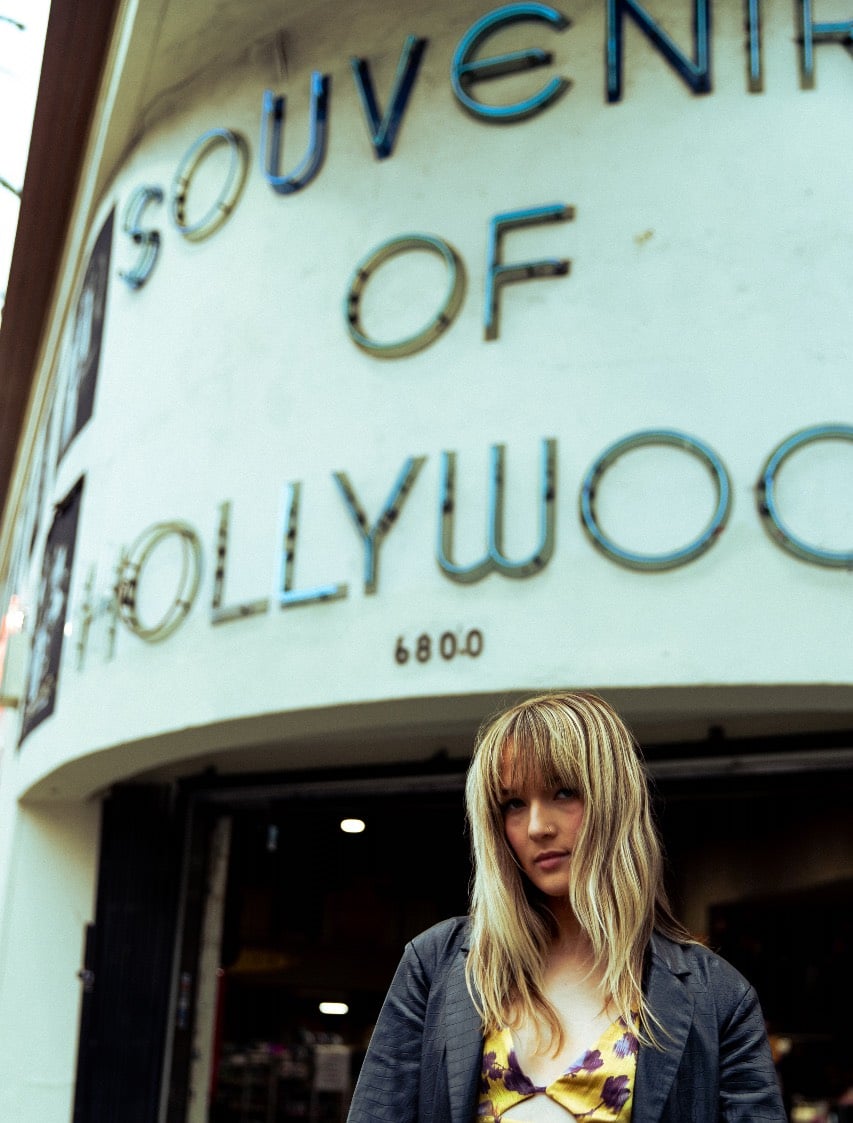 Caroline was incredibly patient with me and somehow managed to work with my mopey disposition and turn it into music. As I rambled on, she nodded in agreement and said jokingly, "Right?! It's like "Bury me at Trader Joe's," you know what I'm saying? You just want to run away and hide!" I giggled, she smiled sweetly, and said, "let's start with that then." She strummed her guitar in open D tuning.
"I don't wanna go home no, you can't make me." 
She performed this completely perfect opening melody. We continued to flesh out lyric ideas. "Then it could go up?" she said.
"I think getting on that plane, it might break me." 
She lifted the melody a little higher, and by the pre-chorus we were incorporating moments of our conversations into the lyrics:
"Could find me hiding in a Trader Joe's."
Gradually, I began to trust the process of just writing with a guitar again as we worked our way towards a chorus. I stared at Caroline as ideas for the song spilled out of her and was floored. 
In this life, I've met so many people who really love music in the same way that I do. They live and breathe it. However, every now and then if you're lucky, you'll meet someone who just is music. That's Caroline. She is it.
At one point, I mentioned that I may have to finish up early to pick up my jacket I'd left at another session. "I'll take you there and we'll write the song in the car," Caroline suggested. We drove twenty minutes to Pasadena, gushing about our shared love for MUNA and The Japanese House, in between writing verse lyrics. 
"Taking footage of Pasadena in sunlight."
The ideas were starting to spill out of me. My walls were down, and the 'America magic' was well and truly with us. Caroline kept singing this busy, two-note melody as she drove, humming it to herself and eventually we filled it with words and it became our chorus.
We arrived back at Caroline's and sat on the couch, typing all of my journal scribbles into a document that we'd started earlier. Once the bridge was written, it was time to sing through the entirety of what we had.
"Bury me in Santa Monica, you know Laurel Canyon has my heart."
Caroline chimed in with stunning harmonies, and as we sang our song, one that hadn't existed at all just hours beforehand, I felt like a part of my old songwriter self had returned. 
We recorded a voice note of the song that I sent to my dear friend Maisie a few weeks later. Maisie was so moved by the song, responding with something along the lines of, "I will be singing backing vocals on this, yes I will!" So for the final studio version, we have gorgeous Caroline and my darling Maisie singing across the track. The songwriting fairy and the good witch, singing on my sophomore record! 
When Caroline and I were finishing up that day, I glanced at the document and noticed that somewhere in our earlier ideas of the day, she had written the words "America Forever."
"I kind of love that as a title!" I said. She grinned. "Me too."
"Rose-coloured glasses clear the roads that lead to a version of me that I can't leave behind."