As I walk into Howler for the first time, a lively bar and venue in Brunswick, I'm unsure what to expect. 
I'm here to interview Vancouver alternative artist EKKSTACY, currently on his first Australian tour and about to perform at SXSW Sydney later this week. 
But EKKSTACY and his team are running late. 30 minutes pass, and he finally appears alongside his manager, gesturing in my direction. A brief introduction follows, and we're soon climbing a narrow flight of stairs in the backstage area; EKKSTACY leads the way, skipping four steps at a time.
I enter the green room, ready to conduct the interview, but that's when EKKSTACY's band decide to start their soundcheck for their first Melbourne show, due to take place a few hours from now. "It's hella loud," EKKSTACY exclaims, and his manager swiftly leads us through a new door into an electrical room, pulls up two benches for us to sit on, and closes the door. Surely this is us now?
As EKKSTACY sits across from me, he fidgets and jokes, seemingly an equal mixture of excitement and tiredness. But his demeanour is completely understandable: he's working hella hard, after all. If you ask him – as I do – touring is all he seems to do these days, but he loves it. For now, at least.
"It only gets worse," he says, half-joking, but he's really living in the moment and trying not to think too much about the future, even tomorrow. It helps that intimate venues like Howler are his favourite, but unfortunately for him, such sized venues might not be in his regular schedule for much longer.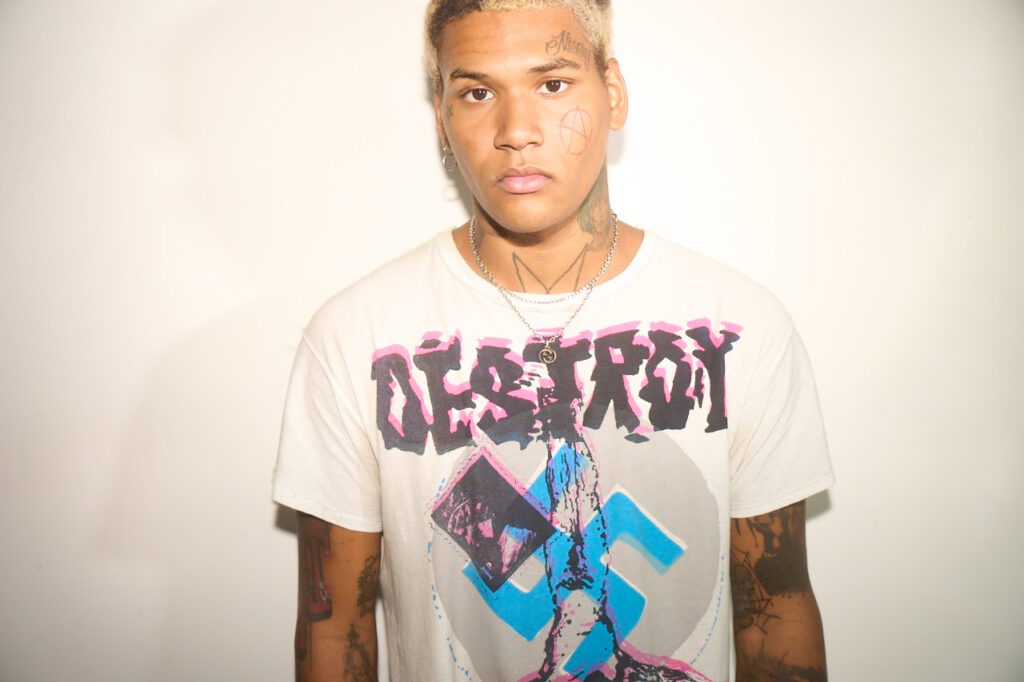 "Problems", his most recent single, dropped last month, and features a huge turn from Trippie Redd. It was a dream moment for EKKSTACY: like many 21-year-olds interested in rap, Trippie is one of his favourite artists.
"Trippie DM'd me earlier this year. He said he likes my music and I was like, "Yeah, facts." He was like, "I'll fly you to Miami and you should get on my album." I didn't fully believe him", explains EKKSTACY. Two months after that initial DM, Trippie's team did indeed reach out to EKKSTACY crew, and soon enough, he found himself in Miami. 
"I went to Miami for three days. It was so weird hanging out with Trippie because I grew up listening to him," he recalls fondly. "They picked me up in a Trackhawk and there was a bunch of dudes in the back and I was like, "What the fuck is happening?" According to EKKSTACY, he blacked out within 30 minutes of arriving at the studio because they drank so much. Looking back, though, it led him to one of the biggest hits of his career so far, a song that's "goated," if you ask him. 
Looking across at him in the bowels of Howler, EKKSTACY's bold pentagram tattoo on his cheek is something I can't help but check out closely.
"I just don't appreciate stuff, I'm so ungrateful," EKKSTACY says as we start to talk about the good moments in his career thus far. A huge grin spreads across his face as a live show at The Echo in Los Angeles during his last tour crosses his mind. It was a moment he'll never forget as it was when his parents showed up to one of his shows for the first time – not bad considering the venue was sold out.  
"I cried, that was crazy to me. That was probably the sickest moment of my entire life" he says. It was the first time his parents had ever really been involved in his career, or even seen him perform live, and EKKSTACY probably never seen it coming. As a teenager, he recalls telling his dad he was going to make music, to which his dad bluntly responded, "No, you're not."
In a later conversation, though, he asked his dad if he thought he had what it took to make it. "Honestly, yeah," he responded this time. Looking back, some self-belief is probably what a younger, more doubtful EKKSTACY might have needed, which is why that's what he hopes listeners take away from his music now. 
"My most fond memories of music are hearing it and feeling cooler. Just hearing it and feeling more confident, I hope that happens," he says.
Despite his aesthetic leaning into brooding darkness and sadness, EKKSTACY definitely has a lot to be happy about. He's made a name for himself outside of Vancouver and chased his dream. He's singing songs with his idols and performing in countries all over the world are becoming a regular occurrence. 
Life's moving extremely fast, but EKKSTACY is ready to roll with the punches; if anything he's inviting more. If you didn't catch him close up at Howler, you may be watching from slightly further back the next time he's in Melbourne, and he may have a song with your favourite artist by then, too.
"I was on the street today and some kid came up to me and said he was coming to the show. Like, what the fuck bro, I'm outside some random salad restaurant and I literally just got to Melbourne and I'm already taking photos." This is just the new normal for EKKSTACY.