On the last day of the National Day holiday, when Charlie Puth's third studio album, CHARLIE, finally came out, you will find that half of the netizens can already sing most of the songs, not only the previously released songs such as Light Switch and Left and Right, but also the newly released singles such as Loser and Tears On My Piano. This pop singer, who won many awards and nominated Grammy by virtue of See You Again, has shared his songwriting process on TikTok in every detail since one year ago, without worrying about the leakage of sound source. At the moment when the communication habit has changed dramatically, Charlie chooses to talk with the audience in a more direct way. As he said, the new album CHARLIE is a "dialogue with himself". With thousands of netizens, Charlie has experienced the "worst year" and learned to embrace himself and hear the most authentic voice in these blank time.
From "what to sing" to "what to sing"
Charlie's last full-length album was Voicenotes released in 2018, which won RIAA Platinum certification only four days after its release. It was shortlisted for the 61st Grammy Awards, and included popular songs such as Attention and How Long. After handing in this answer sheet, Charlie began to prepare his third album, and released several songs in 2019, but unexpectedly, the response was flat, and he did not make outstanding achievements in the ranking as before. Even his respected predecessor Elton John commented that his music during that period was "terrible."
Now looking back on the works of that period, Charlie himself was not satisfied. "I feel that the music is not true, and I feel that I am pretending to be someone else." He pays attention to pop trends and listens to others' suggestions. When people say, "Don't sing that, you are an influential white singer", he will think about "what songs to sing". Charlie Puth is regarded by the American music circle as "one of the most stable creators of pop songs". In the industry, he hopes that every choice is correct.
Charlie has a point of view: when you write a song and you are not satisfied, you should write another song. If you are not satisfied, you should write a third song. When the creation is stagnant, the most direct choice is to break up and reorganize. The decision to start again is not difficult, but how to find a new direction.
Charlie at that time felt that "if you want to be an artist, you must hide and not communicate with anyone to create your own art." Like all famous stars, he also attaches great importance to preserving his privacy. However, when Charlie was ready to "step back", the epidemic began. The long stay at home gave Charlie two new gains: first, stop to think about what he wants to sing; Second, TikTok.
A variety of short videos inspired Charlie's creativity, and the traffic contest taught him a truth: "You are nothing in fact": maybe this video is still playing a lot, and no one will watch the next video. Don't take yourself too seriously. It's important to keep creating. Therefore, he began to officially "put himself down", sharing his inspirational moments or boring and funny daily life on TikTok, while improving the music with the feedback of netizens. With the accumulation of inspiration one by one, the theme of CHARLIE appeared – "Each song is my current feeling, recording what I was experiencing at that time. In the past two years, I have experienced something, ups and downs, of course, everyone is like this. We have all experienced this, and I just added melody to these experiences."
Conversation with yourself
Recall Jay Chou's Jay, Faye Wong's Faye Wong, Huang Qishan's Xiaoxia, and Lin Yilian's The Original… Lin Yilian. When a singer chooses to name an album after his own name, this album is usually very special for him. It may be the name card that best represents his own voice, or the voice closest to his own, intimate and private. This is the case with CHARLIE. "This album is like a mirror, from which I can see myself. It is full of vulnerability and sensitivity, and also very close to my personality. It's really good to have an album named after myself."
When you see the title in the album list, you can understand Charlie's meaning: When You're Sad I'm Sad, I Don't Think That I Like Her, Loser, Tears On My Piano. Charlie does not shy away from his emotional loss, but tells us what he has experienced in the past few years with the most truthful and candid description.
2019 was defined by Charlie as "the worst year". It was not only a creative block, but also the most painful breakup in his life. It took him a year to recover. Many songs in this album recorded the heartbreaking moments at that time. In That's Hilarious, he wrote: "You look away a year of my life and I can't get it back no more", "Now you put the blue in reverse, Tryna make me feel guilty for everything you've done", "You're just another lesson I learned, Don't give your heart to a girl who's still got a broken one.". When sharing this song on TikTok, Charlie always blinks his eyes and sighs gently occasionally. Before the release of the single, he sobbed and shared: "This is the most difficult song I ever made. Every time I hear this song, my mind will return to that difficult time. I don't know when that time will end. I want to throw away these memories and start again."
Most pop song creators start with music (melody) and then lyrics. Charlie used to do the same. But in this album, he started with lyrics because "I have a lot of words to say, this is a dialogue with myself", and some even talked to himself in the studio. In these conversations, "Reality" is a very important word connecting him and the audience: "I think it is the most important thing for a singer, artist or album producer to pass on the 'truth'. For me, I just want to tell the truth about what happened to me from 2020 to 2022. I think as long as I am honest enough, I can bring comfort to many people, including fans in China. Maybe someone has the same experience with me. We have all experienced those heartbreaking moments. These music can be very To a large extent, we connect with each other. I feel the same as everyone about those experiences. "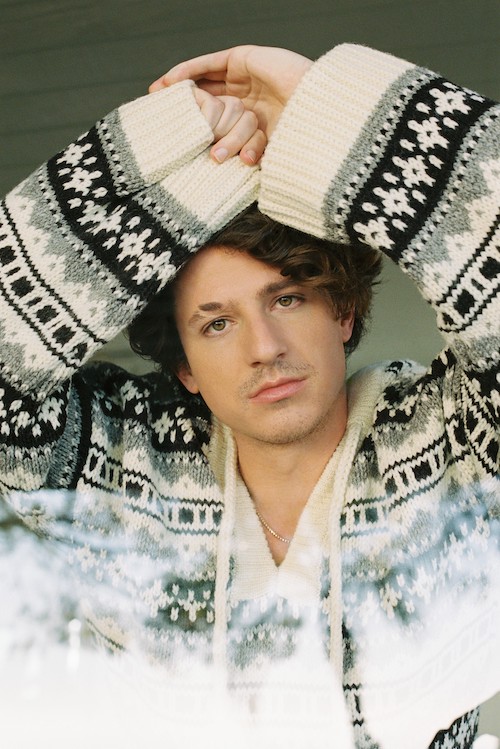 What TikTok taught me
The birth of CHARLIE is also the process of Charlie himself finding a "new personality" on the Internet. As a pop star nominated by Grammy for three times, he, like all "artists", keeps a distance from social media. Until one day when he wrote the single Stay for The Kid LAROI and Justin Bieber, The Kid LAROI, who wrote half of the song, suddenly took out his mobile phone and opened a live broadcast in front of Charlie, singing the "I do the same thing…" that ran through the summer. Charlie was a little shocked. This was the first musician he met who would actively release music during the creation stage. He asked The Kid LAROI, "Are you releasing music? We haven't finished yet." The Kid LAROI, who was born in 2003, just said happily: "It's OK, brother. Everyone wants to hear this song earlier."
This led Charlie to rethink his relationship with the Internet. "What worked 10 years ago may not work today. What worked for that singer may not work for me." In today's ever-changing audio-visual environment, listeners may only know what they want to hear by asking themselves. So he began to PO his own daily life. His dog, piano and "fighting butterfly" lay on the bed to answer the questions of netizens and connect live; At the same time, he began to make small pieces of his own music, the melody he thought of when he dreamed about taking a bath, the inspiration he got from online jokes, and the process of his colleagues' "roaring" and drumming into a song. These videos always start with "If there is a song…", which is short and concise. The number of clicks on a single video often exceeds ten million, which has become the most effective way for him to warm up his new songs. For example, due to a series of short videos released in advance and nearly a month of fragmented previews, the MV of Light Switch quickly received more than 36 million broadcasts after its release, and more than 113 million were broadcast worldwide within a month, making it the most successful song in its distribution perspective.
Now his TikTok video has seen more than 3.5 billion views and more than 8 billion network traffic. Charlie shares his music experience with fans from all over the world to let them participate in his album creation, He also always said that the album was "completed together with his netizens": "This process is very interesting to me. I think (communicating with netizens) enriched the album and improved the process of music production. I feel like I am performing to them."
Although appearing too frequently on the Internet will also lead to criticism. Some people teased him about his gradually becoming "popular on the Internet", not like an artist, but also worried that in the long run, when the younger generation saw Charlie, they would only think he was a TikToker. However, Charlie himself does not care about these comments, nor will he be affected too much "as long as I remember my original intention to do so. I do not have to ask the audience to help me write songs together. In fact, they are giving me motivation to bring this song to the end." He even went back to his experience when he toured the Shanghai Mercedes Benz Cultural Center in 2018. "After the performance, I immediately wrote three songs. I like to perform for Chinese fans, and I like the feedback they gave me. But now I can't come to China, but the enthusiasm of fans still surrounds me. I found their 'virtual versions' through the Internet." In fact, Charlie's early music creation was carried out in Internet fields such as forums, and his popularity could not be separated from YouTube. For him, music creation on the Internet was not a strange thing, but was naturally handy.
Make music happily
If you have a chance to chat with Charlie Puth, you must be careful, because if you are not careful, your words may appear in his next single. Not only is it dialogue, the sound of switches, the sound of stamping feet, the sound of water pipes… Every syllable, every tone, and every comment "can be a good song". Thanks to his "Perfect Pitch", creation takes place in every corner of life. By watching Charlie's video, you can clearly understand what "play" music is. "I hope that when people hear this album, they can realize that anyone can become a musician, anyone can write songs, and music is everywhere."
Although the whole album is full of "Sad Love Songs", almost every song you hear is happy. Relaxed rhythm, bright and high melody, as if not Sad at all. For example, the seventh song in Charlie's favorite album, Loser, "The melody of this song is very pleasant and dynamic, although it is actually a very sad song." This explains Charlie's "happy philosophy", which is humorous and implicit.
Like many of his spoof videos, Charlie values himself and the sense of humor in music. "At first, I wanted to name the album Conversations With Myself, but later I felt that the title was a little too heavy. In fact, the whole album is full of humor, which conforms to my personality." He always likes to see the cheerful side of things. Even in That's Hilarious, he added many "Ha Ha Ha" to neutralize the "emotional complaint". When we accidentally talked about the Chinese song "The Moon Represents My Heart," Charlie said, "That's why I like Chinese songs. They are implicit, full of symbols, and everyone knows what that symbol means. The feelings of Chinese songs are hidden in the lyrics, and I do the same in my own songs."
In the past two years, Charlie has learned to accept the "imperfect self": "I am not a very cool person. In the past, I always wanted to disguise myself as someone else. In the new album, I allowed myself to make mistakes, and I am learning to love the imperfect." As for the performance of the songs, Charlie is also very frank, "If you want to say that I don't care if the results are false, I like to hear their feedback on my performance. When I hear how popular these songs are and how many people like them in China, I am very happy." His "One Night Only" tour will also be launched this fall. Charlie will once again feel the most direct feedback from the audience through the stage. I don't know how much inspiration this tour will bring him.
How do you describe this new album? Charlie said, "These are my 12 favorite songs. I like them so much that I have to name them after myself." Some self, some broken heart, some imperfect, but "the most real dialogue". Thanks to the music, no matter how the world changes, we can still open our hearts freely, singing, cheering, crying and jumping, so that people on the other side of the earth can hear.
From Rolling Stone China