Every October, New Zealanders partake in the lauded tradition of forgetting to buy tickets for the Show Me Shorts film festival, only remembering on its final day in theatres.
Last year, in the midst of the delta lockdown, the programme managers began offering some of its content online to the delight of procrastinators everywhere. As the festival wraps up across the country, the on-demand programs are still available for purchase online until October 30. Upon purchase, you have two weeks to binge them, but each film expires within 48 hours of pressing play.
Here is Rolling Stone New Zealand's guide to help navigate some of the offerings:
Spider/Bear/Shark Trilogy (34 minutes)
These three short films all feature Australian director Nash Edgerton in the lead role of Jack, who tortures all the beautiful women he somehow manages to bag with escalating pranks that ultimately end in comeuppance. Shot over a span of 14 years, the trilogy serves as a kaleidoscopic meditation on everything that could possibly go wrong in a practical joke.
Watch: If you've been in the dog box with your partner recently. You will look absolutely upstanding compared to this guy.
Whanau Friendly 2 (55 minutes)
Who said cartoons are just for kids? This collection allows you to tour the bizarre imagination of animators from around the world. The production chops and dark humour of Spain's Third Lab are on display in Genethic—don't get too attached to that cute dog-like pet. See if you understand Switzerland's Anscht after watching it a third time before giving up, reading the description, and laughing. Debate what a magical animal with an Irish accent should do next after swooping in to save a town from a boring busker in Trevor Courtney's The Rocker and the Puca and whether a boy who learns a foundational lesson in punk from his mum's interminable boyfriend should give him a second chance in William J Blythe's Punk It Tender.
Watch: If you wish New Zealand had legalised marijuana. Perfect for date night.
Aotearoa Woven (134 minutes)
From the West side of Auckland to the frosts of Otago, New Zealand's dramatic landscapes offer a gentle respite from complex family dynamics in this collection. Although these eight short films have playful moments, such as Matthew Young's bogan music video Boneheaded, the content veers on the heavy side, so come prepared. Family silence—literally, in the case of Chantelle Burgoyne's Sista—speaks volumes; abandonment and resentment abound in both The Difference Between Pipi and Pupu and The Finding. Indie rock bonus points for spotting Beach Pigs' Dahnu Graham in the lead role of Ivan Barge's Blue Smoke, a sweet story of a caretaker who bonds with a nursing home resident over a case of mistaken identity.
Watch: If you lean on the serious side and/or need to have a heavy talk with a family member but are at a loss for how to start the conversation.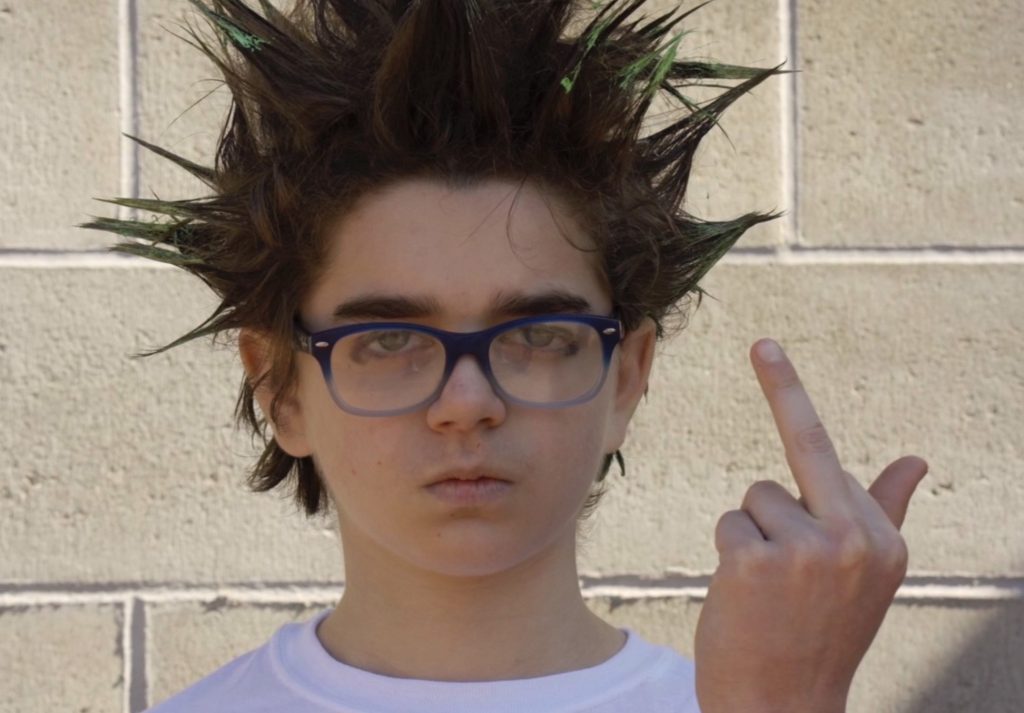 Give Me Everything (438 minutes)
Want a little bit of it all? These 39 short films will have you careening between music videos, science fiction, fantasy, animation, dark comedy and a whole ton of drama. At over seven hours all up, this collection is best consumed in doses, allowing you an entire weekend of great cinema in between chores and previous commitments. At $39.99—a mere dollar apiece—it is still cheaper than two adults splitting a bucket of popcorn at the latest blockbuster. This collection has some of the best viewing you can find online at a bargain price, but be warned: it won't last forever.
Watch: If you get stuck in an endless back and forth with your partner of, "But what do you want to watch?"; if you love a good round-robin session with your friends on YouTube but wish the content was better; if you want your new party trick to be encyclopaedic knowledge and endless chat on the latest short films from around the world.