The Simpsons, one of the world's most iconic and recognisable television shows, has now joined forces with Levi's, one of the world's most iconic and recognisable fashion brands, to launch a new collaboration.
It feels a little hard to believe that The Simpsons has been a pop culture phenomenon for well over 30 years now. In fact, who would have thought that when Matt Groening's now-ubiquitous yellow family premiered as a brief two-minute short on The Tracey Ullman Show in April of 1987, it would soon become one of the most defining aspects of 20th-century culture?
Of course, there's every chance that the same was said for Levi's when German immigrant Levi Strauss first founded the company back in 1853. Who could have foreseen that his industrious nature would similarly give rise to one of the most influential brands of all time?
Fast-forward to 2022, and who could have foreseen both The Simpsons and Levi's joining forces for a new streetwear-inspired collaboration?
Yes, now fans of fashion and comedy are being invited to immerse themselves in "the world of The Simpsons with [a] quirky mix of Springfield spirit and Levi's style" thanks to a newly-announced collaboration from the iconic company, bringing together pop culture and style in a fun and exciting way.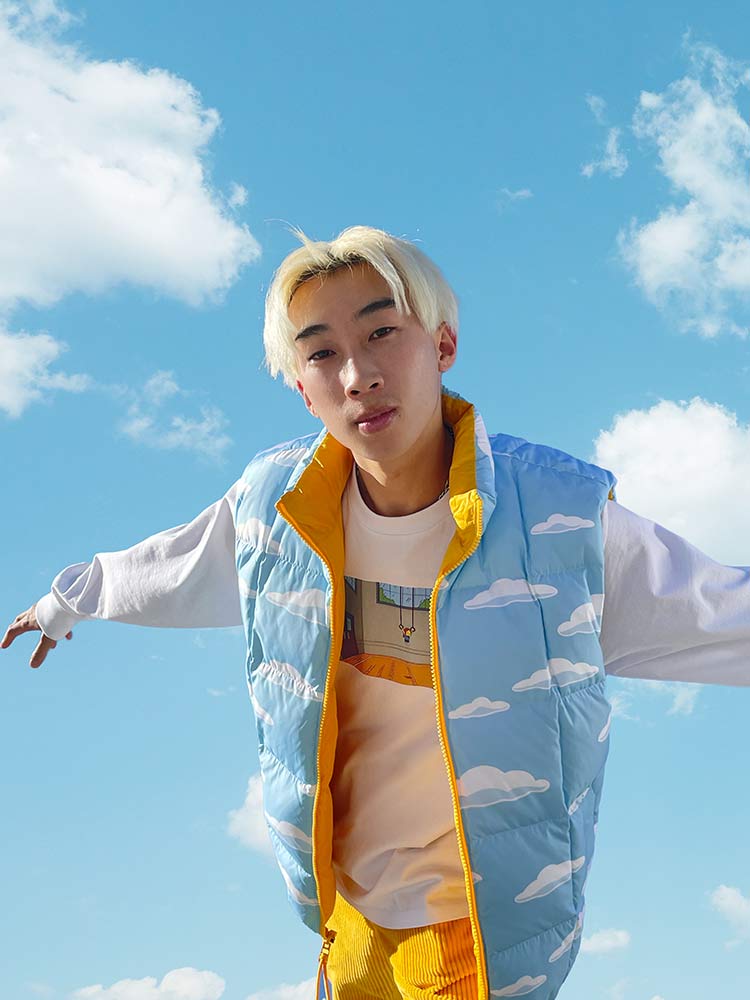 Available now, just in time for Autumn and Winter, Levi's and The Simpsons' new collaboration features iconic characters such as Bart, Lisa, Milhouse, and a whole host of  Springfield's most popular residents as they collaborate to provide a style that delivers big on the throwback pop culture vibes while transporting fans back to another era, while retaining its fresh, stylish, and appealing vibe.
The new range includes a reversible Puffer Vest with sky blue and cloud print on one side—a nod to the show's  opening credits—and The Simpsons yellow on the other, as well as a loose-fit, faded indigo denim Levi's Trucker featuring a graphic of Bart Simpson drinking a Squishee alongside the iconic Levi's Batwing logo.
Additionally, there's also a mix of school-inspired styles—in honour of the iconic Springfield Elementary—including a  ringer tee, a riff on a letterman sweatshirt, and a vintage school uniform-inspired wide whale yellow corduroy jacket and pants. The jacket also features an all-over print lining with Lisa Simpson, Ralph  Wiggum, Mrs Krabappel, Otto the Bus driver, and a host of other beloved Simpsons favourites.  
The range also includes a white Hooded Puffer jacket, and a cotton twill Bucket Hat which boasts the all-over Simpsons print, before being rounded off with a mix of tees, hoodies, and crew neck sweatshirts featuring graphic prints of scenes from iconic Simpsons episodes, as well as a range of The Simpsons x Levi's accessories, including embroidered beanies, and a sky-and-puffy-cloud Levi's Sling Bag.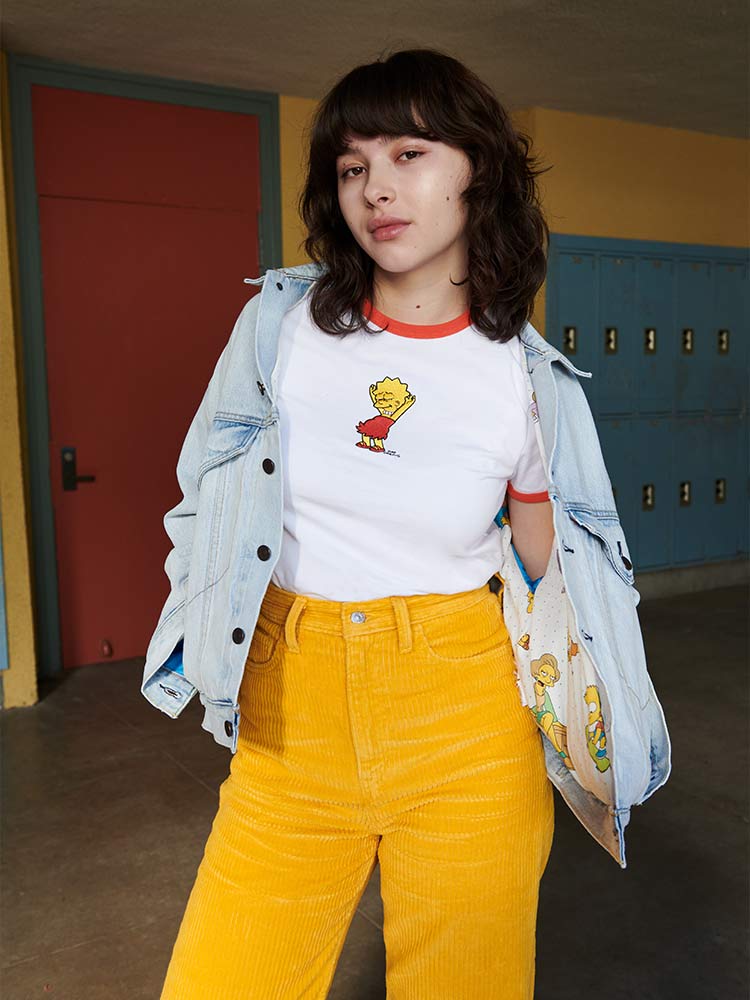 Of course, this isn't the first time that Levi's have crossed paths with iconic figures from popular culture for what is a fashionable, culturally relevant, and stylistically-forward thinking collaboration, with the brand having previously teamed up with the likes of Mickey Mouse, Pokémon, New Balance, Peanuts, and Lego in recent years.
These collaborations have not only been carefully designed to ensure the legacy of these iconic names, but also to bring them to the forefront of the world of fashion and pop culture. Once again, thanks to a stellar collaboration, these pieces sit comfortably alongside Levi's already-impressive roster of iconic fits.
The new collaboration between The Simpsons and Levi's is available now, with more information available (including the full range of products) via the Levi's website.