Is Chris Rock one of the greatest comedians of all time? Even if we account for differences in taste, the question seems wholly redundant. Rock, whose stand-up career began close to 40 years ago, has been selling out arenas and producing acclaimed comedy specials since the mid 1990s.
Amy Schumer has publicly referred to him as one of the greatest comics of all time. In the Netflix special, Total Blackout: The Tamborine Extended Cut, Dave Chappelle tells Rock "You're the best," and says that "Whatever you do, your shit moves me."
In August this year, Rock will bring his Ego Death world tour to Australia, performing at arena venues in Melbourne, Sydney, Adelaide, Brisbane and the Gold Coast. It's Rock's first visit since 2017's Total Blackout tour and his performances will consist of all new material. Rock has hyped Ego Death as "introspective," "very personal and very funny". Although the latter descriptor seems self-evident, Rock's turn towards explicitly introspective and personal comedy is a relatively recent development. 
Total Blackout was Rock's first tour in a decade and followed appearances in Adam Sandler's Grown Ups and Grown Ups 2 films, as well as Top Five, the 2014 film written by, directed by and starring Rock. Prior to bringing Total Blackout to Australia, Rock told the Sydney Morning Herald he missed stand-up comedy for the clarity it provided. "When you do stand-up, it's just you and a pad writing some jokes," he said. "It lets me know who I am."
The 90-minute Total Blackout was energised by various failures in Rock's private life. At 52, the Brooklyn comedian was settling into—or chafing against—middle age. He was recently divorced, a lousy father, and a porn addict. He was a rich celebrity guzzling on the many privileges of wealth, while still bearing witness to the myriad ways in which racism prevails in contemporary America (and Australia for that matter).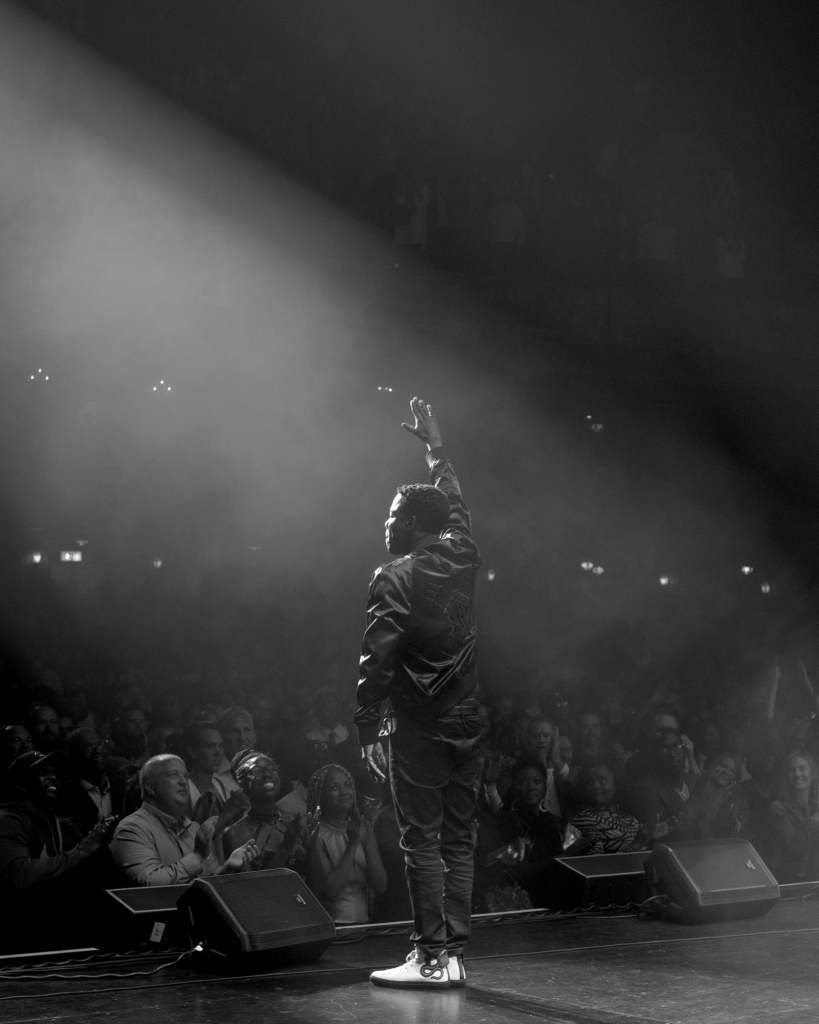 Total Blackout was essentially the work of an old pro flexing new tricks. In a review for the Chicago Tribune, writer Christopher Borrelli described Rock's performance as "remarkable, fascinating, sad and hilarious, all at once." Closer to home, the SMH's Sarah Thomas awarded the show five stars, commending Rock's special gift for "mocking without malice" and naming him "unequivocally the world's best stand-up."
Ego Death isn't just Rock's return to Australia, but his first world tour since 2017. A lot has happened in the interim: Rock played the main character, Loy Cannon, in season four of Fargo (2020), starred in the Saw movie, Spiral (2021), and guest hosted Saturday Night Live; the show that gave him his big break in the early '90s. He lived through the bulk of the Trump presidency and witnessed the eruption of BLM protests following the police murder of George Floyd. And that's saying nothing about how Rock, now 57 years old, might be feeling as he approaches his seventh decade.
One thing's for certain, while his love of the craft appears unsullied, Rock's stand-up tours have become more infrequent as he's aged. He's made a concerted effort to refine his dramatic acting skills in recent decades, helping him land not just the Fargo gig, but also a lead role in the upcoming Civil Rights biopic, Rustin.
Rock plays Civil Rights advocate and NAACP leader, Roy Wilkins, an associate of the titular Bayard Rustin, played by Colman Domingo (Selma, Euphoria). The film was produced by Michelle and Barack Obama and focuses on Rustin's experiences as a gay Black man in an era of profound social upheaval and division. 
Last time Rock was in the country, he had no dramas selling out two nights a piece in Sydney, Brisbane and Melbourne. He's returning to many of the same venues this time around, but currently with just one show scheduled for each city. As Sarah Thomas wrote in her five-star review, "There's simply no substitute for capturing this genius in the flesh."
CHRIS ROCK EGO DEATH WORLD TOUR 2022 AUSTRALIAN DATES:
Wednesday 10th August
Melbourne, Margaret Court Arena
Monday 15th August
Sydney, Qudos Bank Arena
Wednesday 17th August
Adelaide, Entertainment Centre
Saturday 20th August
Brisbane, Entertainment Centre
Tuesday 23rd August
Gold Coast, Convention & Exhibition Centre