The summer months are often some of the most anticipated amongst any Australian. After all, when you live in 'the lucky country', there's no way that the closing and start of the year can go by without a few fortuitous days spent out in the warmer weather, experiencing all of what nature has to offer, and slipping into that wonderful summer state of mind.
But what does the traditional summer activity look like in Australia? For most of us, it's time spent outdoors, soaking up the glorious sights that nature has to offer, breathing in the stunning landscapes that adorn the horizons, and getting closer to the world around us and loving every second of it.
Could it be simply spending time against the sun and surf as we experience the beaches? Could it be a traditional game of backyard cricket? Or is it the casual barbecue that is accompanied by good times, good friends, and the slowly-fading daylight?
Well, that's where the folks at Kathmandu come in, with their lengthy history designed to not only promote connection with the world around us, but to also ensure you're well-stocked for every outdoor activity imaginable. At this time of year though, one of the most popular activities for people to get involved in is that of the beloved hike.
So first of all, what exactly is hiking? Well, as you might expect, it boils down to the idea of walking for pleasure. Sure, you can have a purpose in mind (fitness, health, enjoying the scenery), but hiking in its purest form is all about taking a long, vigorous walk, often against a scenic backdrop.
While you might think that hiking is as old as the very moment our ancestors put one foot in front of the other, the notion of hiking has only been around a few hundred years, having evolved out of the European countryside in the 18th century.
Since then, the activity and its associated activities have evolved over time, with hiking and walking often being used interchangeably to convey the idea of ambling through nature for pleasure, rather than business. Even in Australia, the terminology is somewhat different, with bushwalking often used to describe hiking throughout the local bush as you get back to nature.
But why would anyone want to hike? Surely vigorous activity is best left to the gym junkies and future Olympians, right? Well, in fact hiking is one of the best and easiest forms of exercise imaginable. On the side of personal health benefits, hiking has been known to play an important role in the development and sustainability of cardiovascular fitness and muscular strength. Additionally, it increases Vitamin D thanks to sun exposure, it promotes mental fitness, and it's a proven stress reliever.
Plus, it's cost effective. Sure, you can ensure you've got the right equipment (including Kathmandu's extensive range of outdoor gear), but at the heart of it, hiking is all about taking one step after the other and continuing until you've reached an agreeable end.
But it doesn't end there, because one of the most important aspects of hiking is the natural connection that comes with it. Think for a moment about what a traditional hike entails. Chances are, you're imagining yourself out in the world, a luscious, picturesque scenery surrounding you, native animals soundtracking the experience, chasing the fading light of day, and the almost primal experience helping to increase serotonin levels across the board.
You could be a seasoned hiking expert, or a first-timer, and you'd be in the same boat across the board, with hiking requiring very little skill, and promising huge rewards.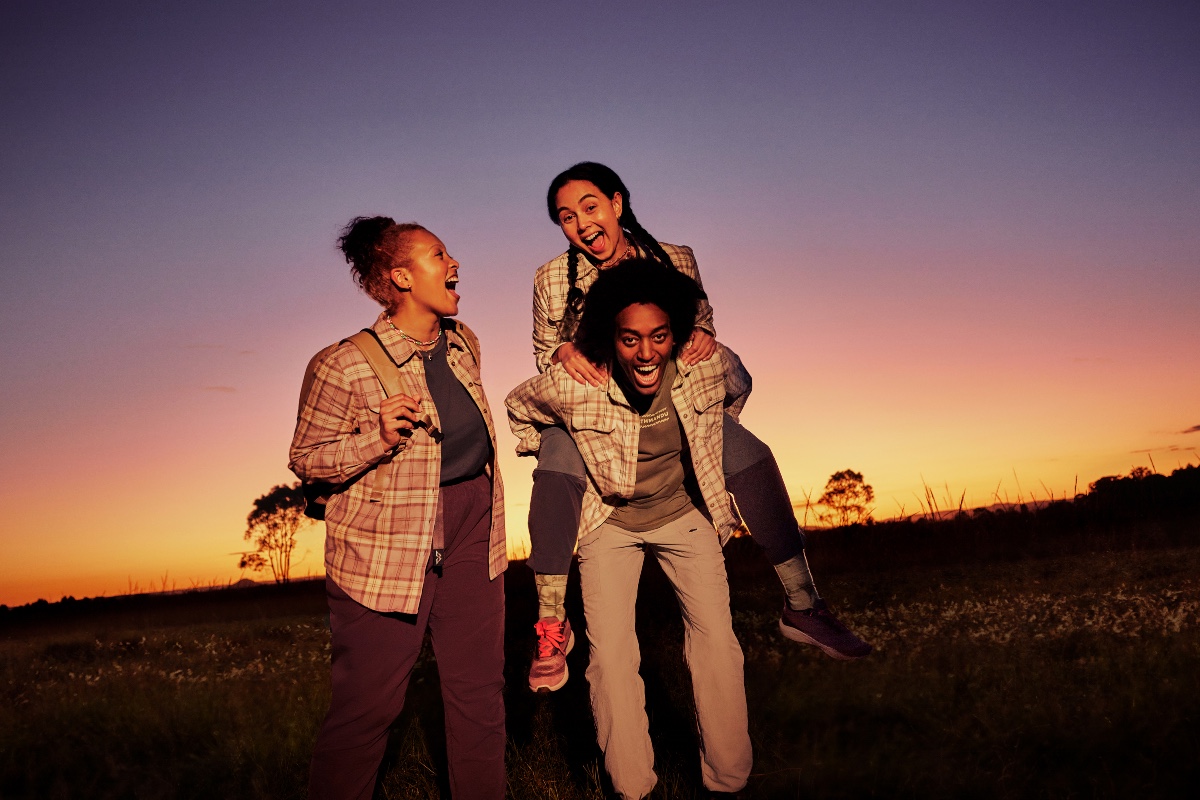 But where can you go hiking? Well, to start things off, it's probably best to start small. Maybe find a nearby nature trail to test your skills out on, and slowly increase things from there. The best thing about hiking is the locations and routes you can find and experience as time goes on.
However, when you've reached a level of skill that you're comfortable with, it's probably best to start aiming higher. To do so, you can speak to other hikers, or you can find inspiration from Kathmandu, who have gone into detail as they discover some of the best hikes around the country.
For example, folks in Victoria can take to The Great Ocean Walk along the coast, the Mount Donna Buang, the Bunyip State Park Southern Circuit, or the Mornington Peninsula Coastal Walk, with each one suited towards different skill sets and ages, but each bursting with natural beauty that allows you to get in touch with nature.
South Australians can get close to nature with the likes of the Waterfall Gully Hike, the Kangaroo Island Wilderness Trail, and the Heysen Trail South Coast Section, while New South Wales offers the Eagles Nest Walking Track, the Coast Track, and the Main Range Circuit Track
However, you can't go past the likes of the Glass House Mountains in Queensland, the Camel Trail in Western Australia, the Kings Canyon Rim Walk in the Northern Territory, or even Tasmania's Mount Anne Circuit.
Whatever your skill set, whatever your desire, and wherever you want to go, there's options for hiking at every turn. Of course, it's imperative to ensure you're well prepared, and to ensure you're well and truly taking stock of nature along the way, to truly get yourself back into that summer state of mind.
Be sure to get in touch with nature by way of a lengthy hike, but ensure you're well stocked for any occasion by heading to Kathmandu and finding all the essentials for your next hiking expedition.