With just a matter of weeks before the release of their long-awaited record 0202, The Rubens have unveiled a run of album launch shows to take place across New South Wales next month.
Announced this morning, the six-date trek is set to coincide with the album's release on February 12th, with each of the dates taking place in a completely COVID-safe manner. Beginning on February 4th, the tour will see the band performing in Bathurst, Morton, Tamworth, Dubbo, Port Macquarie, and Thirroul as part of their "intimate and local" series.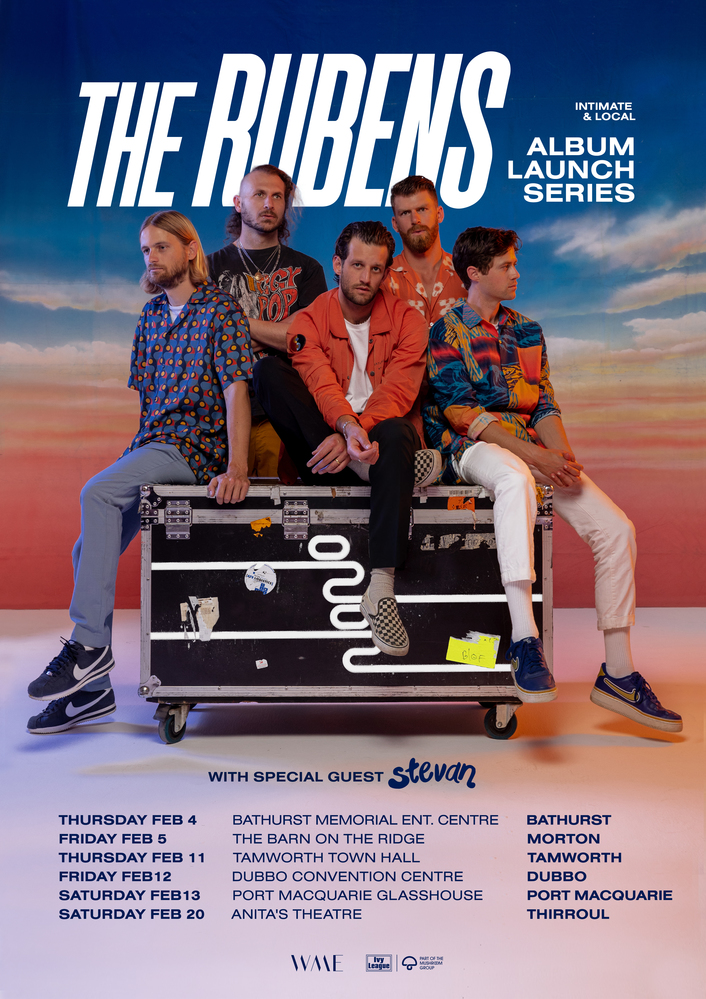 These shows are undoubtedly a long time coming for The Rubens, who were forced to twice push back a national tour in the wake of COVID-19 restrictions. Originally set to take place in May of 2020, the tour is now set to kick off in early April, with the band noting that their regional tour dates will be different to the upcoming album tour.
Tickets to the band's upcoming NSW tour go on sale from 8am AEDT on February 1st, while a ticket and album pre-order bundle is available now to those who have not yet ordered the band's new record.
The Rubens' 0202 will be released on February 12th, 2021 via Ivy League Records, with pre-orders available now.
The Rubens 'Intimate & Local' Album Launch Series
With special guest Stevan
Thursday, February 4th
Bathurst Memorial Entertainment Centre, Bathurst, NSW
Thursday, February 5th
The Barn On The Ridge, Morton, NSW
Thursday, February 11th
Tamworth Town Hall, Tamworth, NSW
Friday, February 12th
Dubbo Convention Centre, Dubbo, NSW
Saturday, February 13th
Port Macquarie Glasshouse, Port Macquarie, NSW
Saturday, February 20th
Anita's Theatre, Thirroul, NSW
Pre-order bundles available from the band's website.
General public on sale from 8am AEDT, Monday, February 1st.
The Rubens 'Live in Life' Australian Tour
Supported by Alice Ivy
Rescheduled Dates
Saturday, April 3rd
Crooked River Winery, Gerringong, NSW
Thursday, April 8th
Fortitude Music Hall, Brisbane, QLD
Friday, April 9th
Moncrieff Entertainment, Bundaberg, QLD
Saturday, April 10th
Highfields Tavern, Toowoomba, QLD
Friday, April 16th
Enmore Theatre, Sydney, NSW
Saturday, April 17th
Bar On The Hill, Newcastle, NSW
Wednesday, April 28th
Riverlinks Westside, Shepparton, VIC
Friday, April 30th
The Forum, Melbourne, VIC
Wednesday, May 5th
Whitestar Hotel, Albany, WA
Thursday, May 6th
The River, Margaret River, WA
Friday, May 7th
Freo Social, Fremantle, WA
Sunday, May 9th
Wintersun Hotel, Bluff Point, WA
Friday, May 14th
The Gap View Hotel, Alice Springs, NT
Thursday, May 20th
Altar Bar, Hobart, TAS
Friday, May 21st
Altar Bar, Hobart, TAS
Saturday, May 22nd
Saloon Bar, Launceston, TAS
Sunday, May 23rd
Forth Pub, Forth, TAS
Wednesday, May 26th
The Leichardt Hotel, Rockhampton, QLD
Thursday, May 27th
Seabreeze, Mackay, QLD
Friday, May 28th
Otherwise Bar, Townsville, QLD
Saturday, May 29th
Tanks Arts Centre, Cairns, QLD
Wednesday, June 9th
Beer Deluxe, Albury, NSW
Thursday, June 10th
The Whalers Hotel – Warrnambool, VIC
Friday, June 11th
Torquay Hotel, Torquay, VIC