It's been a veritable ghost town when it comes to live gigs around the world lately, but thankfully, Isol-Aid has been helping to bring live music back to our ears.
First appearing three weeks ago, Isol-Aid is simple in its conception, with artists performing brief live sets via Instagram and allowing fans from all walks of life to tune in and enjoy the experience.
With its first edition managing to raise over $12k in donations for Support Act, a second and third edition soon followed, with names like Courtney Barnett, Kingswood, Bad//Dreems, and so many more joining in the fun.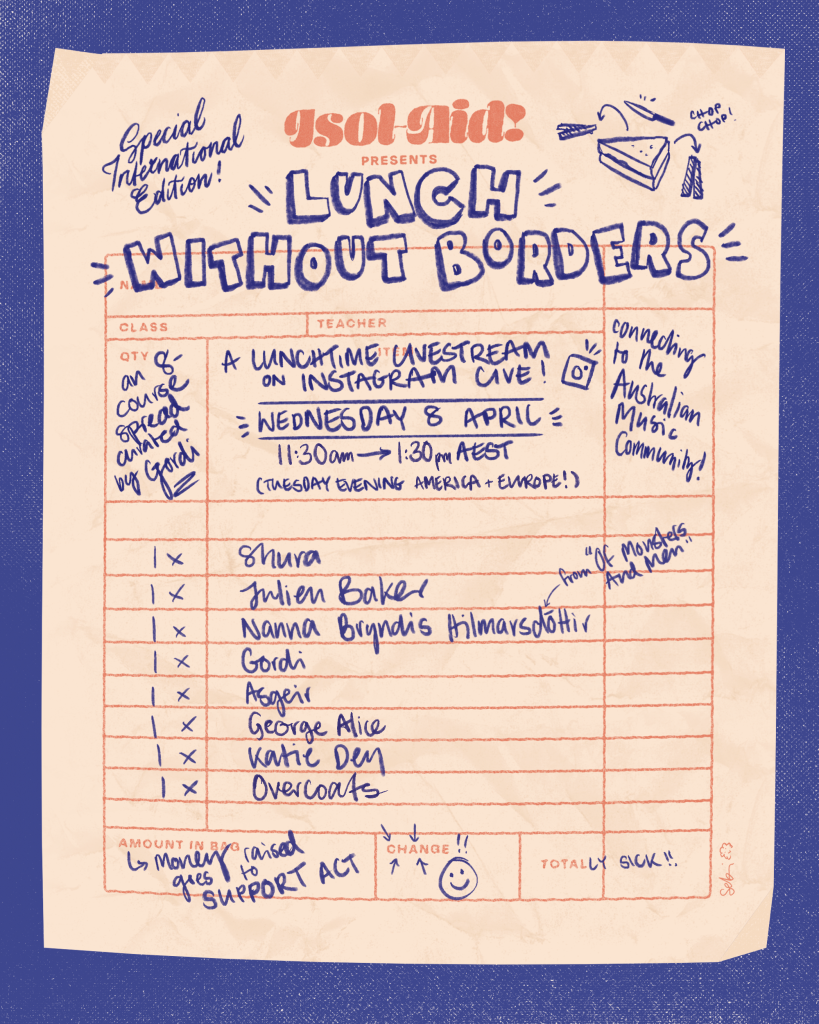 Now, Isol-Aid is back for a massive fourth round, but this time, it's not just Aussie artists joining in the fun.
Announced this morning, Isol-Aid have announced "Lunch Without Borders", a "special international edition" of the livestreamed music festival, set to take place on Wednesday, April 8th, Australian time.
Curated by Gordi (who also appears on the bill), we still have Aussie representation by way of Katie Dey and triple j Unearthed High winner George Alice, with international artists such as Asgeir, Julien Baker, Shura, Overcoats, and Of Monsters and Men's Nanna Bryndís Hilmarsdóttir all set to perform live sets, too.
Kicking off at 11:30am on Wednesday, April 8th, the performances will be spread across a two-hour lunchtime window, with viewers urged to donate much-needed funds to Support Act if they have the means.
Lunch Without Borders – A Special International Edition of Isol-Aid
8 course spread curated by Gordi:
Asgeir
Gordi
Julien Baker
Katie Dey
Nanna Bryndís Hilmarsdóttir (from Of Monsters And Men)
Overcoats
Shura
George Alice
Wednesday, April 8th
11:30am – 1:30pm Australian EST
(Tuesday evening America and Europe)