We Asked a Psychologist Why Dark Comedy Makes Us Smile
The Kraken Black Spiced Rum put together an all-star comedy lineup for The Darkest Show
The Kraken Black Spiced Rum put together an all-star comedy lineup for The Darkest Show, which took over Sydney venue The Vanguard in mid September. Internationally acclaimed comedians Nazeem Hussain, Becky Lucas and Luke Heggie performed on the night, taking the audience on a journey into the darkest realms of comedy.
The Darkest Show concept is rooted in the Kraken Black Spiced Rum's reputation as an edgy, counter cultural brand. The Kraken devised the one-night-only event as a way of giving everyone in attendance – both onstage and off – the opportunity to delve into areas of darkness and mystery without risk of censure.
In the wake of the Darkest Show – which was attended by an intimate audience of 120 courageous comedy lovers – Rolling Stone spoke to clinical psychologist Dr Kate Renshall to learn why dark comedy has the power to not only make us laugh, but also to provide a feeling of psychological liberation.
Dr Renshall's current work revolves around therapy for adolescents and adults experiencing a wide range of emotional difficulties, as well as targeted therapy for parents and families. But her career has also included work in the child protection and family court field, which can be a particularly challenging environment for all involved.
For the people who do that work, dark humour is often used as a coping strategy. "You see the more difficult things in life and often feel powerless to make any change," says Dr Renshall. "Humour is a really interesting defence mechanism that we have for coping with emotion."
Using humour to cope with difficult emotions can be helpful for distracting yourself if you need to move on, or if you want to make a connection with someone else who has experienced trauma. "For everyone, humour is a way of defusing a serious situation, or it can be," says Dr Renshall. "When things get too sensitive or deep, it's a way of moving away."
If you can find something subversive or funny in something that's so heavy, it lightens that experience. "It's really helpful," says Dr Renshall. "Because you're reappraising that super serious thought in such a different way."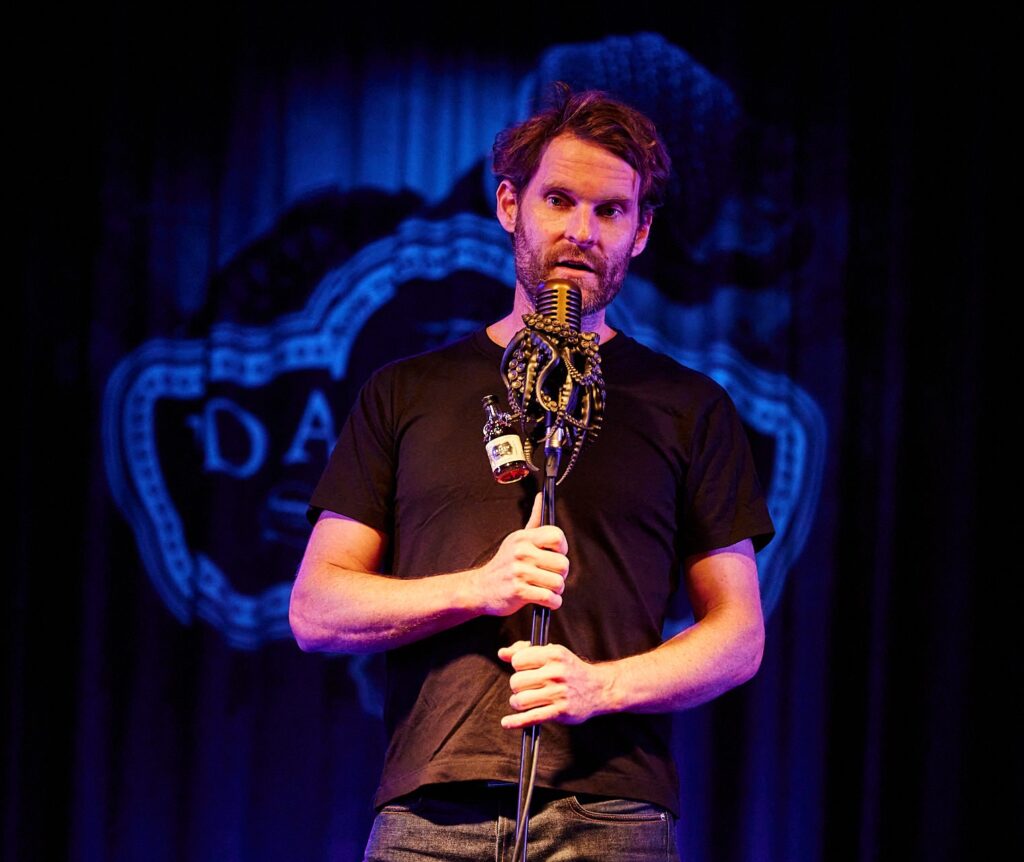 There is academic evidence to support the implementation of humour in therapeutic settings, says Dr Renshall. "What we know in the literature is that dark humour is used for coping with anxiety and fear," she says. "And it's also a way of enhancing group cohesion for a group of people who are experiencing the same trauma."
Renshall makes reference to a particularly profound instance of humour providing solace and connection for victims of brutality.
"I was looking at this article that was saying people who went through the Holocaust, some of the survivors said the ones that survived the best did it because of their humour, because of their ability to make fun of their perpetrators, but also just of their circumstances."
Dr Renshall is herself a fan of the kind of dark comedy that got the crowd laughing, gasping and occasionally feeling uncomfortable at The Kraken Black Spiced Rum Presents: The Darkest Show. "I find joy in seeing the humour in things that are otherwise very serious," she says.
Becky Lucas' Darkest Show set included material about pit bull attacks, mental health struggles and the perversions of the rich and famous. Crucially, Lucas managed to tie all of these threads back to her own experiences.
"So often, that dark humour comes from [a comedian's] self-awareness, from their own experience of that dark thing, so the sensitivity is built in," says Dr Renshall.
It's no secret that a lot of stand-up comedians haven't had an easy ride with their mental health. "But obviously they're coping with it pretty well by using a pretty effective strategy," says Dr Renshall.
She continues, "The ability to be funny for a group, you have to be emotionally sensitive, you have to be able to read the room – you have to be able to notice there's discomfort and then know how to shift the energy of a room. And people who are emotionally sensitive are just more vulnerable to mental health issues, in general."
Comedy can be a uniquely effective means of building rapport between strangers. This is a big reason why dark comedy, counterintuitive as it may sound, has the power to unite and uplift us.
"When we share positive experiences together, we feel closer," says Dr Renshall. "We have a part of our brain that when it sees someone else smiling, it makes us smile and then we feel connected to that person. So, it's a way of building rapport, a way of being together in what would otherwise be something difficult."