Just under a year since the announcement of their latest studio album, Australian pub-rock icons Cold Chisel have announced a new entry into their ongoing Live Tapes series, with the fifth volume set to arrive in December.
Set for release on the 11th of December, the new album captures the group's performance at The Bondi Lifesaver in Sydney on February 29th, 1980, just three days before they began recording their landmark album East, and just six months prior to the closure of the club itself.
Despite the historical importance of a live performance such as this, the 2 inch tapes which held the audio went unheard in the group's archives for just over 40 years, with almost everyone involved forgetting about their existence. Sound engineer Phil Punch had attempted to transfer the tapes to digital, but due to degradation over the years, the tapes needed to be baked in an 'audio oven' to reduce the build-up of oxide that had accumulated over the last four decades.
After being sent to longtime Cold Chisel producer Kevin Shirley, the group were left thoroughly impressed by what they had heard, with frontman Jimmy Barnes noting it "might be our live best recording ever."
With a setlist that featured a handful of covers (including tunes from The Yardbirds and Johnny Kidd's & The Pirates), the set featured rarely-heard tracks such as "Rosaline" and "The Dummy", in addition to borrowing heavily from their self-titled and Breakfast at Sweetheart's albums.
As expected with a show from this era, the song list is also dominated heavily by tunes that would later be released on the then-forthcoming East, with many appearing to still be in the formative stages of composition. One of these then-nascent tracks was Barnes' "My Turn To Cry", which serves as the first single from the new live album.
"In 1980, we were fighting fit and hungry, playing every show like it was our last – and often it almost was," Barnes recalled of the era. "We were still playing pubs, with the audience spilling onto the stage and the band spilling into the audience. I was living just around the corner from the Lifesaver – and probably half the audience ended-up back at mine."
"I can't believe Steve and Phil's playing," adds guitarist Ian Moss, making reference to bassist Phil Small and late drummer Steve Prestwich. "They set the whole tone here – we're just trying to keep up. Jimmy is also in incredible form, wailing and nailing everything."
Cold Chisel's The Live Tapes, Vol. 5 – Live At The Bondi Lifesaver will be released on Friday, December 11th, with pre-orders available now.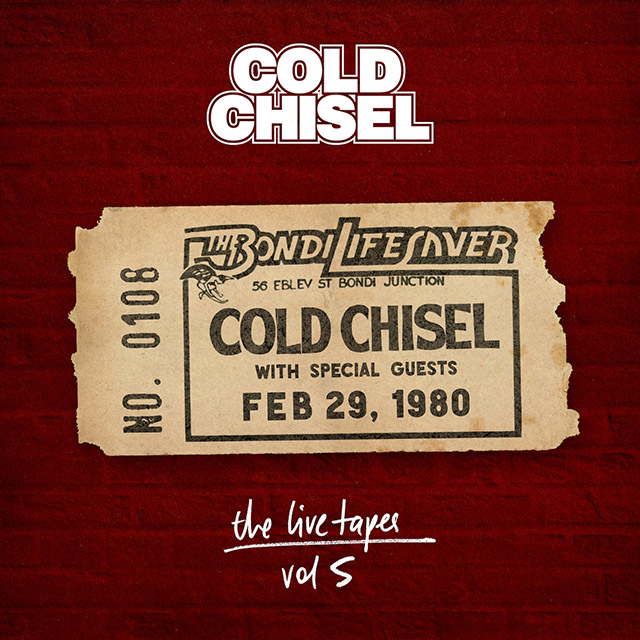 Cold Chisel: The Live Tapes, Vol. 5 – Live At The Bondi Lifesaver Tracklist
1. Juliet
2. Tomorrow
3. The Dummy
4. Shakin' All Over
5. Breakfast At Sweethearts
6. My Turn To Cry
7. Best Kept Lies
8. Standing On The Outside
9. Knockin' On Heaven's Door
10. Star Hotel
11. Merry-Go-Round
12. Four Walls
13. One Long Day
14. Shipping Steel
15. Khe Sanh
16. The Door
17. Goodbye (Astrid, Goodbye)
18. Georgia
19. Choirgirl
20. Ita
21. I'm Gonna Roll Ya
22. Rosaline
23. The Nazz Are Blue
24. Wild Thing