The Teskey Brothers: Nowhere To Hide
There are moments in a career that alter trajectory, create faith, draw in believers en masse. Some of those game-changers aren't easily spotted.
Josh Teskey is as close to nature as most of us get. Sipping from a cup of Earl Grey tea, observing the forest from his deck, the Teskey Brothers frontman could be the poster child for the good life.
As a performer and recording artist, he and his brother Sam get hang-time with Hollywood superstars Matt Damon and the Hemsworths. At home, they're regular dads and husbands, with kids running amok and instruments never far from hand.
Home, as the old saying goes, is where the heart is. Family and home is at the heart of The Winding Way, the Teskey Brothers' third and latest studio album, a set of recordings that appear to have wandered in from another time. Stretching across ten tracks, including the first release "Oceans of Emotions", follow-ups "This Will Be Our Year" and "Take My Heart", and standout "London Bridge", it's a time machine, an "authentic" sound, as Sam describes it, conceived in the Victorian bush and finished in central Sydney with a new — but familiar — cast of musicians. 
It's a direct connection to the past, a step back to the United States before TV was in colour, and when and all records were pressed on black vinyl.
Family informed the recording sessions and shaped the band's 2023 tour of the UK and Europe, built on a unique schedule that enables the band to spend time with their wives and young kids through the week.
"I always have to be really careful about how positively I speak about it…"
It was the pandemic, however, that created the space and time for the LP to seed. "I always have to be really careful about how positively I speak about it, because I know it was really, really negative for a lot of people. And it was a really hard time," says Josh. Due preface out of the way, he reveals that for him, the timing of the health crisis actually "changed my life for, you know, the better."
Josh and his wife Hannah welcomed a new daughter to their clan, in April 2020, right at the start of the lockdown. "We just focused on doing, you know, being parents together." 
"If I had gone off and started touring and working, leaving your partner at home with a six-month-old baby, which is still really a raw, real time, that would have set the foundations for a really bad start to parenthood," Josh recounts, sat at a long wooden table crafted with his own hands. 
By the second year of lockdown, 2021, a second child had entered the picture. Being forced to stay off the road and at home, "It was like, a real blessing for us."  Sam has two of his own, with his partner April.
Josh's wife Hannah is on duty with the kids on a warm summer day. One-by-one, the smallest Teskeys step out to see the stranger in the house, enjoy a snack and get on with doing kid-stuff.  
It's here where The Winding Way took its first steps, in Warrandyte, a bucolic setting less than an hour from Melbourne but a million miles from the city.
The first cuts were shaped in Josh's living room at the beginning of 2022, "My kids were running around all around us. The first demos have the kids in the background. We also had Sam's kids here a little bit," recalls Josh. Despite the chaos, songs took form, with both brothers collaborating in the room, building on threads and ideas. "We realised that it was doable."
The brothers look the part. And they certainly look like brothers. Less than two years separate the two (Josh is the eldest), and both have beards and shoulder-length hair. Their parents emigrated from Britain, so they missed out on the AFL fever that's part of the DNA in Victoria. They found their community though; their mother was a midwife, and knew everyone around town. Family. Always family.
Parenthood has been good to the Teskeys, though the tragic infant death of Sam's boy Joaquin Hawkin Storey was a sad reminder of how fragile our place is in this world. Sam has discussed the loss and forged it as song, "Till That River Takes Us Home."
The pandemic provided an unexpected tonic. Live At The Forum dropped in May 2020, at the strange, early stages of the health crisis, and went to Number One on the ARIA Album Chart, eclipsing the Number Two peak for their second set and shrugging the chart monkey off their back.
And with it, a footnote in Australian music history. It was the first live album by an Australian band to top the national chart since AC/DC's Live back in November 1992. That's some heady company, and it's something of a circle-completing feat. The Teskeys tracked The Winding Way at Hercules Studios, an historic spot where AC/DC carved out some of their granite-hard hits. 
A second live album, Live at Hamer Hall, arrived the following year in 2021, peaking at Number Eleven on the national chart and landing nominations for the ARIA and AIR Awards. But time out from touring had an unforeseen downside, one that could have easily wrecked the Teskeys' ambitions. Coming out of lockdown, Josh belted those whisky-dunked vocals too hard, too quick, and strained his voice.
"Vocally, I was really fit. And then after having a really big break, went straight back into it, with six or seven shows over two weeks. I've never lost it to that point. I was just like, 'Oh shit.' We just didn't have the recovery mechanisms in place."
After a string of shows with collaborator Ash Grunwald, a handful of dates with Teskey Brothers, songwriting sessions threaded through, and high-profile dates at Bluesfest, Josh was in trouble. He was unable to sing. His condition forced him to miss one of two sets with Grunwald at Bluesfest, though he was able to complete the Teskey Brothers set and step on up for a song with Jimmy Barnes.
The Teskeys were "the most requested band to play Bluesfest that year, beating Crowded House, Midnight Oil, you name it," Peter Noble, director of Bluesfest tells Rolling Stone. "If you look at the bill, it was brilliant. And they were the most requested band."
For the first time ever, Josh tried cortisone, an oral steroid which can make you feel like a superhero, until the effects wear off. "You take it, the swelling goes down, so you get all the tones, you can hit all your range, and it's amazing."
Not realising his superpower was temporary, the brothers got to work on new material. Josh swung for the boundary. "The swelling came back, but with a vengeance because you've just powered through when you should be healing." At that point, even talking was off the cards for several weeks.
"I'd really damaged myself doing that." A six-date tour of America in July 2022 was cancelled "under doctor's orders," and Josh visited a bunch of specialists. "That was purely just a year coming in too hot. In saying that, I've been really lucky. I've never had nodules, and I've never really done any long-term recurring damage." Josh used a breathing coach prior to the recording sessions, and has seen a voice therapist since the "big voice loss" at Bluesfest.
Today, like any athlete, Josh warms up with daily exercises, building up for live dates. It's the type of injury that causes a singer, an athlete, to reevaluate their methods. Like a pro, those breathing exercises can apparently spell an end to hiccups.
"I never saw it coming," he says of the injury. "The positive thing, I've actually gained a bunch of range" during the extended downtime. "So even though it was only locked down, there was a whole period leading up to the Run Home Slow record that I had no falsetto for about three years. I'd never had a recovery time before. So just basically from the release of (2017 debut LP) Half Mile Harvest to Run Home Slow I've never stopped singing for more than a month max."
Right now, the Josh we hear is "peak singing voice," able to move seamlessly between falsetto and low ranges. "I wonder how long it will last, whether it can stay like that. Or maybe that, you know, as soon as I get into sort of my forties, it could drop away."
There are moments in a career that alter trajectory, create faith, draw in believers en masse. Some of those game-changers aren't easily spotted.
For The Teskey Brothers, a combination of those elements coalesced at the 2019 ARIA Awards, with a Pythonesque touch. As the shortlisted artists were read out for the best group category, Michael Gudinski, the legendary Mushroom Group founder, stood to his feet, a stubbie of beer held aloft. A familiar MG pose. With the excitement of a kid in a chocolate emporium, Gudinski roared when The Teskeys were called out, and in the moment sprayed beer over dozens of the VIPs. Victory comes at a price. Industry heavyweight Jaddan Comerford, CEO of Unified Music Group, wore it, as did ARIA Award nominee Jack River and others. The Teskeys won a hat trick that night, with Best Blues & Roots album and Engineer of the Year also going their way.
When Gudinski threw his energy behind a band, as he did with The Teskeys, doors would crash open. Gudinski died in March 2021, at the age of sixty-eight, creating a wave of grief for artists around the globe and the extended Mushroom Group family.
The Teskey Brothers are a part of that Mushroom family. "He came on really early, he checked out our gigs," Sam recounts. "And then as we got to know him, I realised this guy's really, really just so passionate and such a driving force. I've taken a lot from his way of doing things. There are times when bureaucracy gets in the way, and we've said these exact words, 'What would Michael do?'" What MG would say is almost certainly "just fucking do it."
The Teskeys dedicated a song to the late music man with their cover of INXS' "Never Tear Us Apart", the music video for which opens with Gudinski welcoming the band on stage, throwing out his special brand of hype. "Forever grateful that our two worlds collided," reads The Teskeys' message at the conclusion.
The story of the rock 'n' roll game is littered with sibling rivalries. Life on the road, the ups, downs, parties and comedowns, and creative differences have started wars in the families Gallagher, Allman, Everlys, Davies and others. "We're very civil," says Josh. "I feel like we've always had each other's back against other stuff that's coming in against us." That extends to life, and projects, outside The Teskey Brothers.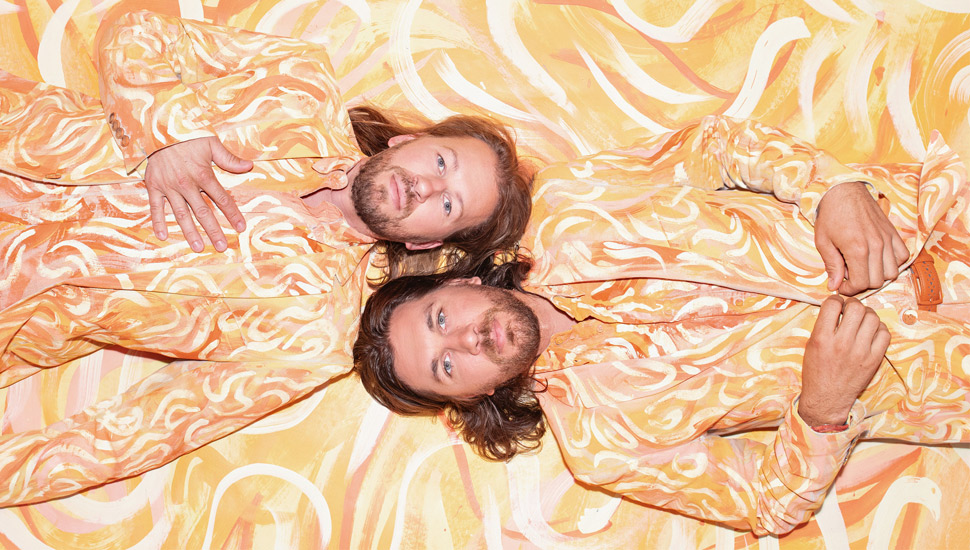 "I can't do all those jobs. I'm just trying to separate everything. This year, I'm just going to be a musician and a dad."
Creative juices can't be bottled, not without making a mess. Both brothers stepped out for solo records before returning to the fold with The Winding Way. Sam, a formidable engineer and studio professional with a Grammy nomination on his CV for Run Home Slow (Best Engineered Album), worked closely on the recording side of Josh's project with Ash Grunwald, Push the Blues Away, from 2020, and on his own immersive recording projects. Sam released his debut studio album, Cycles, in 2021 through Ivy League, and is comparable to a "songwriting machine," his older brother explains. Why stop? "I try really hard to try to switch the tap off," says Sam. "My new approach for this next year is to try and bring it all in. I can't be a carpenter, a furniture maker, a sound engineer, a producer, a musician, a dad, a house renovator. I can't do all those jobs. I'm just trying to separate everything. This year, I'm just going to be a musician and a dad."
Josh doesn't mind getting his hands dirty. For most of his adulthood, he led a double life, working as a plumber during the day, and gigging on the weekends. "I used to sing at work a lot," he admits, which earned him the nickname "the singing plumber." He's not the first. John Farnham, the ARIA Hall of Fame-inducted Eighties megastar, worked as a plumber's apprentice after leaving school. Both have great pipes, which is appropriate in their trade.
Working, fixing, building, says Josh, "I love it. I'm very passionate about it. And I love my trade and I think it's a really beautiful mixture of two worlds, from the practical side of your brain, and having a more artistic sort of outlet. I have a lot of respect for all the trades; there's this secret society with beautiful skills that are passed down from plumber to apprentice or carpenter to apprentice over years. This stuff isn't written down, it's just an amazing old-fashioned way of passing on knowledge and everyone does it."
With the closure of Half Mile Harvest Studios in Warrandyte, the powerhouse behind the Teskeys' first two studio albums, the siblings headed for the big smoke, in a different state, and a fresh start. 
Enter Eric J Dubowsky.
Dubowsky looks like a guy who works in music. Slim and tall, and with some length to his hair, the US-born producer and engineer also possesses a fine set of ears. When he unbolts the door and switches on the lights to his studio space in Surry Hills, just after 9am, the room is already buzzing. Computers and equipment are lit up, ready for work. Among his prized possessions, a Grammy Award for his work on Flume's Skin. It's heavier than you might expect.
Dubowsky has built a reputation for his recordings with electronic acts Flume, Chemical Brothers and Chet Faker, names at the top of their game, but he was raised on Motown, soul and rock. Music crosses borders, takes people to all sorts of places. He's one such example.
The entrance to Hercules Studios, built by legendary songwriter and producer team Harry Vanda and George Young, features a wall of fame, Gold and Platinum discs from the massive names that have turned its amps up to 11. Among the discs, AC/DC's 1979 classic Highway to Hell, the last to feature vocals from late singer Bon Scott.  
"It's easier to get into your time machine in Surry Hills. We can let the music exist without the outside world pushing in," he says.
There's something old-fashioned about the recording of The Winding Way. Hammond, horns. That old-world is embedded in the final result, a layer of life and fine grit that you won't find as a filter in any app. Sonically, it carries more earth than Sydney's Botanical Gardens.
To capture that rich sound, "like a time warp or a parallel universe," Dubowsky notes, the team rolled with an old-fashioned recording technique. They employed an 8-track tape machine, with reels and reels of the stuff. And yes, "tape can definitely be a pain," but on listening to cuts from the computer and then from the tape, there was "an undeniable difference."
Studio legend and multiple ARIA Award winner Wayne Connelly, who is in the adjacent room, handled the tape, though the system wasn't without problems. "We had old tape and then it didn't work, we got new tape and that didn't work properly with that machine." After some tinkering and persistence, a result. "When you play it back, it just sounds better."
There's no fakery allowed. To capture the authenticity of live recordings for The Winding Way, Dubowsky reveals that "probably 95% of what's on this album was just one take." Even the overdubs would be single takes. One-takes are a test of temperament, technique and talent. The way the room was mic-ed, "we started with a lot of bleed-in between the instruments," was a nightmare for editing. "If we wanted to change something in a song, we had to redo a song," says Dubowsky. "Old school."
Sessions began in February 2022, and completed at year's end — months over schedule, and with many air miles clocked up. Authenticity doesn't always come on time.
While tracking the album they had a hard finish time of 6pm, an unconventionally early end that would allow the brothers to get home for time with their families and kids before bed.
"We never did really long days," recounts Josh. The bandmates would split to go get the kids to bed, then return, making for "a slower progress. But you weren't burning out, you weren't going into the evenings. Actually, the time that you're in there, ideally, is really productive. So when I'm here, we're on the site, we've got three hours, let's get this done." 
The Winding Way is a new beginning. The brothers assembled a cast of players they admired, old friends, old bandmates. Three different drummers worked on the record until they found the right vibe. The strings were arranged and recorded by legendary arranger Larry Gold, an icon of modern music who has worked with the likes of Rihanna, Justin Timberlake and Lana Del Rey. Harry James Angus from the Cat Empire, an artist the brothers saw countless times as teenage fans, joined on horns. Paul Butler mixed the record, having produced The Teskeys' second studio album.
Was there stress and conflict in the background? Some, yes. The result of any tensions "worked its way into the songwriting maybe a little bit," says Dubowsky. "But the recording experience was a positive one."
Sam looks at the positives. "This band for me is really exciting," he says ahead of their European jaunt. "It's going to be good times. It's exciting to be touring again."
Touring is not for the faint-hearted. It's the stuff of dreams, and nightmares, depending on your constitution and the circumstances. The rigours of a long stint on the road can wreck friendships, marriages, bands, minds. The Teskeys' UK and European tour in support of The Winding Way is a break from tradition, and perhaps a model others may follow. The families joined the tour, and stepped off at a homebase. On this overseas run, the band are only playing weekend shows. It's a cycle of two days working on the weekend, then five days off — a routine set up to ensure they're present with their families and to look after their mental health on the road.
For the UK/Europe leg, the families found a temporary home in Bristol, in England's west country. A space for four months, and a launch pad for shows. Weekends are for work, the rest of the week for family.
"I'm sure it's challenging in many ways," says manager Jeremy Furze, of Applejack Music. "It's not easy to move your family around the world." But this roadmap is "more sustainable than trying to squeeze in three-week bus tours."
Furze reports back from the European leg of the tour. It's a success, which saw 12,000 fans cram Amsterdam's AFAS Live over two-nights. The sold-out sign is posted on dates in the UK, Ireland, Sweden, Switzerland, Denmark and more. By late March, more than forty-thousand tickets were sold.
A North American trek, their first in four years, follows from August 2023. "I love playing America," says Sam. "It's the place where our musical roots lie. They let you know. They shout it back." A string of US and Canadian dates are already sold out. Expect shouting.
On the North America leg, Nashville will serve as the temporary Teskey homebase. It's the same set up: gigs on Friday, Saturday nights, then back to Tennessee for the week. The brothers are the only touring members with kids. "We're testing this out," says Sam. "We'll see how it goes."
The Teskeys wear the mark of family and home. The lads are tattooed with what appears to be a snake, but on closer inspection depicts the river system of their home, a section of the Yarra River. You can almost see home on it. Josh's custom Pratley guitar bears the same illustration on its fretboard.
The brothers are obsessed with the real thing, the stuff that you can feel, which moves you and carries weight over time.
When The Winding Way arrives June 16, via Ivy League Records (a division of Mushroom Group), and through Glassnote Records in North America, it'll also be pressed on wax. The global holdup on vinyl adds pressure to the physical release. No biggie. "Everyone is holding on to that idea of authenticity, of physical things, real things, real people on that record, playing the music, and having something physical to represent that as well, rather than just a click in a link," says Sam. "Such a huge part of listening to music is having that tangible, physical thing. That's always been massive for us."
The brothers are proud of their creation, keen to get it out into the world. Nervous? Not really. Any edginess went with the release of "Oceans of Emotions" in February 2023, which, says Sam, was "special" because the band worked on it in "so many different ways." In a stroke of inspiration, an early incarnation of the song was flipped with a change in rhythm and tempo, a "magic moment," he recounts.
Everyone in the room felt the vibe, something Gudinski knew all about.
"Those are the kinds of projects that are a dream to produce," enthuses Dubowsky, "because then you're just kind of helping as a conduit between that sort of intention. And then you're like, 'How do I get this to come out of the speakers at the end?'" There's a "purity in what they do. It's like, it's 100% authentic. They live and breathe this music. I don't think I've ever met people who were like that."
---
This The Teskey Brothers interview features in the June-August 2023 issue of Rolling Stone AU/NZ. If you're eager to get your hands on it, then now is the time to sign up for a subscription.
Whether you're a fan of music, you're a supporter of the local music scene, or you enjoy the thrill of print and long form journalism, then Rolling Stone Australia is exactly what you need. Click the link below for more information regarding a magazine subscription.