When Jack White first rang in the new year back in 2020, he probably wouldn't have assumed that just over two years later he'd be releasing two solo albums in quick succession.
When Jack White first rang in the new year back in 2020, he probably wouldn't have assumed that just over two years later he'd be releasing two solo albums in quick succession. After all, 2019 had brought with it Help Us Stranger, the first new album from The Raconteurs (or The Saboteurs, as they're known in Australia), and with international touring having filled most of that year, it likely would have continued that way for some time. Of course, as we know all too well, time makes fools of us all.
As the world locked down amidst the global COVID pandemic and we were forced to adapt to new ways of living, many artists found ways to embrace the boundaries. For Jack White it meant becoming creative in all new ways.
"The whole world of musicians was told, 'You're not going to be playing shows', so that right there stopped a lot of trains," White explains from his home via Zoom, fittingly dressed in a white-striped shirt. "That means if you're not playing shows, then maybe you're not going to release an album, and then if you're not releasing the album, that means you're not writing songs. 
"So a lot of people that I know were in crisis mode: 'How am I going to pay the bills and what am I going to do?'" he recalls. "So I changed my own personal relation to it in a creative way. I just used it to be more creative, and I was lucky to be in the position where I could make more creativity happen. It was such a rebirth for me."
"I was lucky to be in the position where I could make more creativity happen. It was such it was a rebirth for me."
However, while some artists found themselves in a position in which their musical creativity was unbridled, White chose a different outlet at first. Rather than writing and recording music that wouldn't see the light of day or make it to the live stage, he instead dove back into his love of making furniture. 
"I didn't write music for the first eight or nine months of 2020," he admits. "I thought, 'If I do this, I'm in danger of putting this in a can and waiting for a year and a half until I can perform it'. So I thought, 'I don't want to do that — that's a little bit strange'. By the time I perform on stage, I might be already on to something else.
"So that didn't seem very appealing for a while. But no problem, because immediately I thought, 'Oh, I have some time to work on these furniture pieces I've been putting off for the last couple of years'."
Famously, White's teen years saw him begin an apprenticeship as an upholsterer, launch his own Third Man Upholstery business, and by 2000, form a band, The Upholsterers, with Brian Muldoon. The group was short-lived, and its second single became rather infamous between fans of White's, with the seven-inch record reportedly hidden in pieces of furniture the pair worked on.
He wasn't solely focused on furniture-making activities during lock down. Though 2020 had initially been set to include wider touring for The Raconteurs, some of this unintended downtime gave White the ability to finally launch the first international Third Man Records location.
White's record label was founded in 2001, but it wasn't until 2009 that its first physical location was opened in Nashville, Tennessee. In 2015, another location was opened in White's hometown of Detroit, Michigan. However, plans for an international location in London were quickly put in jeopardy due to the difficulties of the pandemic.
"Everyone was sort of saying, 'Yeah, maybe we just shouldn't do it. There's a pandemic. It's closed down. There's tax implications for opening a new store in the country. We've never done it before'," Jack White recalls. "There were a lot of reasons to not do it, but I was just holding on tight: 'Oh man, it's such a cool idea. I want to try this for one minute'."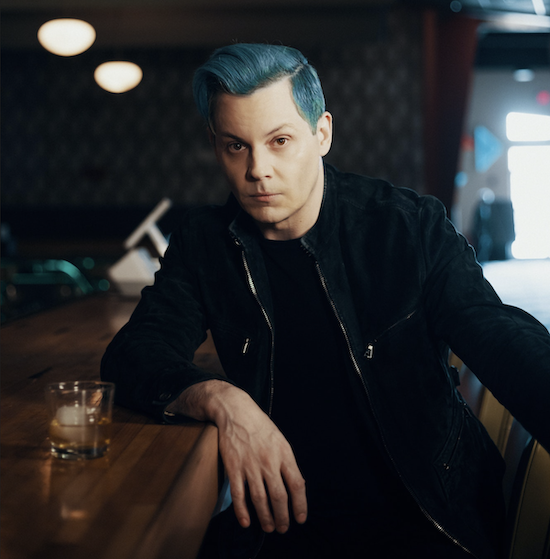 Ultimately, White hit upon the idea of treating the location as something of a long-term pop-up store, and in September of 2021, Third Man Records London opened its doors. White even performed a solo set to commemorate its opening — his first public performance since the end of 2019. 
Since then, the location has become something of a success, providing an outlet for fans of Third Man Records in Europe, and even enlisting London's Islands of Love as the store's first-ever signing.
"Maybe it'll only last a year," White notes. "I don't know, but it's doing really well so far."
At the end of 2020, White did indeed find himself beginning to lend his time to creating music again. With some notable physical restrictions in place, he was unable to collaboratively write with any of his previous bandmates, and as such, his output could only fall under the Jack White banner.
"In The White Stripes, I was the songwriter and arranger, that was it," he recalls. "Meg [White] played drums, I did everything else. So those are Jack White songs. In The Raconteurs, me and Brendan [Benson] write together. So these are Jack and Brendan songs. And in The Dead Weather, all four of us write. Of course, solo is just like The White Stripes where I write everything myself. 
"So you have that as a start and then you use the scenario," he explains. "I have to look at this for what it is at this time. This scenario was, 'No rush here [laughs]. It's not like there's going to be shows in two months, or you have to have an album out for Christmas or some business thing. So there's no rush'."
Jack White was never going to fall prey to the creative restrictions of COVID-19. In fact, he found himself thriving without the usual creative freedom of "spoiled excess".
Ultimately, the pandemic gave way to two new albums – White's first solo records since Boarding House Reach in 2018. The first of these records, dubbed Fear of The Dawn, was released in April, and features a sound that lends itself more closely to what die-hard fans of White might expect.
"If someone was asking me as a guitar player, 'What would you think is the most interesting guitar work you've done', I would hand them this Fear of The Dawn album," White admits. "I do think it's the most — in my own little bubble, from my own garage out back — most interesting stuff I've put down. 
"[It has] the most different kinds of techniques that I've ever used before, different types of editing and recording on computer; digitally and on tape, and splicing them together. And playing all the instruments myself on a recording, or writing songs on bass and then writing a guitar solo right after that. I would have never done that before, really. So as a guitar player, it really pushed me way farther than I ever pushed myself before."
"If someone was asking me as a guitar player, 'What would you think is the most interesting guitar work you've done', I would hand them this Fear of The Dawn album."
Opening with the incendiary "Taking Me Back", White's classic blues influences can be found throughout the record, though it's songs such as "Into the Twilight", "Morning, Noon and Night", and "Eosophobia" that see him pushing things to their limit as he effortlessly transcends genres and sounds.
"That 'Eosophobia' track, someone could say, 'This kind of sounds like something that The Upsetters would do. Or maybe it's The Police — late Seventies Police would do a track like this'," he begins. "I could say, 'Yeah, well, you know what? I love The Police and that style of music, I could spend my whole life playing just that style of music'. But other things come out of me at times, and I'm lucky enough to be an antenna for a couple of other things that pop in here and there. 
"But songs like 'Hi-De-Ho', 'Eosophobia', and 'Into the Twilight', I don't even know how many genres are in those three songs," he continues. "You're talking Forties swing, Nineties hip-hop, sampling from William Burroughs to Manhattan Transfer, and going into this Frank Zappa meets Captain Beefheart sound. I think that might be a turnoff to a lot of people because it's not the same thing every time. But I always tell people, my favourite Beatles record is The White Album, and I really like when one song ends and the next one is a complete left turn."
One of the more interesting and noteworthy songs on the record is the aforementioned "Hi-De-Ho", which sees White teaming up with hip-hop icon Q-Tip of A Tribe Called Quest for guest vocals. Though not the first time White had worked with Q-Tip (the pair had previously performed live, while White appeared on A Tribe Called Quest's final album in 2016), it marked the first time he had included a 'featured artist' on one of his tracks.
Initially beginning their collaboration by sending material back and forth to each other, it was the music for "Hi-De-Ho" that appealed to the hip-hop legend's sensibilities, though the final track remained incomplete for some time. Eventually, White found himself changing the ending to the track, and the pair finalised what would become one of the most unique tracks on the record thanks to its blending of genres.
It was never Jake White's intention to create two records. As his prolific creative process continued, White found himself unconsciously penning a pair of separate, yet connected albums, though he never had a desire to release them as one expansive package.
"I kind of got the feeling, 'People just don't take well to double albums'," he explains. "They just don't. So my first kind of thought was, 'I guess I could just make the first record and then put the rest of it out down the road a year later or two years later'. But this is the same thing that I didn't like about the pandemic starting; why bother writing songs right now? They're not going to come out for a year and a half. And by that time, I'll already be on to something different. 
"So I thought, 'If I don't put this out now, I bet it's just going to sit there and become a lost record, or a lot of B-sides will get plucked from it'."
The two records, despite being recorded at the same time, found themselves divided into two categories. While the "very heavy ones" found a home on Fear of The Dawn, the "very light and gentle" ones became featured on Entering Heaven Alive, which arrives in July.
"I found myself saying lately that Fear of The Dawn is like a Saturday night record, and Entering Heaven Alive is a Sunday morning record," White explains. "It's interesting to me that they were both written at the same time and these songs, they choose where they want to be, you don't even have to tell them. I mean, these heavy songs kind of gravitated and were magnetically attracted to one another, and these gentle ones were… They form their own little division. 
"I always say the sequence of albums pick themselves," he continues. "'Taking Me Back', the big, heavy 'Taking Me Back', it can only go first on the album. And then, of course, 'Taking Me Back (Gently)'. What else would you do? It's a great bookend to these two records and shows that they have a unification in some ways, but in other ways, they're their own living beasts."
While Fear of The Dawn begins with the monstrous celebration of rock that is "Taking Me Back", Entering Heaven Alive, with its more luscious production and traditional instrumentation, ends with an alternate version, fittingly titled "Taking Me Back (Gently)". Even more fitting is the fact that this track is the only one on the album recorded using traditional equipment, ultimately relishing in its vintage sound.
"It's nice to have 'Taking Me Back' as two different versions of the same song, because it really shows a listener that it doesn't really matter what style you play a song," he explains. "Maybe we're too obsessed with the style of a song rather than the actual song that's underneath it all, the foundation of it, the root of the song that's in there.
"['Taking Me Back (Gently)' was recorded on] a 1930s RCA mic [preamp] unit that I got out of an old radio station," he adds. "To put an RCA ribbon mic through an RCA mic preamp from the Thirties right on to a fiddle or an acoustic guitar, it just came so alive. Whereas the heavy version, I played all the instruments and we recorded completely on Pro Tools. It's almost like it's recorded in two different time periods of the last 100 years or something."
---
This article features in the June 2022 issue of Rolling Stone AU/NZ. If you're eager to get your hands on it, then now is the time to sign up for a subscription.
Whether you're a fan of music, you're a supporter of the local music scene, or you enjoy the thrill of print and long form journalism, then Rolling Stone Australia is exactly what you need. Click the link below for more information regarding a magazine subscription.