They've been turning heads for years with their kaleidoscopic compositions and highly-visual live shows, but as they release their debut album, it's clear there's no band quite like Haiku Hands.
If you've ever heard their music, seen their shows, or watched one of their music videos, then you'd likely agree: Haiku Hands are a group like no other.
The product of sisters Claire and Mie Nakazawa, and Beatrice Lewis, the trio have been turning heads since the release of their debut single, "Not About You", back in 2017. Armed with a a genre-shifting, kaleidoscopic sound, and delivering a stage show that is truly unlike any other, Haiku Hands have spent the last few years turning nonbelievers into dedicated fans at every turn.
With numerous singles helping to tide over dedicated fans who crave more and more, Haiku Hands finally announced in July that they would be unleashing their debut album in September. A masterful record that not only serves as the next chapter of the Haiku Hands story, but showcases why they're such a force to be reckoned with, it goes without saying that such an album would've been better suited for a time when the world wasn't on hold.
"I've half-enjoyed it, because I feel for really grateful for living in a house, and being healthy and whatnot," Mie says of the time spent sidelined by COVID-19. "I'm just going step-by-step and observing. All in all, I just feel lucky for my situation."
"I feel really lucky. I'm feeling very grateful to live in Australia, to have my health, and good friends and family," echoes Beatrice. "I've been really happy to have a big break from touring and travelling, and I feel really lucky to be able to be still. I've been doing a lot of writing, which I haven't had the opportunity to do for quite some time, and that's been making me feel very fulfilled, creatively."
As any fan of music would know, the release of new tunes sees an artist typically hitting the road in order to promote their new record. Unfortunately, Haiku Hands have been burdened with the task of releasing music amidst the global pandemic. While this undoubtedly provides something of a silver lining to those stuck at home, pining for something to immerse themselves in, the group does admit it would be ideal to be able to play live shows.
However, despite such a weird time for the world, and the band as well, there's no real anxiety afoot, not have their plans been affected too significantly. Instead, there's just an overwhelming feeling of anticipation as the trio look ahead to finally sharing something that has been slowly pieced together over their time together.
"I think it might have been delayed like a month or two because of [COVID], but it's been in the works for so long," Claire notes. "We wanted to release it last year, actually, but personally, I would not have wanted to wait any longer. Because it's been such a build-up, we're just so ready for it to happen, regardless of the opportunities that we won't have because of COVID in terms of our touring.
"I guess our trajectory has been changed, but I'm happy that we're putting something into the world at this moment. Hopefully it'll give people who are at home something; better than nothing. We can't give them shows, but we can give them music."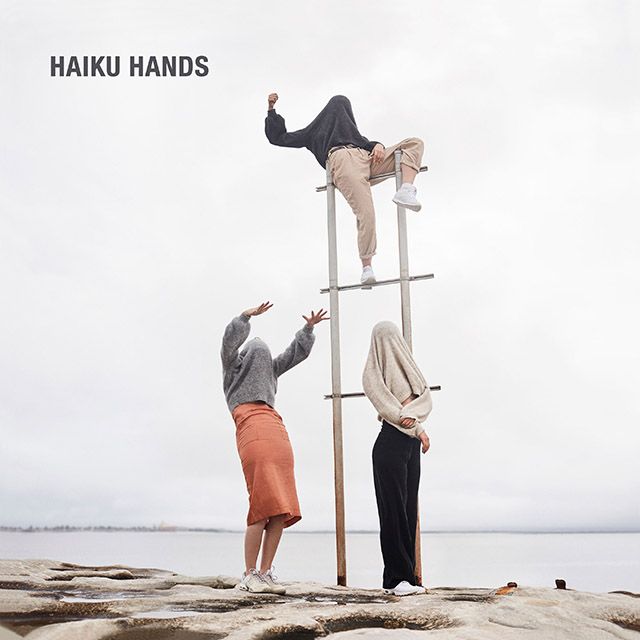 In the current musical landscape, most bands could be forgiven for overlooking the concept of an album. Truth be told, as the years went on and the singles continued for Haiku Hands, it almost seemed as if they were set to remain one of those groups who solely deal within the world of singles.
In fact, for Beatrice, the concept of putting together a full album remained a foreign one until their manager, Jodie Regan, met up with them following a performance at the Iceland Airwaves festival in late 2018. It was during a meal with Regan that the seed of a full-length album was planted within their heads.
"I'm happy that it came to an album, rather than just being heaps of singles, or an EP. It kind of validates everything a little bit."
"Whenever we meet up with [Jodie], we go out to dinner, and often end up eating steak," Beatrice recalls with a laugh, "the first meat meal in ages.
"I remember sitting there, eating a steak, and Jodie says, 'Yeah, that's because you've got to make an album, and you have to finish it. You have to start working towards it.' It was like the first time, in my mind, that's I'd actually conceived creating a full body of work. We'd been touring so much, and writing for touring and shows, and I just had never in my mind thought about it becoming one big body of work."
"I'm happy that it came to an album, rather than just being heaps of singles, or an EP," adds Mie. "It kind of validates everything a little bit. We grew up with albums, so making an album is a big deal."
The group's forthcoming album can be described in many ways, with focus being placed on the colourful nature of its sound, its genre-shifting status, its tongue-in-cheek humour, or even just its super-slick production. At the heart of it all though, is a group that uses their music to serve as something of a melting pot of their own stylistic influences.
Following a 2018 performance in Melbourne supporting Bloc Party, I reviewed Haiku Hands' appearance on the bill by noting they sounded reminiscent of a mash-up of Kraftwerk and Chicks on Speed, thanks in part to their intricate and effective compositions, paired with their boisterous, fun-loving delivery.
While the group's triple j Unearthed page notes influences such as Beastie Boys, M.I.A, and Zebra Katz, Beatrice enjoys when fans discover a unique reference point within their music, especially considering the work they create is simply a product of their own personal preferences.
Even Haiku Hands addressed such a notion while announcing their debut record, claiming that while it was "influenced by multiple genres and artists", they strived to be wholly original and to create "something that sounded new and different".
"I think it's funny that people have such strong references and they say things like, 'It reminds me of Chicks on Speed'," she explains. "But I don't know Chicks on Speed, and I've never really listened to them before. But I kind of like that lots of different people are able to hear lots of different things within the art.
"For me, I really love that when I hear that an artist and I say, 'Oh, I hear you really love this person.' You can kind of work out their artistic family tree through their sound. But then it's also something completely new. It's not really answering the question, but I really love when you can hear that in artists."
"I think we're also really connected by appreciating similar artists, as well as having our own peripheral, personal favourites," adds Claire. "When we started writing, we were thinking about festivals, The Weeknd, Major Lazer, Santigold, Little Dragon; all these artists that we could just put in a pot that we did like, do like.
"Then, our individual influences push in. I'm like, 'More R&B!', and Mie's like, 'More punk!', and Bea's like, 'More electronic dance!,' and Joel [Ma, producer]: 'More pop!'"
One track that combines all of these influences is the group's recent single, "Fashion Model Art", which arguably serves as a perfect entry point for new fans to the trio. With a catchy chorus, slick instrumentation, and memorable lyrics, it's the perfect mission statement of the Haiku Hands project.
Notably, the track also saw the group working with New York house duo SOFI TUKKER, who had struck up a friendship with the group during their 2019 Australian tour, specifically finding themselves attracted to the way in which Haiku Hands "build in humour and choreography into their music".
"SOFI TUKKER saw us Groovin The Moo, and they came and watched us perform. they were heaps hyped, and we met them backstage," Claire recalls. "Then, not long after they asked us to go on tour and support them in America.
"We were already performing 'Fashion Model Art' live, and they just loved that song. To be honest, I don't know how the moment of them getting on the track as a collaboration happened. But it just came together like that."
While the idea of touring with huge names like SOFI TUKKER would be enough for any artist to completely lose their minds over the sheer fact they're rubbing shoulders with noted names in the business, Haiku Hands are able to look back on their previous tours without this idea of being starstruck.
In fact, the group simply view these huge performances – which include support slots for the likes of Tame Impala, CupcakKe, Flight Facilities, and more – as something of a learning experience, allowing them to grow as artists and performers.
"I like nerding out on people's setups, what they do with their shows, and what's possible," Beatrice explains. "I'm so interested in how different artists put their shows on. We saw this DJ called Lunis, who just had this one music stand with a laptop on it, amazing shapes on stage, and it was just him dancing around.
"I feel so lucky to have gotten to tour, and see all of these different artists, and how they present their work. Some of them are just incredible. I feel like Tame Impala has this really beautiful visual aesthetic that Kevin and their whole team are very committed to, and every specific about. I love it. It's one of the most exciting things about touring, just getting to watch all the artists we tour with and see how they put everything on. It's very cool. I miss it."
"Playing with Bloc Party, we got to play on some of the biggest stages, like amphitheatres," Claire adds. "It forced us to get in-ears and stuff like that, and have that experience to see what it's like, and have that big expanse of people to play to. That was amazing, all those opportunities that we've had."
However, while Beatrice also notes she's been reliving the days spent touring thanks to some YouTube binges, the Haiku Hands live show isn't always one that's received well by crowds. In fact, a cursory look at reviews of the trio's time spent supporting Tame Impala in the US indicates that the pairing may not have been ideal, with many fans of Kevin Parker's psych-rock not quite getting the idea behind Haiku Hands.
Despite their humour and approach to their craft being mistaken as completely serious by some, Haiku Hands don't particularly take negative criticism to heart. Rather, they're content letting their art speak for itself, with their infectious style frequently turning nonbelievers into worshippers within the space of their set.
"It's interesting, because supporting Bloc Party and Tame Impala, I don't think they would listen to music – on their own terms – like ours," Mie admits. "When they're watching us, they look quite confused and not that happy. But I do notice they don't turn away from us.
"It's not like they're talking throughout our sets, but by the end of the performance, they're often quite engaged and smiling, and that's really nice. That really drives me when I'm performing. I just give as much as I can, and hopefully they'll latch onto that. I've realised that by the end of a lot of shows. People who listen Tame Impala and Bloc Party, if we can get them on board it'd be amazing. If we can communicate to them, that'd be great."
"It's a funny journey, what Mie is describing, with our audiences. At first they're really perplexed, then they laugh a lot, and then they end up dancing a lot," echoes Beatrice. "It's a really funny thing to watch in the audience – this emotional journey that they go on. Like, 'What the fuck is going on? Oh my god, this is hilarious. Oh, this is actually really fun!'"
"Or it starts in a pocket, like you see in the corner, there's four people who are like, 'We're getting this, and we're onboard!'" adds Claire. "And then that energy spreads and others are like, 'Yeah, we get it too!'"
With their self-titled debut out on Friday, there's no particular anxieties at play about being unable to tour, nor are there any worries about fans being unable to appreciate the highly visual side of Haiku Hands during this time.
Instead, Haiku Hands are taking it all in their stride, choosing instead to take things as they come, and allowing their music to help serve as a small beacon of enjoyment during a difficult year. In the meantime, they're not exactly got a blank slate, with Mie noting she's been spending her time working on visual arts, and tie-dying shirts to sell as merch.
"We've been talking about commissioning some remixes," adds Claire of the group's downtime. "We've been doing some writing for a movie in America, some commissioned stuff. I think just doing some self-care and looking at our own practices a bit.
"We're taking stock of what's happened, looking through all of our photos from the last three years, gathering everything; it's a great time for reflection."
Despite an appearance on the Yours & Owls festival on the horizon, it remains to be seen as to when Haiku Hands will once again be able to hit the road as usual and bring their music to the people.
However, the fact remains that with the release of a debut album during a time like this, it will not only help to whet the appetites of longtime fans and introduce themselves to new fans, but help to drive home the fact that there is truly no band quite like Haiku Hands.
Haiku Hands' self-titled debut released on September 10th through Spinning Top Records and Mad Decent, with pre-saves available now.