When the all-conquering Six60 decided to make their own label, Massive Records, which launched earlier this month, they weren't going to get any old band to be the first signee. With Coterie, though, everything just felt right.
Massive Records shared the reggae rockers' self-titled debut album two weeks ago, and it always made sense as the inaugural release.
Backed by their fervent fanbase, Coterie recently targeted a persistent campaign at Six60 to allow them to support the Dunedin band on tour, and the crusade paid off.
Coterie delightedly took part in 'Six60 Saturdays' this year, rubbing shoulders with more established artists like Lime Cordiale and Supergroove, and a strong working relationship was born.
And on their debut album, they prove that their inclusion on the 'Six60 Saturdays' bill was never a charity case: the 10 songs are blissfully breezy, mixing reggae, rock and pop touches at their own relaxed pace. Recalling the joyful sound of Ocean Alley, Coterie's songs sound primed for the festival circuit.
It was fitting that the band's debut reached the Top 20 on both the New Zealand and Australia Album Charts because they cross the Antipodean divide like few others.
The Māori brothers – Tyler, Josh, Brandford and Conrad Fisher – were born in New Zealand but have based themselves on Perth's shining coastline. They're immersed in the West Coast lifestyle, but never forget their roots; Coterie's summery anthems are made for chilled drives to Piha or Turquoise Bay.
In other words, Coterie are swiftly becoming Trans-Tasman favourites. Following a successful sold-out run of shows in Australia, they'll be touring their home country in March (more information here). In the meantime, you can read Rolling Stone AU/NZ's conversation with the band below.
Coterie's Coterie is out now. 
Rolling Stone AU/NZ: After releasing singles for such a while, what made you feel ready to finally release your full-length debut?
Coterie: Everything for us is about natural progression really. We released a few singles, played a stack of shows and toured with a few legends. It just felt right to take that next step. Plus we've been playing a bunch of tunes no one had heard before so at least they take the show home with 'em now!
So making the album was split between your own studio in WA and Six60's place in Mangawhai? Did you notice any differences in what you were producing in these sessions?
We record all our music out of our family home's living room. Our Dad, 'Big Tony', who's also our drummer, engineered the album. It's a pretty sick process, we take it pretty casual so the vibe's always good. Writing tunes on the West Coast of Australia is our life – beach, mates, it's what's fuelled the essence of our debut.
But writing in Mangawhai with Six60 was something new, there was a spark in the air. We could feel a new wave was coming with the tunes we wrote up there. And we're frothin' them!
I'm loath to call you a "good times band", but the instrumentation is just so breezy and refreshing. Does the songwriting come second to the rhythm when creating a Coterie song, or do you prefer to start with lyrics?
Oh cheers, love that! After the last few years it felt like the world could do with a good time and that kinda sums us up, so take Coterie as your post-pandemic pick me up! We just write on feel, it's not overly planned, and has a calm chaos of story and music weaving in & out of each other. Everything kind of happens simultaneously but we do it enough so we seem to make sense of it all.
Who were you all listening to while making this album? I'm sure you get this one a lot, but I hear shades of Ocean Alley in the music. You two would put on quite the vibey show.
Ocean Alley are definitely woven throughout the Coast culture so that's a big compliment for us! Love those boys and hope to sit on a bill next to them one day! But to be honest, we weren't really listening to anything, just writing what felt good!
You really couldn't have timed this album release better – so many of these songs sound perfect for a late night summer drive. What's on your own summer drive ("West Coast Drive") playlist?
We just tried to be part of those nostalgic moments that people make with their own people – bring everyone together, ya know?
As for our playlists: well, our own album, then some Lime Cordiale, Bon Iver, Tash Sultana, Six60, LAB, Angus & Julia Stone, The Dreggs, Matt Corby… gotta love the AU/NZ selection of artists!
"Cool It Down" was such a massive success, it's such an atmospheric cut. Was it the type of song that you immediately felt would be a hit?
This sounds a bit weird, but kinda, yeah! You gotta try love the music you're making but every now and then you know that something hits different. There's a couple of those on the album, we just got a little feeling about 'em. We hope you get that feeling too.
How important was it for you to do a te reo version of the song? Is this something you want to do more of in the future?
We understand the world's in a place of learning to love and embrace a little wider than what's right in front of ya. Helping normalise something that was ripped away from others just takes one step at a time. In the context of Purea – that's what songs in our reo are today, a Stepping Stone to tomorrow. We'll have many more waiata over the years, and it'll be normal, it'll be everywhere, for everyone.
I wanted to know how important it is to you to represent Māori culture internationally? It must be a great source of pride for your family back home.
It's an honour, a responsibility, but more so it's just a knowing of who we are. Everything we do comes back to the fact that we're four Māori brothers that grew up on the coast lines of Western Australia. We wanna inspire other indigenous artists, POC artists and just all humans alike, our differences are beautiful!
Embrace them, learn from each other and let's have a good time together! Māori is to try and be great and help others be great, just as they are!
What do you hope your fans take away from the album after listening?
Memories, nostalgia, dancing, singing, conviction… the essence of a never-ending youth is all in our heads, so love ya life! Have a good time, drive down the coast with ya mates, watch a sunset, smile more and breathe in the good times.
"For the ones who follow their own path, for the drifters, the booty shakers… Welcome home" – I liked this quote from your website. It really seems like maintaining a strong connection with your fans is key to the Coterie success story.
We love music, obsessively! We just want people to feel good together, and music does that! So meeting new mates that love our tunes, playing for them, it's 100% a highlight of being in a band.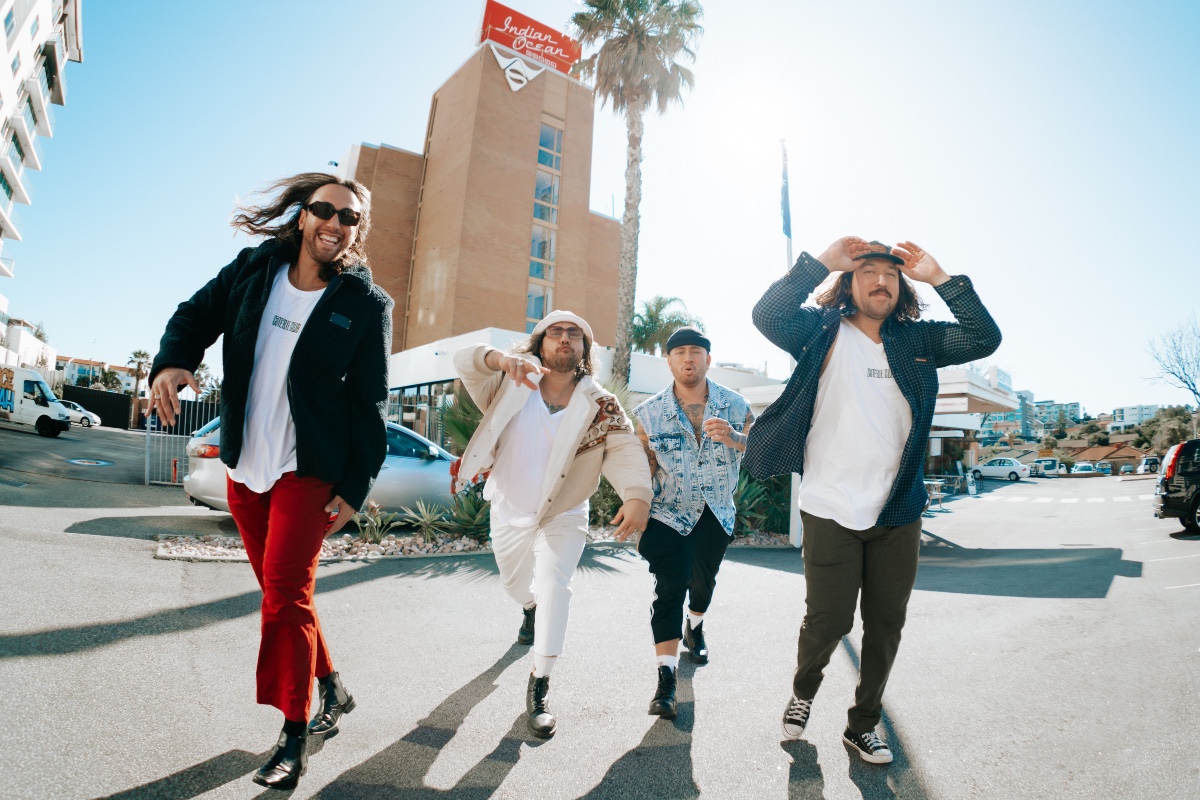 I love just how persistent you and your fans were in getting you to support Six60. Maybe more bands should be following suit! How has it been playing Six60 Saturdays?
I guess everyone has their own journey. We're really a 'have nothing to lose' kind of band so we just go for it. But we wouldn't have any of this if all the Coterie Club legends hadn't supported us so hard! Playing a stadium even once is a dream, but an entire tour is craaaazy! We took it all in, we jammed out pretty hard every weekend.
Do you get close to the other bands on the bill?
We have an open door policy in our green room backstage. We've been filming a series called Tatts N Chats where we give other artists a tattoo as we chat with them, hang out and that. We inked up Lime Cordiale at one of the shows as well as a bunch of others, talked all things music, touring and naughty stories. It's good time!
How helpful is it to be able to turn to a band as successful as Six60 whenever you need? What's the best bit of advice they've given you for the future?
Crazy! They've laid out the blueprint to all their success, and all we've gotta do is make it fit Coterie. We've been touring and hanging with Six60 for pretty much eight months straight! One thing they've helped us embrace is a healthy disregard for the industry rules. Ya know, do what you feel is right for you!
Are you all still based in WA? Your state had quite a strange time of it with the pandemic! How's the music scene doing in Perth and beyond post-COVID?
We're still based on the West Coast Drive! Perth's pandemic was actually a lot easier than the rest of the country. We lived pretty normal lives, the lockdown for us was where we cut our teeth in the live scene of Perth's Coast. Perths music scene is one of our favourites in the country!
Do you ever see the band relocating back to New Zealand? You sound very happy being out in Australia.
Aotearoa will always be home, our family, our land, our sea is all there, but for now we're pretty stoked soaking up that West Coast sun!
Looking forward to the New Zealand tour next year?
Big time! Stoked to get out for our first headline tour of NZ.
Any nerves about touring so much again? A lot of artists seem to be struggling with touring again post-COVID.
Coterie only started a couple months before COVID locked the world up so we're ready to go! We're keen to travel, play shows and festivals and just meet all the legends bumping our record.
I'm curious – what's on the Coterie rider? Tinnies? Good food?
It's all about good vibe for us! A couple incense and good tunes for that Bali feel, a tattoo artist for our mates in Tatts N Chats, jalapeño poppers and a spicy tequila for just as we step onstage. Sushi or Nando's and of course a few tinnies!
So you've successfully badgered Six60 to let you support them. Which band is next for an intense fan campaign?! Who would you love to tour with one day?
Red Hot Chili Peppers? Kings of Leon? Legit though, we'd love to hit the road with someone like Tash Sultana! Tash has shown us love online a few times now and we're just fans of that Sultana music!
Everything's going swimmingly in Australia and New Zealand – is Europe and North America next? How do you think overseas crowds would take to your sound?
We're taking it as it comes really. If an opportunity comes to head overseas then I'm sure we'll jump! But for now, it's the Aus sunshine & NZ bliss that's got all of us.