Up-and-coming Tāmaki Makaurau artist Amila – aka Camila Antonia Roa Núñez – excitingly brought her Chilean roots to the local music scene through her debut EP, Life Changes.
"It reflects my life as both a Chilean and Kiwi in New Zealand," the 22-year-old tells Rolling Stone AU/NZ. "In the past, I tried different music styles that never really felt like me until now." 
Produced by Dan Martin, part of the award-winning Silver Scroll team for Rob Ruha's "35" in 2022, Amila's EP features succinct pop lyrics sung in both English and Spanish, and the record draws on Latin guitar and salsa-like rhythms as much as pop and R&B.
The focus, Amila says, was on avoiding Spanish music stereotypes, and the result is a mix of danceable tunes and heartfelt ballads, a collection that maintains a fresh feel while honouring her cultural background.
Life Changes also features notable guest turns from Pōneke hip hop/R&B artist Rhys Rich and Auckland-based alt-pop singer-songwriter MACEY, adding a distinctive local flavour.
Since its release in September, Life Changes has gained airplay on commercial radio and attention from local media. Amila has graced stages at events like Rhythm and Vines, BIG FAN, and even the Beehive at the 50th anniversary of the Chile and New Zealand embassies. In Amila's words, "I'm excited to be part of something new, especially since there aren't many Chilean artists in New Zealand." 
Amila emigrated to Aotearoa with her family at the age of seven. She learned English by singing, connecting with people through music, especially with her favourite ABBA songs. "Even though at first I didn't know the meaning of the words, it was really unifying to be part of something through singing," she recalls. "The connection with music has stayed with me ever since."  
Her musical journey really started at 15 when she joined her school choir and the ukulele club in Christchurch, encouraged by teachers to explore musical instruments. Later, after her family moved to Auckland and settled in Hobsonville Point, her high school's new music studio brought in a local music producer who inspired her to write her first song.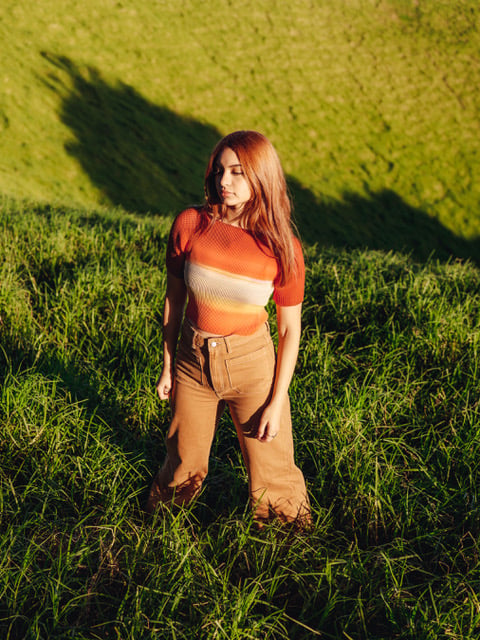 Remember those moments, Amila shares, "It was my first attempt at writing a song and I had just gone through a tiny breakup at the time. Surprisingly, it helped me tap into my emotions and he loved it, suggesting I send it to record labels."
She bravely sent out her demo, and within no time, Sony expressed an interest and requested an interview. "I freaked out because I only had one song, but I started writing more, and I realised I had a real passion for it. I haven't stopped since," Amila adds.
In 2018, she released her first song, "Owe It All to You," inspired by her family's immigration story. The heartwarming song resonated with the Chilean community and others. Amila was surprised and happy about the response. "I never expected that, but it was really nice to see people connect with the song and share their own stories."
Amila takes great pride in representing her Chilean culture in New Zealand, especially with the global explosion of Latin music thanks to artists like Rosalía and Bad Bunny. She believes the appeal of Latin music lies in its rich cultural heritage of singing and dancing.
"We love to dance and celebrate together, so our music is all about bringing people together and making them want to dance. I've grown up with traditional Chilean music, and I've incorporated the best parts into my own music," she says.
Despite her full-time job in the live music sector, Amila remains dedicated to writing and developing her own songs, now releasing music independently. She's excited about the future and is eager to explore the Spanish music path further. "I'm definitely keen to go further into the Latin music route. I'd love to do a whole EP in Spanish one day," she reveals. 
Amila's Life Changes EP is out now.