A staple of the Aussie live scene for well over a decade Bianca O'Neill dives into the history of the iconic Wide Open Space festival.
As festivals and live gigs slowly come back to life across the country, NT-based boutique festival, Wide Open Space, is raring to go after taking off two long years between drinks. It wasn't exactly the plan – but as we all now know, Covid makes its own rules. "We never intended to take two years off," Festival Director, Scott Large, tells me with a laugh. "After [our ten year anniversary in 2018] we just wanted to have a break to reassess what it was that we were doing, were we successful in those aspirations, did we have the energy to keep going?"
"We came out of that feeling really inspired to continue. We had our engines well and truly revved up for last year, and had to pull the pin – I think we were about six weeks out or something. It was… ugh. And obviously it wasn't great financially. But it kind of gave us an opportunity to really review our plans and tweak things, and we've come back this year with an even tighter approach."
Although Large is focussed on looking forward, it's probably even more interesting to look back at the last decade instead. After all, Wide Open Space has been quietly paving the way for destination festivals for years, slowly converting punters one-by-one into lifelong inductees of the desert pool party committee. (Yep, they've been holding a pool party as part of the festivities since 2012. According to Large, it's infamous.)
"We started as a very small grassroots event in the desert," says Large, "for us, our friends, and friends of friends. We never intended to be a big event. We wanted to do something punchy and impactful but we never really set out for it to be a big commercial thing. And it just organically grew over the years as we had more interest."
"We've really carved out a reputation for ourselves for doing stuff that is different. And putting things side by side that perhaps are a bit unusual. And we're really committed to that. We like to surprise people, we like to journey through the musical landscape. Our audience – particularly our NT audience – we have a really broad demographic that comes through."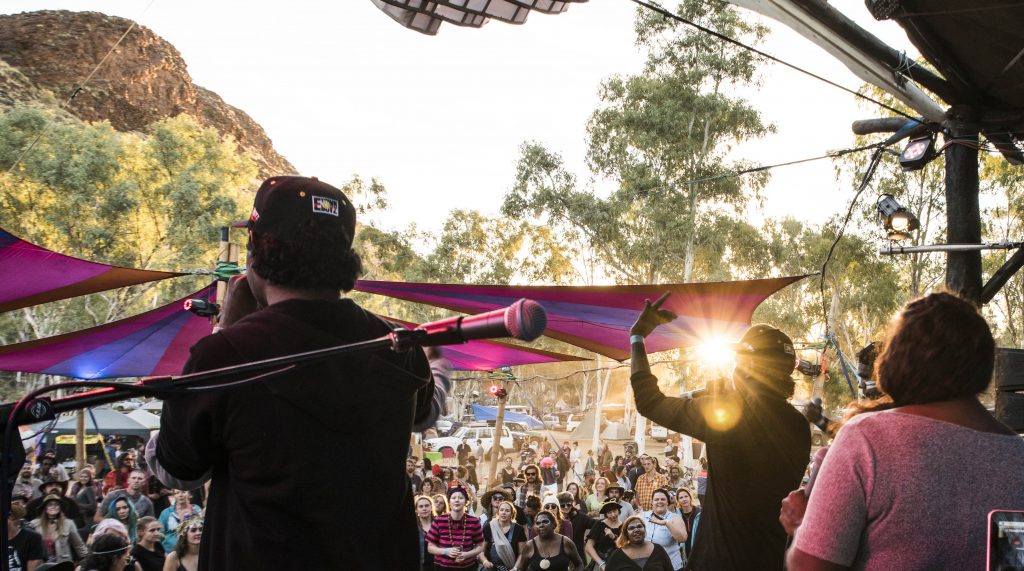 That element of surprise isn't just marketing spin for WOS, it's genuinely part of their DNA. Programming for an adventurous punter with diverse musical tastes is their wheelhouse – and their eclectic lineups over the past twelve years betray their disinterest in commercial drawcards purely to drive ticket sales.
It's all about discovery at WOS – they like to take an emerging or unknown artist and throw them on the main stage at a peak time, just to give someone different a go for once. Or, if they've lured a top shelf headliner like rock royalty Regurgitator, or Grammy-nominated future soul act Hiatus Kaiyote, they'll connect them with local talent to mix it up.
In 2017, the latter partnered with local Indigenous women's group Kardijala Kirridarra for a collaboration as part of their performance, while in 2018 Regurgitator pulled up local choir Alice Sings to perform Song Formerly Known As for the finale of their set.
"When we bring in someone as a headliner from interstate, we really try and connect them with local culture and local artists and get them collaborating whenever possible," says Large. "When we announced that Regurgitator were coming, [local choir Alice Sings] as part of one of their rehearsals sung a version of a Regurgitator song, and they filmed it and put it up on their social media. I saw it and thought – that's amazing. We should get the choir up with the band, and get them performing together."
"We sent it to Regurgitator's management, and said – how would you feel about this? They were like, absolutely! So they did it as a big finale, got 30 of the crew up on stage and did this massive, insane extended version of "Song Formally Known As". It just absolutely brought the house down because all these local people were seeing their mates up on stage with Regurgitator."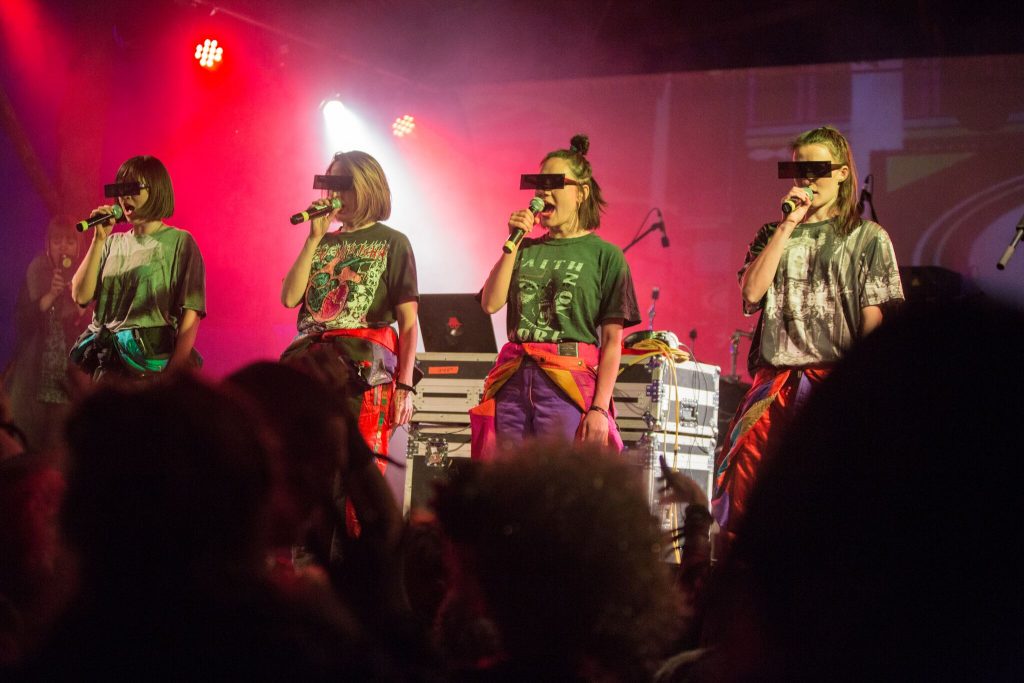 Embracing the cross-cultural spirit of a place like Alice Springs, and bringing that together via music, is intuitive to the WOS team – not in the least because their team is a diverse and eclectic family. As the saying goes, Alice Springs is a place for missionaries, mercenaries and misfits – and essentially, Wide Open Space have embraced them all.
"[Alice Springs] is a cultural crossroads and has been for a long time – well before white people came along," says Large. "It is an incredibly rich cultural space, and obviously the indigenous culture that exists – not just on our site, but the whole region – is this incredible rich tapestry. This deep, deep story, and old story… but you can't avoid the realities of colonisation, and the intergenerational trauma that that brings."
Thankfully, this kind of frank, open discussion about the history of Alice Springs is not just lip service. A quick chat with Large about the real, meaningful impacts that the festival has delivered within the local community reveals his passion for transparency. WOS engages with locals in a thorough and genuine way. All the way back in 2013, for example, Indigenous media organisation CAAMA set up an AV arm with a team of Indigenous trainees, meaning that the entire production side of the festival is run by local Indigenous operators. And that's just the first in a range of initiatives that WOS uses to engage the Indigenous community.
"We have really strong relationships with the traditional owners of the site," says Large. "The backbone of it is for us that they're really happy with what we're doing. We have very productive relationships with them, we're constantly checking in with them each year about what we're doing and any changes that we want to make. We've taken on a bunch of their advice over the years and changed the way that we do things. And I guess from that they see that we're real, we actually are listening, we're not just ticking boxes."
"We have their blessing to do what we do, and they love it. They come, they bring their kids. That's a massive part of what we do – that relationship. For us to be able to do what we do authentically is essential."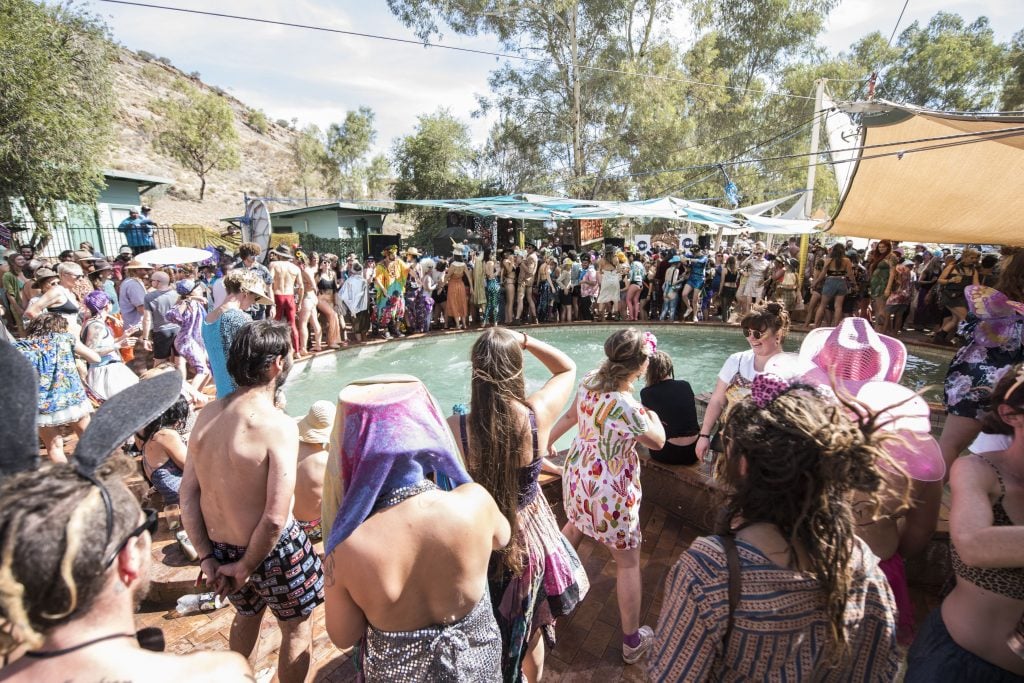 That authenticity extends to the WOS festival community too. Recently, a chat with locals revealed that punters were climbing an important site on one side of the cliffs at the gorge where the festival is held. The Indigenous community felt that the spirit of the site could be damaged if a festival-goer hurt themselves, or worse, died, climbing the precarious cliffside. So, WOS decided that they would move people's attention to the other side of the mountain, which is both safer and not as culturally important, by hosting their sunset session there. Over time, the punters have taken it upon themselves to police the cliffside, ensuring people are redirected to the right place.
It's something Large loves, and talks about a lot; the idea that a transient, once-a-year community forms at the festival – the Wide Open Space community – and together they foster the mythology of Wide Open Space. It brings to mind the infamous Meredith 'No Dickheads Policy', and the counter-cultural heart of Dark Mofo's antagonistic dark arts. These festivals couldn't be more different, but the idea is the same – it's a place for the like-minded to come together, in a moment in time, and engage with the atmosphere around them. WOS even have a "Good People Policy", banning any "douchebaggery".
However, it's not just the vibe at WOS that surprises people. Newbies expect vast, empty desert when they arrive at the Central Australian location, and are often blown away by the lush, abundant beauty of the place. "There is nothing like where we hold this festival," says Large. "It's just knockout. One of the oldest mountain ranges on earth. It used to be higher than the Himalayas when it was formed 300 million years ago, and it's slowly been beaten down by the weather. It's just a stunning location."
"More and more young people are seeing NT as a destination – and maybe I'd like to think we're part of that," says Large. "Every year we aspire to make it bigger and better… We just love putting Central Australia on the map in terms of music and arts and culture. We take that really seriously."