The legacy and mystery of America's grandfather of tattoo art, Norman 'Sailor Jerry' Collins
The legacy and mystery of America's grandfather of tattoo art, Norman 'Sailor Jerry' Collins
He spent his teens in the 1920s travelling across America, hitch hiking and hopping on freight trains, yet Norman Collins, best known by his nickname Sailor Jerry, didn't realise he would become the face of American counterculture. His iconic tattoos and namesake spiced rum live on long after his death in 1973.
The Man
Born in Reno, Nevada, Collins grew up in a rural pocket of northern California, but didn't have any desire to stick around. With a curiosity for tattoos, he began doing them freehand, truly learning the craft while on a trip to Chicago in the late Twenties under the guidance of Gib 'Tatts' Thomas. It was there he used his first tattoo machine and convinced vagabonds to offer up their forearms to get practicing – yes there was rum and coins exchanged for the honour.
Collins hung out with the rebel riff-raff, those who stuck to life's low road, musicians who didn't fit in – chasing their own version of the American Dream; but never convinced they would find it. He loved music and played in a jazz band too.
He joined the US Navy at 19 and found his feet at sea; a roustabout who spent years on ships that would influence his tattooing technique too.
His sea travel to South East Asian countries like Japan to China in the early 1930's is where his obsession with exotic culture began – and eventually found its way to the tattoo gun.
It was the way Collins merged Asian inspiration with nautical themes in his flash tattoo art that heralded him as the first American tattoo artist to pave the way for many contemporaries today.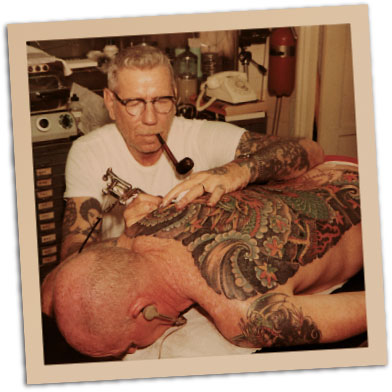 He was underground in his pursuit for happiness, inked sailors in between them serving at war and filled them with his signature flash – proof there was more to the man than his mythical hero like status.
By the late '30s Collins quit the Navy and settled in Hawaii –then a quaint and largely unexplored by plane slice of paradise. He began by tattooing in Chinatown.
But by 1941, he was ready to re-join the Navy to fight the Japanese – outraged by their attack on Pearl Harbor. A heart condition prevented that from happening. But he did join the Merchant Marines and spent a year on three cargo ships.
The Art
Upon his return to Hawaii in 1942, Collins opened a tattoo parlour in the notorious Hotel St district in Honolulu – a popular place for military men. Soldiers came to the island for burlesque dancers and Collins' masterful technique; and the booze halls too. His flash art of the Hula girl became a popular choice for the men who visited him – a reason to reminisce of the island when they went back to war.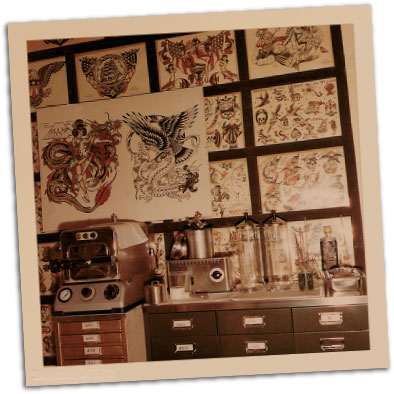 Collins became known for his images of ships, hula girls, roses, eagles, hearts, swallows and anchors. He created lusty Forties pin-ups and merged his verses with sea like wonderment. His own shipman's call saw him captains a schooner, giving tours of the island by 1965 as well as run his own radio show called Old Ironsides on KRTG – where he gave political rants and read his own poetry too.
He drove a canary yellow Thunderbird and took his Harley Davidson out for regular rides – but died prematurely at the age of 62, suffering a heart attack while out on the road.
The Legacy
Collins left a note for his wife to pass the tattoo shop onto his protégés Don Ed Hardy and Mike Malone [aka Rollo Banks] and if they didn't want it, she was to burn it to the ground. Malone followed his hero's wishes and ran it for close to 25 years.
By the Nineties, a namesake rum bottle was born, alongside art and merchandise – all in keeping with the legend's legacy – an ode to a guy whose flash lives long and hard in the music scene and tattoo culture now.
Back when Collins himself was at sea, sailors were known to smooth out their rum rations with spices – the mahogany hues both dark and light prevails in a bottle of its spiced rum today. From the original Sailor Jerry Spiced Rum to the new rum and cola and dry varietal cans, this is where ancient traditions are fit for modern day rebels with a cause.
And if the founding father's premise to living your best life comes down to doing what you love, then that's all it took for Sailor Jerry to earn his cult-status; and to his band of followers, it's a sea shanty they're well versed in.