Sing It Back: Green Is the New Black
With the release of Green Is The New Black, a documentary charting the creation of their world-first carbon-neutral album, Byron Bay's In Hearts Wake are asking the music industry to wake up to its impact on the climate. And they're not alone.
In mid-November 2022, writer and environmentalist George Monbiot wrote a column to mark the end of COP27 — the twenty-seventh United Nations Climate Change Conference — which was held last year in Sharm el-Sheikh, Egypt. Tens of thousands of journalists from all over the world covered the event, of course, but Monbiot's salvo was particularly potent. 
In the column, Monbiot lamented the wholesale lack of global leadership in the face of climate breakdown, and the complete disregard for human life demonstrated by those in power. "Every life is a madly improbable gift," he wrote. "For how much longer will we sit and watch our governments throw it all away?" 
On balance, COP27 was viewed as a failure by the climate movement. While progress was made on 'loss and damage' — compensating the countries that have contributed the least to the climate crisis but stand to be the most adversely impacted by it — very little was achieved in terms of actually reducing global emissions (or limiting the growth of new oil and gas projects). "The rich world's governments arrived at the conference in Egypt saying 'it's now or never'," wrote Monbiot. "They left saying 'how about never?'"
The week after COP27 wrapped, some fourteen thousand kilometres away as the crow flies, Jake Taylor and his band, In Hearts Wake, rocked up to the ARIA Awards in Sydney, Australia. The event was a gaudy celebration of the Australian music industry's best, brightest and brashest; a night for the industry to momentarily forget about the chaos, cancelled events, and loss of income caused by the twin-terrors of the pandemic and the recent spate of floods, fires and extreme weather events. A chance to look ahead to better days.  
But for Taylor and In Hearts Wake, there's precious little time for counting blessings in the midst of the climate crisis. 
The band went into this year's ARIA Awards with a 'Best Original Soundtrack' nomination for their score to Green Is The New Black — the group's 2022 documentary that charts the creation of Kaliyuga, their fifth LP and allegedly the world's first carbon-neutral album. As well as detailing the band's creative process for the album, the feature-length documentary is also something of a blueprint and rallying cry for artists and industry folk to start harnessing their platforms and changing their behaviours for the good of the planet. Because while the fossil fuel industry cops the most flack for its negative climate impacts, the truth is that every industry has a role to play in helping us live within our ecological boundaries. Including the entertainment industry. 
"'Environmentalism' shouldn't be a luxury, it should be the normal way we operate," Taylor tells me over a Zoom call a week after the ARIAs. In Hearts Wake didn't win the gong but Taylor doesn't seem fazed. He has other things on his mind. "We're part of a system built on fossil fuels, so the rising costs of touring, punters not [buying tickets], the price of gas going through the roof — it's all about the scarcity of resources. It's all interlinked."
Taylor and his bandmates — guitarists Eavan Dall and Ben Naime, bassist Kyle Erich and drummer Conor Ward — grew up in and around Byron Shire and the Northern Rivers, Bundjalung Country (save for Ward, who's from Sydney — Gadigal land). They've watched firsthand as their small chunk of the world has unwittingly found itself grappling with catastrophic floods and fires at the hands of the climate crisis. Taylor was even late to our scheduled Zoom call because he was out helping shift some debris before the rains were due to hit. Just another day in the anthropocene.  
Growing up immersed in the retina-shattering beauty of the Northern Rivers afforded Taylor a connection to nature from a young age. The band's eco-creds go back over a decade: they planted trees for every pre-order of 2014's Earthwalker and organised marine debris clean-ups after the launch of 2017's Ark. "It wasn't just a marketing ploy," he says. "We were bush kids. For us it was about getting into the energy and into the heart of the record." 
Kaliyuga is the band's most fully realised commitment to operating in a more sustainable manner to date. Not only is the message more potent (song titles like "Crisis", "Worldwide Suicide" and "Dystopia" require little reading between the lines), the method has evolved in step. Among other initiatives — and with support from a carbon accountant and their label, UNFD — the band stopped using CO2 cannons and swapped confetti for leaves (yes, leaves) in their live shows. They ditched plastic from their tour riders and have started completely carbon offsetting their live tours and record production process.  
Additionally, the vinyls for Kaliyuga were made from recycled wax offcuts, and the records were wrapped using recycled materials (despite this resulting in several major retailers refusing to stock the records) and printed using eco-friendly inks. Every aspect of the supply chain was interrogated, right down to the adhesive used by their fulfilment company. The group also committed to plant one tree for every record sold, and offset the whole printing and distribution process.  
It was a lot of work. And Taylor — whose personal climate mission was galvanised after a short stint living in the US left him feeling increasingly out of step with Mother Nature — is mindful that for most artists, even existing in the music industry can be challenging enough, without layering climate action on top of it. "There's definitely an urgency in all of this," he says. "And we are quite overwhelmed with the amount of stuff that we have in front of us. But I feel like it's not as full-on if you just look at what you love to do, and then look at how you can evolve that space. There's a freedom in it; you realise that everyone's probably feeling a similar thing. To begin with you might feel alone, but as you start to [take action], you realise there's a community of people doing this."
In Australia, that community is growing by the day. From Green Music Australia (a platform offering tools and support for artists looking to take tangible steps to limit their impact on the planet) to the Environmental Music Prize, which is celebrating artists — such as Briggs, and Tim Minchin, King Stingray, Holy Holy, Paul Kelly, Lime Cordiale and more — who use their platforms to speak out on climate issues. In Hearts Wake's "Worldwide Suicide" earned a nomination, but King Gizzard and the Lizard Wizard won the inaugural prize in 2022 for the trippy "If Not Now, Then When?". More resources and platforms to help artists step into climate action are becoming available by the day. 
While the specific type of action In Hearts Wake are taking as a group is novel, the idea that artists can help push environmental or political agendas is of course nothing new. One of the ambassadors for the Environmental Music Prize is Greenpeace Australia Pacific CEO, David Ritter. "Artists and musicians have a unique capacity to move and inspire people," Ritter tells me over the phone. "We should never underestimate the ability of a song or an image to change hearts and minds, and to catalyse the kind of non-linear change that we need to transition a cleaner economy at emergency speed and scale."
From Greenpeace's early days of collaborating with the likes of Joni Mitchell, Phil Ochs and James Taylor, to Midnight Oil's recent on-stage takedown of gas giant Woodside during their Perth gig in October 2022, music and environmentalism have long been potent pals. Ritter's own worldview was shaped dramatically by the music he listened to growing up. "Music has been fundamental to shaping my political and social conscience," he says. "As a teenager in the 1980s, Midnight Oil in particular offered a window into a kind of social, environmental and political activity that meshed very closely with how I was feeling about the world. And it may be no accident that I ended up first as an Indigenous rights lawyer and then working with Greenpeace."
As well as documenting In Hearts Wake's climate action journey, Green Is The New Black also checks in with a handful of other musicians who are using their platforms to step up for the planet. One such musician is Cloud Control vocalist Heidi Lenffer, who in 2019 launched FEAT. (Future Energy Artists), a world-first initiative that funnelled funds from ticket sales into carbon reduction programs. While the initiative was forced to scale down during the pandemic, FEAT. has still managed to build a fully operational solar farm in rural Queensland that's large enough to power 11,300 homes and generate clean energy for thirty years.   
Lenffer is conscious of the challenges many artists are facing right now — particularly in the wake of the pandemic — but she also acknowledges that leaning into climate work can be an incredibly empowering and sustaining endeavour. "By just putting my hand up and saying, 'I'm going to use the skills I have to try and figure out what I can do better', people have gravitated towards that," she explains. "The [climate] community is filled with the most generous, interesting folk, and having access to everyone's backyard solutions helps keep you motivated. The community's been my lifeblood — it blows me away continually."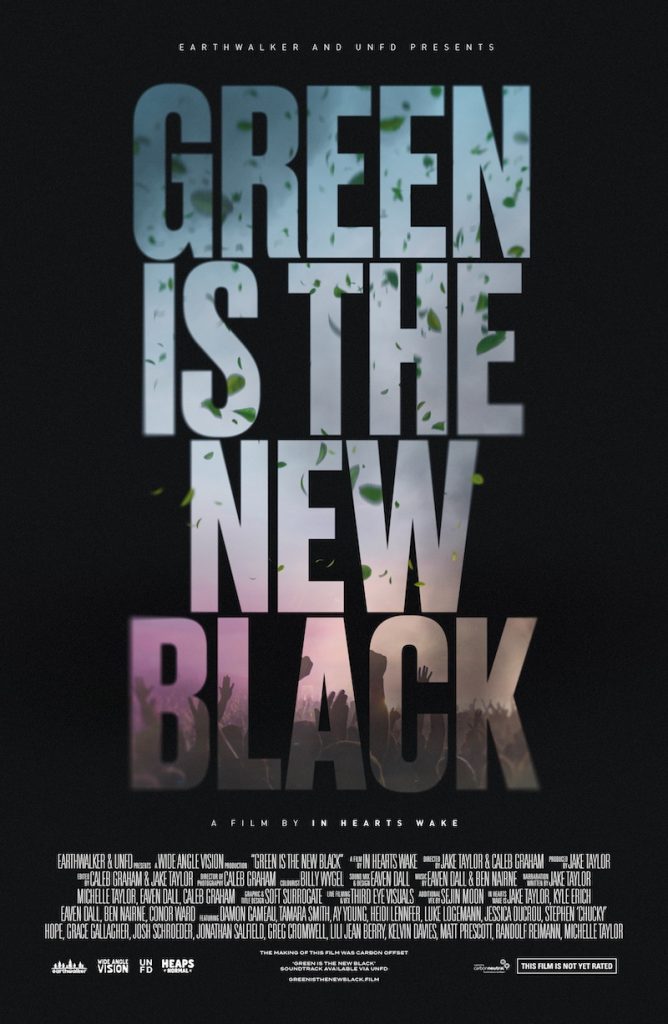 Lenffer also cites Holy Holy's Tassie-based zero-waste Panama Festival as a form of tangible climate action and, outside of her own work, she's emboldened by the steps other artists are taking in the space. "What In Hearts Wake are doing is so important," she says. "I know regeneration is at the centre of their ethos, but actually documenting the process is so valuable for others to see and learn from. I can already see the ripple effects of other bands wanting to do similar things despite the chaos [of the pandemic]."
Further afield, the documentary visits producer, singer, songwriter, entrepreneur and founder of the US-based Battery Tour, AY Young. The Battery Tour is a renewable energy-powered concert series that aims to raise money to purchase portable solar batteries for communities without reliable access to electricity. To date, Young has played over nine hundred shows in over one hundred cities around the world, and has been recognised as a United Nations Young Leader for the Sustainable Development Goals in the process. "Sustainable touring is important, because music is a universal language," says Young in Green Is The New Black.
"If you're going to drive change, if you're really going to make an impact, it's gotta be through music." 
There's an increasingly global precedent for climate action in the music industry, and it doesn't start and end with the artists themselves — it's about artists, labels, venues, merch companies and fans all working in tandem. In 2019, the UK's Massive Attack commissioned a group of scientists to analyse their touring practices. The goal was to draw up a blueprint that other artists could adopt to help limit their carbon footprint. 
The report, by the Tyndall Centre for Climate Change Research at the University of Manchester, suggested things like dropping flights wherever possible (admittedly challenging for Australian musicians) but also flagged improved infrastructure at venues as a key point. If every venue adopted a standard tech set-up, bands wouldn't need to haul their gear around the world with them, and their carbon emissions would plummet. The report also suggested venues themselves switch to using renewable energy — a practical option that's more available and affordable than it's ever been. 
In Hearts Wake have been taking a leaf out of Young's book and trialling solar batteries on tour. "We get a bunch of solar panels and pull them out behind the venues or at the motel, and then we can power our lighting show and some of our rigs on stage," says Taylor. "I think we can power four or five shows before we need to recharge." 
Producing a record can be challenging at the best of times. And it'd be easy to look at all this additional work — carbon accounting, offsetting, measuring, tracking and optimising — and think it might detract or distract from the creative process. But for Taylor, the opposite has been true. "It was like lighting a fire under us," he reflects. "It empowered all of it. The mission gave it purpose, every song. Every day, when you're waking up, you're asking yourself, 'Is this bigger than me? Is this moving me?' That's really what was helping move Kaliyuga in a positive way. It wasn't just about the music, it was about the whole process." 
On the 7th of August 2020, while the world was still trying — and failing — to keep a lid on the COVID-19 pandemic, and the prospect of touring and being a live band was shelved indefinitely, Kaliyuga was released to the world. Despite being more expensive to produce and involving more time, effort and energy than the band had poured into any of their previous records, it became their fastest-selling record to date, and peaked at Number Three on the ARIA Albums Chart. 
Though they've made great strides, Taylor and co. acknowledge they have a long way to go. Outside of offsetting — which, while an important step, is a little like realising your bath is flooding and putting down more towels instead of turning off the tap — Taylor is interested in finding ways to reduce the band's emissions in an even more tangible manner; in turning off the tap. "It's this idea that less is more," he says. "Make fewer T-shirts, play fewer shows, make fewer records — but make them all high-quality, and make them count."
---
This review features in the March 2023 issue of Rolling Stone AU/NZ. If you're eager to get your hands on it, then now is the time to sign up for a subscription.
Whether you're a fan of music, you're a supporter of the local music scene, or you enjoy the thrill of print and long form journalism, then Rolling Stone Australia is exactly what you need. Click the link below for more information regarding a magazine subscription.