If you purchase an independently reviewed product, luggage set or service through a link on our website, Rolling Stone may receive an affiliate commission.
With Covid restrictions easing and everyone's vacations planned months in advance finally happening, this time of the year can make for a headache-inducing experience wherever you may be headed. Oh yeah, and there's still the pandemic of it all.
As with any trip, there are always going to be problems, big, small, foreseeable or not, which only highlight the importance of being prepared all the more. A major part of being prepared is having a practical and reliable set of luggage.
What Are the Best Luggage Sets?
The best luggage sets usually include 3-4 bags that should work across a variety of trips and travel needs. Here's what to look for when shopping for the best luggage sets online.
Hardshell vs Softside: This will ultimately depend on what kind of a trip you're taking and what you're looking to get out of your luggage set. If you're taking a long-distance flight and are going to have to check a bag or two, you'll definitely want to make sure you invest in hardshell luggage. It's stronger, more durable and capable of keeping your belongings safe and unscathed without the risk of damage. However, if you're planning on driving and staying for a few days, you can easily pack a soft luggage set in the backseat or trunk. For a more seamless experience, it's not a bad idea to have both a soft and hard set so you make sure you're always prepared no matter what the situation calls for.
Size: You may need to pack more, or less, depending on what kind of a trip you're going on, so it's best to have an option for any situation. Something that is non-negotiable is a good carry-on bag. After all, you don't want to be the person that's told by the flight attendant that the bag is too big and must be checked, or the person who struggles with their bag as they make their way through the train cars. A good carry-on bag can't be too big or too small; it must be just right. While carry-on requirements vary by airline, it is generally agreed that any bag that is 22 inches x 14 inches by 9 inches from top to bottom is a safe choice.
Mobility: Wheels can be crucial to making your flight as you attempt to navigate the seemingly endless airport or an asset in making your way to your destination. You are probably familiar with the standard issue in-line skate wheels that are typically associated with a piece of luggage, but consider spinner wheels which can be rotated 360 degrees and offer more flexibility with maneuvering your suitcase.
Extra Features: Does your luggage have extra compartments, zippers, a combination lock or any other nifty add-ons or features? Look for luggage sets that go above and beyond to streamline the packing and traveling process.
1. July Trunk Luggage Set
BEST OVERALL: EDITOR'S PICK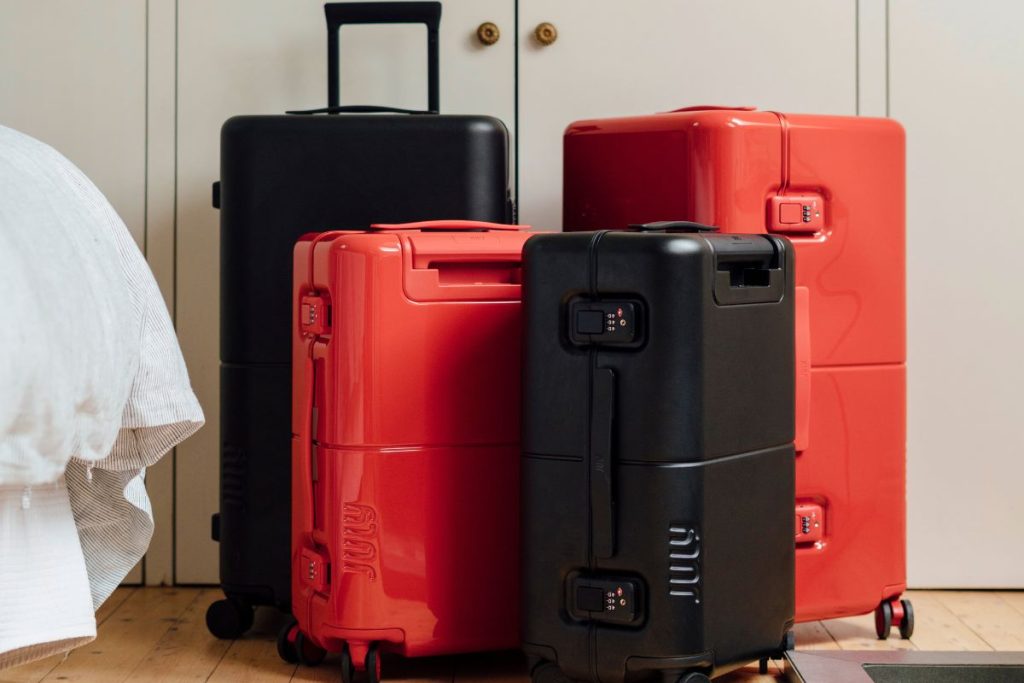 If you've ever watched a baggage handler chuck your luggage onto a cart in horror and winced at the thought of your case being damaged, then you need a July Trunk.
This set features two integrated one-click TSA latch locks (zipperless access was created to counter the issue of luggage break-ins), a crush-proof glazed German polycarbonate shell, and a rivetless anodized aluminium frame.
Perfect for long holidays or short business trips, a July purchase comes risk-free too. The award-winning Melbourne company offers a lifetime warranty and 100 day returns with each case.
The sleek design isn't just in the obvious look of the July case either. Its SilentMove™ 360 spinner double-wheels offer functionality and durability a cut above the rest. The Checked Trunk, which comes in head-turning colours like Cherry Red and Coastal Blue has an expandable main compartment, so you can pack more in if you need. While the Carry-On Trunk has an ejectable battery with FastCharge USB-C and a built-in July Y-Strap Compression System that holds clothes in place and prevents them from wrinkling.
2. Samsonite Omni Hardside Expandable Luggage Set
Samsonite is a name that feels synonymous with luggage; the high quality of the craftsmanship speaks for itself, and this three-piece set is no exception. The scratch-resistant hardshell exterior (made from durable polycarbonate) and full-zip mesh interior with cross strap ensure optimal organisation, while a TSA-friendly combination lock offers added security on the medium and large sized suitcases. Simply set the combination to secure your belongings during travel. An adjustable handle and spinner wheels offer added mobility for hurried travelers, whether you prefer to pull your luggage behind you or push it front of you. This luggage set is a traveler's best friend, whether you're someone who rarely travels or you're always on the go.
Also included is a 20-inch bag, which meets the requirements for carry-on bags and is also outfitted with spinner wheels, so you can maximise on your packing power.
2. American Tourister Softside Luggage Set
Whether you can't pack everything as neatly for your return trip as you did when you initially packed or you just need more packing space than you were anticipating, this three-piece set has got you covered. Each suitcase is outfitted with an expandable exterior, as well as storage pockets in the front, that can accommodate any last minute add ons or forgotten items on your itinerary. There are even shoe pockets and mesh pockets for chargers, brushes and other accessories that can streamline your packing process.
The multidirectional spinner wheels and retractable push handle assist with transport, while the padded top and side handles provide some much needed assistance in lifting; even if it's fully packed, you won't have to over exert yourself to move this around.
3. Amazon Basics Hardside Luggage Set
If you're looking for a high-quality luggage set at a fraction of the cost, look no further than this option from Amazon. Though there are a variety of features that have earned this set more than 20,000 five star reviews, we especially love the sturdy, yet weightless design that still provides maximum storage. The smallest suitcase in the set (coming in at 21 inches) is small enough to fit an airplane's overhead compartment. And like its softside counterparts, each piece's exterior is expandable which allows for 15 percent more packing space.
If you're still not sold, this set is flight attendant approved! One user wrote that this is their designated travel set, and said moving along with each piece feels "like it's floating."
4. COOLIFE Family Luggage Set
The variety of bold colors this four-piece set is available in is what initially caught our eye; from sakura pink to apple green, there's something for everyone. However, the design is every bit as practical as it is fetching. The impact-resistant ABS plastic exterior keeps your belongings safe without weighing you down, and each piece is extremely lightweight. Our favorite feature is the ergonomic aluminum telescoping handle, which can help rest your wallet, phone or other small objects you may not feel like holding while you're waiting in line or killing time.
5. COOLIFE Softside Luggage Set
COOLIFE offers everything we love about their hardshell luggage set in a softside option, right down to the TSA-approved safety lock for those who crave extra security. The three-color Jacquard Oxford cloth these pieces are made of functions both to make the design richer and more durable than pieces made from polyester. And while other softside pieces may see the corners begin to deteriorate over time, this set comes outfitted with corner protectors to ensure added longevity.
6. Traveler's Club Sky+ Luggage Set
If you really want to make sure you're maximising on your packing capabilities, we recommend this five-piece luggage set from Traveler's Club. Included are three hardshell pieces in addition to two softside pieces that can operate as carry-on bags or a spacious bag for all of your toiletries and/or accessories; you're truly getting the best of both worlds.
And if that didn't sweeten the deal enough for you, this set is significantly more affordable than other options on the market, so not only do you get more space but you save a little money at the same time. What's better than that?
From Rolling Stone US