If you are interested in any kind of vocal performance – from podcasting, to voice-overs, to making YouTube videos – a good microphone is the most important investment you can make. Your audio quality can be the decisive factor between attracting hundreds, thousands, or even millions of listeners. At some point, we've all encountered digital media that we had to switch off due to its poor audibility. Don't let that happen to your content.
Built on an impeccable legacy for sound quality, the Shure SM7dB is the next stage in the evolution of the Shure SM7B – the industry-standard dynamic vocal microphone used by broadcasters, studios and performers the world over. What makes this iteration the best yet is the inclusion of a built-in preamp, giving you up to +28 dB of low-noise, flat, transparent gain. No more hollow, quiet or tinny recordings that your audience won't enjoy.
This custom Shure-designed preamp has been created from the ground up and tuned by Shure's world-class engineers, specifically for the SM7dB. Designed with technology licensed from Cloud, the aim of the preamp is to add high quality gain while leaving the soul of the SM7B completely unaltered. You can choose between +18dB (for loud sources like guitar cabs), +28dB (for quiet sources like vocals), or bypass it altogether.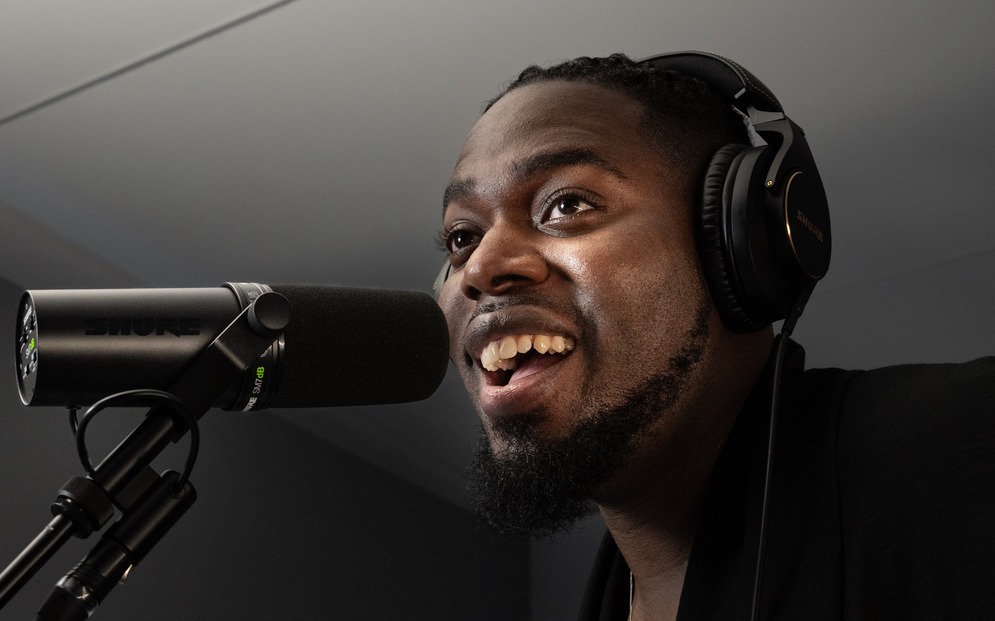 Painstakingly crafted, the preamp delivers the Shure SM7B's highly sought-after sound by perfectly preserving the microphone's full frequency response in a range of 50 to 20,000Hz. Whether you've activated the preamp or not though, the dynamic cartridge will give your recordings, streams and performances the same natural-sounding, detailed highs and lows as the SM7B. That's the beauty of the Shure SM7dB – it is the best of both worlds. 
Like its predecessor, the Shure SM7dB has excellent rear-rejection, with a classic cardioid polar pattern that isolates vocals from background noise (perfect for working in spaces with minimal acoustic treatment). It also features bass roll-off and mid-range boost, optimised shielding to reject computer monitor hum, and internal shock isolation to eliminate mechanical noise. So while the SM7dB boosts a lot of gain, it does so without letting any unwanted nasties through.
Its distinctive pop filter eliminates plosives and breath sounds, both for high impact vocals or close-proximity recording such as voice-overs or conversation. It comes with yoke mounting (with captive stand nut) for precise control of microphone position, as well as effortless mounting and dismounting. And, as Shure standard, the SM7dB features rugged construction and excellent cartridge protection.
The Shure SM7dB works with any XLR recording setup. All you need in order to activate the preamp is an interface or mixer with +48V phantom power. Turn it on and, badda-bing; all the gain you could possible want. No need for expensive or bulky inline preamps… simply plug it in and go. This makes the SM7dB convenient, powerful, affordable and totally portable. You can use it anywhere with a bare-minimum setup – perfect for working on the road. 
All-up, this is a vital bit of kit for anyone that doesn't already own an SM7B. Even if you do, the SM7dB makes life so much easier (without sacrificing even a single frequency) that it's worth adding to the arsenal. Anyone who works with audio can't go wrong with this elegant and enduring microphone, but if you are dealing with vocals especially, there is simply no mic more celebrated, trusted or quintessential than this one.