Interested in becoming a DJ, but don't know where to start? Electronics giant Pioneer has a range of products specifically designed for beginner performers. Read along, the party starts here.
"It seems to me that they want to work alongside the DJ, work with them, rather than wanting to dictate this is where we're going and this is what we're doing. I think that's why all the DJs you ask are doing it. Because they do respect Pioneer."  — Paul Oakenfold
For over three decades Pioneer has been fundamental in the expansion of the role of the DJ, a position that since the 1940s has evolved from hosting and moderating tracks to creating them. The multinational company has introduced technology that has turned tools like turntables and mixers into legitimate musical instruments, shaping the development of genres like hip-hop and electronica.  
There are a plethora of tools in the market that cater to the aspiring DJ, so many that finding the ideal gear can be a daunting task for a complete beginner. Luckily, Pioneer has the perfect equipment to accompany DJs in their journey from bedroom heroes to festival superstars.
Before talking about gear, probably the very first thing an aspiring DJ must consider is the type of performer/producer they want to become. 
Types of DJs
"A DJ is somebody who understands how to take whatever format there is and create something that's very unique." — Roger Sanchez
DJs can always change their specialty as their career advances, —or even jump from one discipline to the other— nevertheless, the branch of DJing chosen at the beginning of their journey will in part determine the first equipment setup. 
It's analogous to how a guitarist must choose different pickup settings depending on the sound they want to achieve. Pioneer offers specific gear for every kind of DJ at every stage of their career.
There are various types of DJs in today's industry, each with their own particular skill set and equipment needs.
Bedroom DJs
The starting point of almost every performer out there, and for many, a career in itself. Home DJs play in small areas, so quality and versatility are more important than volume. Bedroom DJs perform mostly for small, intimate gatherings or stream their sets online. The Florida-based duo Sofi Tukker —one of the most popular live streamed acts of the world in 2020— and Guido Sartoris of the Argentinian collective Detroit Classic Gallery have garnered huge followings with their bedroom performances streamed on Twitch and YouTube. 
Event DJ
Event DJs have the responsibility of creating the atmosphere of a gathering and attracting guests to the dance floor. They do corporate shindigs, weddings, parties, and similar celebrations. They own their equipment or rent as needed. In addition to their DJ gear, event setups can include speakers, amps, and lighting. Popular London-based DJ Krystal Roxx, —who has performed alongside luminaries like Fatboy Slim and Groove Armada— and Guardian columnist Twiggy Garcia are sought-after event performers.
Club DJ, Festival Performer
These DJs perform for larger audiences at festivals and clubs, and their main objective is to incite the crowd to dance. They rarely bring their own gear, working mostly with flagship high-end equipment provided by the venue or the organisers. Influential superstars like Carl Cox and Amelie Lens fit this label.
Battle DJ
Battle DJs focus on performing at tournaments, clubs, and festivals. But in contrast to club DJs, their main objective is not to lure people to the dancefloor, their thing is to awe the audience with their technical skill at the decks. Most master turntablists fall into this category. Technical virtuosos like the New York crew The X-Ecutioners, and legends like Grandmaster Flash and DJ Cash Money are some of the most respected turntablists in history.
D
J Producer
A DJ producer is mostly a creator of new content. They spend the vast majority of their time in the studio (be it a home studio or a professional one) developing original tracks and producing albums. DJ Shadow and Mo'Wax founder James Lavelle are creators that defy the role of the traditional DJ and fall into this category.
"Pioneer is paying attention to the needs of all DJs. You know, here's the scratch DJ, here's the turntablists. Here are the club DJ's, here's DJs that use controllers, you know, I think it's amazing to just have one company that kind of has so many holds on so many different styles of DJing." — Jazzy Jeff
How to build your DJ setup
In general terms, the toolbox of a DJ is comprised of six key devices: 
Input device
The input device is in charge of providing the songs and samples the DJ is going to manipulate. These devices can be CDJs, turntables, CD players, cassette players, laptops, or any other sort of equipment designed for media playback. 
Mixer
A mixer is a stand-alone hardware apparatus designed to receive the feed from various input devices. A mixer is able to combine these various inputs and allows the DJ to switch back and forth between each source. You can connect to a mixer any line or analog source like turntables, CDJs, samplers, cassette players, effect units, keyboards, beat pads, or even computers, tablets, phones, or instruments. A typical DJ mixer offers four channels, each one with EQ control, volume levels, pan, and other effects. High-end mixers will also have an XLR microphone input with its own controls. Mixers are the standard in clubs and festivals because of their high fidelity and robustness.
DJ Controller
The accessible alternative to the mixer. A DJ Controller is an all-in-one device that features a mixer and simulated turntables/CDJs. They do not mix audio signals by themselves as stand-alone mixers do; instead, they work in tandem with a software package installed on your laptop or mobile device. In reality, it's the software the one doing the mixing, what DJ controllers give you is a physical, tactile way to control the software, similar to how a steering wheel controller allows you to play racing video games.
DJ controllers usually offer Bluetooth and USB connectivity, RCA, and headphone jacks, but lack other advanced features included in mixers like XLR and analog inputs. DJ controllers are not professional workhorses like mixers, yet, they do exactly the same thing at a fraction of the cost. Unlike mixers, turntables, and other hardware devices, controllers are not limited to the options built into the physical device. Being software-based gives them the flexibility to expand along with their apps, giving users the chance to add, or remap the controller's components to make them perform functions different from what the manufacturer intended.
Their low cost, high customisation, and versatility make them the ideal equipment for beginners.
Sound system
The sound system is in charge of transforming the electric signals from the mixer or DJ controller into audio waves. A basic sound system is made up of a stereo pair of speakers and one subwoofer devoted exclusively to the bass. Depending on the size of the area where the performance will be held, the DJ might need to expand and use amplifiers, additional speakers, or patch into a public address system. 
Headphones
Headphones allow the DJ to listen to a sound feed different from what the audience is hearing. This permits the user to preview music tracks and prepare them for the mix. 
Microphone
With a microphone, DJs can address the crowd, or even sing or rap over the mix.
Pioneer entry-level gear suggested for beginner DJs
This smart DJ controller inherits the club-standard layout style of high-end mixers and CDJs by Pioneer. The device is constituted of three sections, the two decks where you can control the tracks, and the middle mixer section where you mix the tracks and control their volume levels.
The mixer section features a crossfader for transitioning between decks and channel faders for adjusting the volume of each deck in the mix.
Each channel also has a colour FX knob you can use to shift your tracks to different frequency ranges, varying the sound and adding some creative flair to your sets.
The three-band equaliser enables you to individually adjust the volume level of the low, mid, and high frequencies of a track. This helps you to shape the sound of your DJ set, mixing tracks together smoothly and effortlessly.    
This sturdy DJ controller also features a transition FX on/off button, giving you even more options to mold your mixes.
The headphone cue section permits you to monitor each deck independently so you can listen to tracks without hearing them through your speakers. You can monitor each deck independently by pressing the cue button on either channel. Included is also a master button that lets you switch to the master channel in your headphones. The DDJ-200 features Bluetooth MIDI connectivity so you can wirelessly link to Pioneer's WeDJ app.
Each deck has a jog wheel to adjust the timing of the tracks. Jog wheels even allow the user to perform mixing and scratching techniques that emulate a vinyl turntable. The DDJ-200 also features eight performance pads on each deck that you can use to set up hot cues or activate FX.
Cue buttons let you set a marker at any point in the track you want to play from. Additionally, each deck has a tempo slider that allows you to easily speed up or slow down your tracks, plus, a nifty beat-synch button for easy beat matching.
Portable, lightweight, and resistant. The DDJ-400 is designed to give a clear visual separation between your decks and your mixer controls, mimicking the feel of a club-standard setup. It features a USB port to connect to your laptop and access Pioneer's beloved Rekordbox software. No need for power cables, no need to plug into a power outlet, the USB cable is all you need.
The DDJ-400 has a built-in sound card, giving you the ability to play the sound through the laptop itself. You can also output your sound through the RCA jacks at the back of the controller. Additionally, the DDJ-400 also includes a mic input jack with its independent volume control.
The mixer section features a rotary selector to browse through your songs, three-band EQ controls, and high-pass and low-pass filters on each channel.
Inheriting the DNA of Pioneer's professional DJ gear range, the DDJ-400 counts with independent headphone mix controls and a beat FX panel located on the right-hand side. Also borrowing from Pioneer's CDJ range, the decks feature a set of looping controls at the top, including the indispensable cue/loop button, which allows you to call different pre-set cue points.
Similarly, the jog wheel looks and feels just like the jog wheels you will find in the CDJ range of products, imitating even the indents on the rim. 
The DDJ-400 features eight performance pads on each deck that you can use to set up hot cues or activate FX.
This two-channel performance DJ controller for Rekordbox software is a robust professional DJ setup made to go wherever you go. It borrows from the club-standard layout and popular features of the more expensive DDJ-1000, packing all its bigger brother's awesomeness into a lighter body. 
The mixer section features three-band EQ controls and Trim for both channels. At the bottom, there's a nice sound color effects panel with four color FX options to play with. The beat effects panel at the right hand of the mixer is packed with features, borrowing 14 beat FX from the DDJ 1000. We can plug not one, but two microphones, each with its independent gain controls. Those of you who do a lot of mic work in clubs would know feedback is a real pain to deal with. This controller offers a feedback reducer that automatically cuts those problematic frequencies out. 
Colour LCD displays in the centre of each jog wheel allow you to take your eyes off the laptop screen and focus entirely on the deck. You get right on the device all the most vital and frequently used controls like BPM, waveform, playback position, plus Hot Cue and Loop points. Feel the added power of the DDJ-800 and its ability to control external equipment such as turntables and media players throughout the channel faders, trims, and EQs, or using the Rekordbox software. Additional features include 16 back-lit rubber performance pads, key shift, and the incredibly useful feeling adjustment knob, which lets you customise the resistance of the jog wheels.
Capable of delivering deliciously crisp sound with low distortion, the DM-40 desktop monitors inherit the best features from Pioneer's professional S-DJX series and Pro Audio speakers, making them the perfect companion to your Pioneer DJ controllers. The DM-40's 4-inch fibreglass woofers produce a potent, punchy bass from the front, while the grooves on the ducts dramatically diminish air friction. This allows for a tight bass explosion even when the speakers are placed close to a wall. The DM-40's soft dome tweeters and woofer are aligned in a way that avoids crossover and ensures a well-balanced response across frequencies. 
DM-40 monitors are specifically designed to be paired with any of Pioneer's outstanding DJ controllers. 
Find Pioneer products at Jands!
Follow Pioneer DJ on Instagram
A timetable of Pioneer innovations that have shaped the role of the DJ
Pioneer has been instrumental to the evolution of DJing from vinyl to digital, introducing from the early '90s a series of products that have changed dramatically the way electronic music is performed and produced.
"I used to drag around crates of records around the world. I can't begin to tell you a) how heavy it was, b) how much I spent in overweight luggage and c) how many times I had records stolen from me." — Roger Sanchez
1994
"The CDJ-500S was for me, the first method to test my own tracks and bootlegs and start using tools in my vinyl sets." — Laidback Luke
In October 1994 the company released the CDJ-500S, the first attempt in the industry to create a CD-based player for DJs. The device featured the jog wheel that served to control the Pitch Bend and skim through a track. That ingenious invention would be copied by almost every other manufacturer and would become the predecessor of the jog wheel we have today.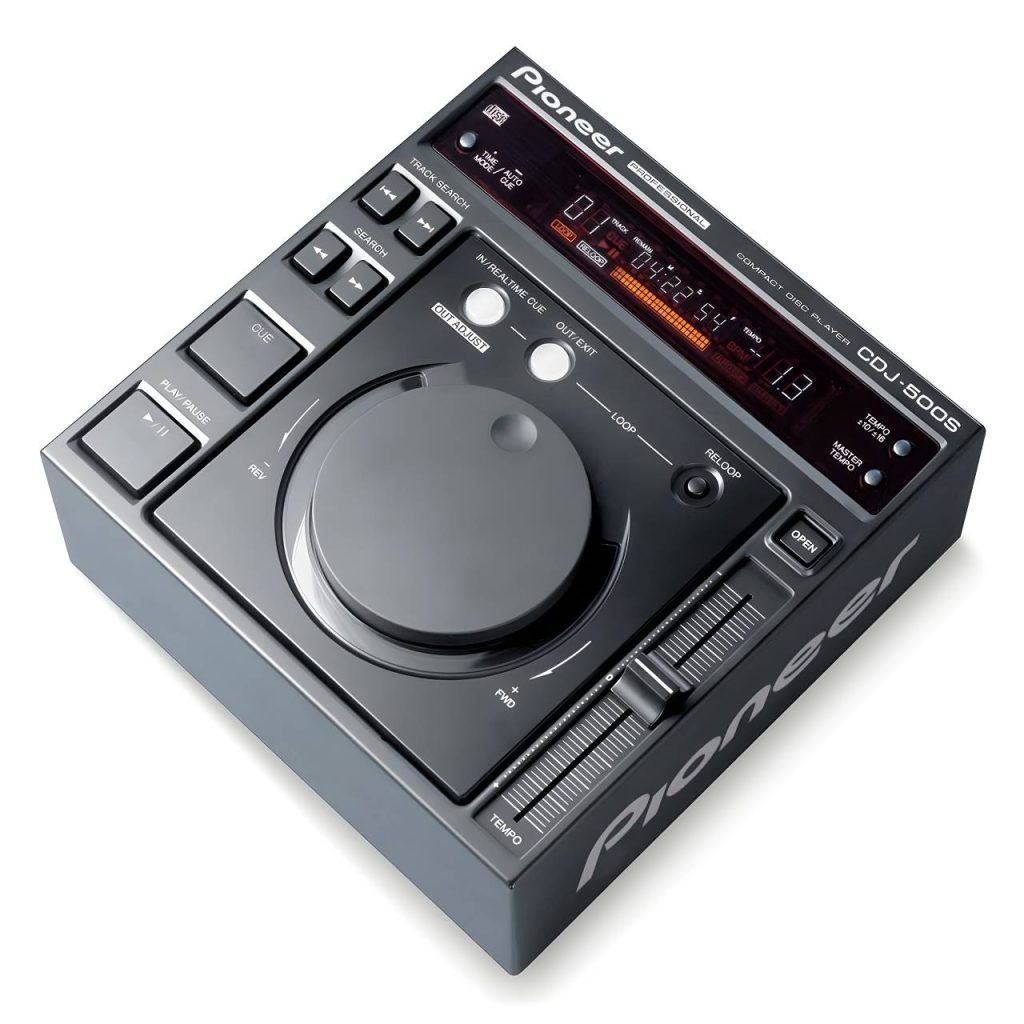 1995
In October 1995 Pioneer introduced one of the most popular mixers of all time. The DJM-500 enabled DJs to link effects to the beat with the —revolutionary for the time— Auto BPM function. DJs could now check the tempo at a glance, and confirm what their ears were telling them. Different types of music could be synched like never before. The mixer featured a vertical-style layout, four channels, beat effects, and a 3-band EQ on each channel.
"When I first started Djing it was all about the seamless flow of music and taking people on a journey. The great thing about the pioneer equipment, especially with the EFX stuff, they enable you to be a performer a swell" — James Zabiela
1996
December 1996 saw the release of the EFX-500, the very first compact effector on the market, a device that permitted DJs to add live effects to their mixes. It was designed with the feel of an instrument, to add a layer of musicianship and performance to the role of the DJ. It featured a comprehensive range of beat effects, a three-band isolator, and MIDI compatibility, which was an insane advancement for the time. 
"An Australian DJ called Phil K used it in a totally different way to anyone I have ever seen, he's like, 'this thing is a sampler, you can use it like a sampler.' He showed me this thing that he did. It was basically just a feedback loop with an echo but because it's all timed, you can chop it up and do these crazy sort of manipulations." — James Zabiela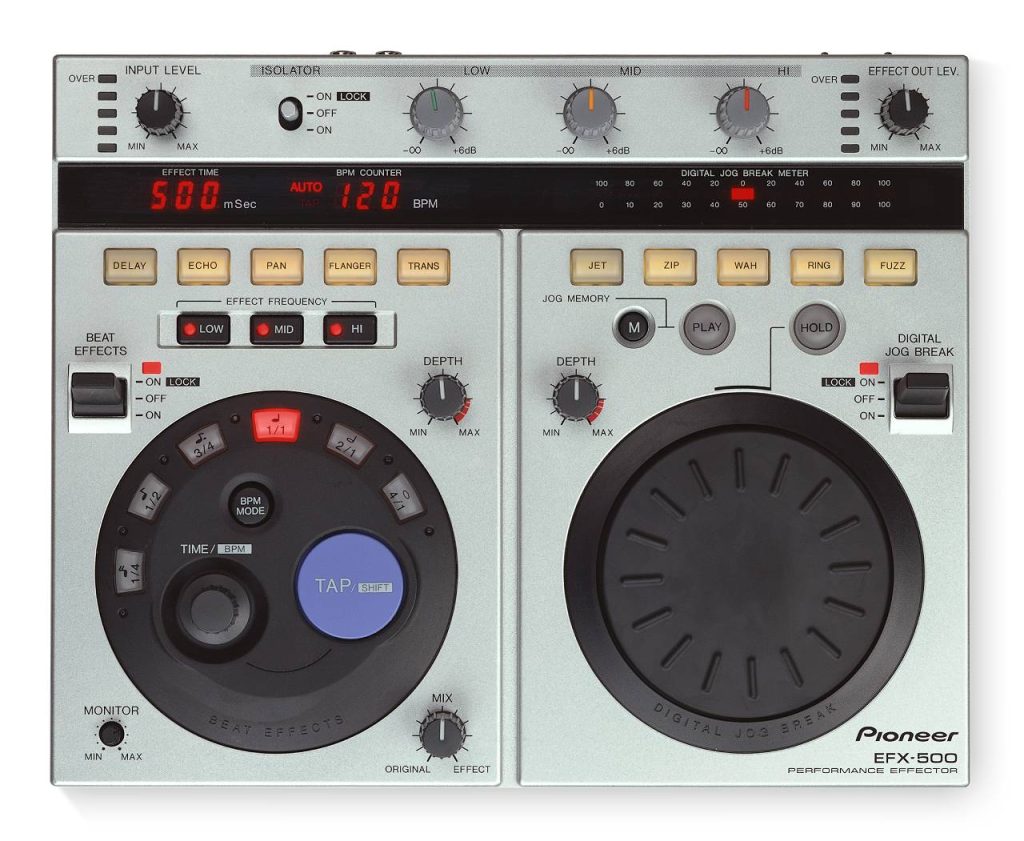 1999
DJM-600
"I remember the days when we would do delays by hand. And now just by the press of the button, we could do the same effects." — Laidback Luke
In August 199 Pioneer re-developed the DJM-500 and added heaps of new features and effects. Giving the DJ the power to apply effects with the crossfader awarded performers a whole new unprecedented level of control. The DJM-600 featured -26db EQ, record output, crossfader curve adjustment, crossfader assigned on each channel, Headphones Split and 8 seconds Sampler, plus 9 effects linked to the BPM.
2001
"It was blowing my freaking mind, you know, the only time I'd ever seen anyone scratch an optical disc was in the first Batman film." — James Zabiela
In July 2001, Pioneer released the CDJ-1000, their first CD player capable of emulating vinyl playback. Even when CDs were the dominant playback format at the time, vinyl was still preferred by the vast majority of DJs for various reasons. CD players were useless to DJs due to their primitive and counter-intuitive design, lack of scratch control, and no easy transport system. The CDJ-1000 was revolutionary because it properly introduced the current jog wheel, a turntable-like disc that permits performers to manipulate a track like a traditional turntable. 
The device also introduced a "cue point" system that allowed DJs to set markers on each track that could be jumped to at the press of a button. 
"This became the CD player to have at every single club all over the world and it happened in the space of barely a year." — Roger Sanchez
DJs no longer had to drag a crate of records to and from each gig, performers could burn their favourite tracks to CDs neatly sorted by genre. No more needles or damaged records. The CDJ-1000 changed history by unleashing the digital revolution into the DJ industry. From that point on, there was no turning back.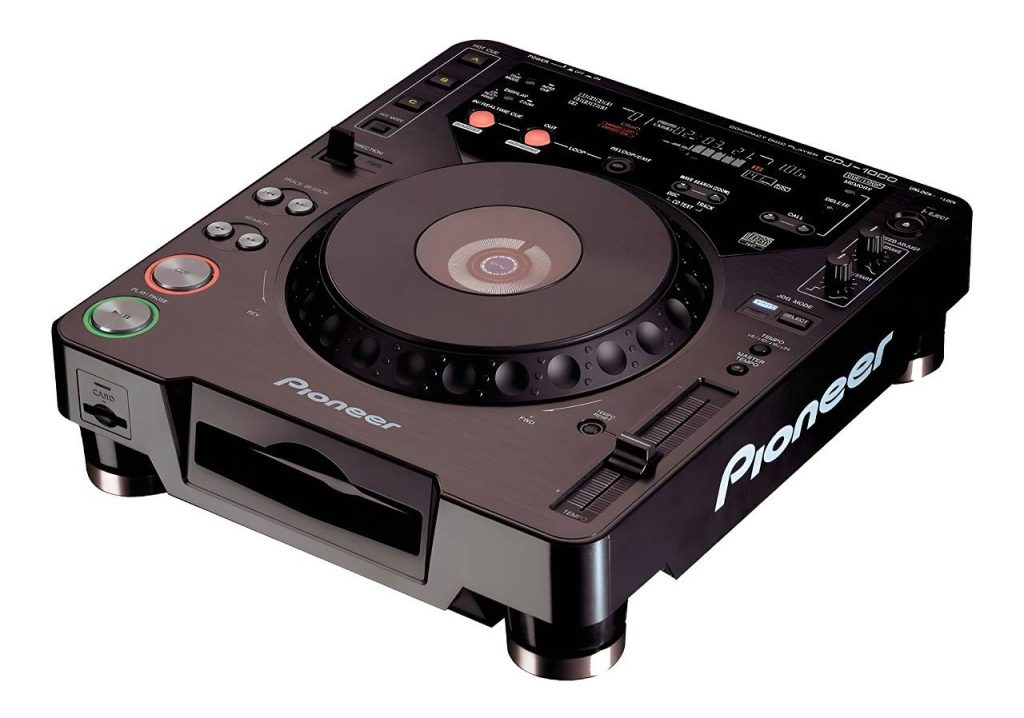 2003
"The key thing that came from this development was the fact that these effects were manipulated by upfades or the crossfader." — Prime Cuts.
In August 2003, the company dropped the DJM-909, which was considered at the time the ultimate Battle mixer. It incorporated the first customisable crossfader of the market, the first touch screen, and 50 BPM effects.
You could pre-select 3 banks of 3 effects per channel for fast access to your most frequently used FX. DJs had up to 50 effects to choose from.
"The ability to add effects while you're DJing took your DJ game and added it to being a producer. I think that was almost one of the first tools that brought those two worlds together." — Jazzy Jeff
In November of that same year, Pioneer introduced the DVJ-X1, the world's first digital deck that allowed DJs and VJs to play with CDs and DVDs. 
"I think the first thing everybody thought of was taking all their old VHS videos and being able to scratch them on the DVJ" — DJ Shadow
The DVJ-X1 was an unprecedented piece of technology that allowed DJs to manipulate and play back synchronised digital audio and video for the first time. Imagine bringing Pioneer's Jog Dial technology to the realm of video, scratching DVDs, and adding effects in real-time.
In a world first, Australia's own J-RED battled DJs from across the globe using the DVJ-X1 and DJM-909 mixer in the ITF World DJ competition in Prague, 2005. This marks the first time video and audio was scratched and mixed in a battle. This resulted in him taking home Australia's first World DJ Champion title.
2009 
"Pop my USB in, I'm ready to go." — Roger Sanchez
The final blow came in September 2009, when Pioneer hit the market yet again with the CDJ-2000, which introduced the ability to load songs on a USB stick. That advancement marked the final stage in the transition from vinyl to digital.
"The Rekordbox software became a very integral part of the entire Pioneer experience. It allowed you to also see what you were playing during the set, so immediately if I record a set, I would now have a record of what I was playing." — Roger Sanchez
2014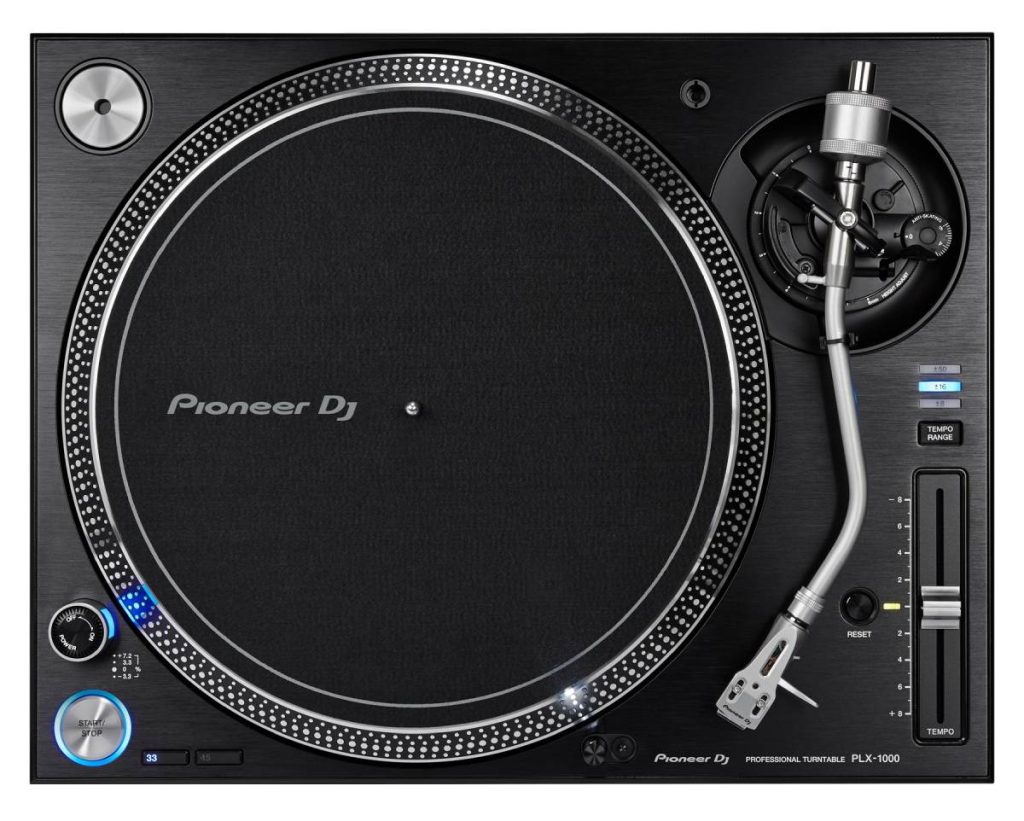 "It's all that I do as a human. It's what I like to give to people, to show them that we have all this technology but behind it all there's still a human running it all." — Carl Cox
July 2014 saw the rebirth of a classic. The PLX-1000 turntable was re-engineered with the same legacy layout but included new improvements for the next generation. It features a high-torque direct drive system, multi-pitch control, club-grade build, and high-fidelity sound quality. Plus detachable power and audio cables.
"It's the set-up in every nightclub in the world now. Who knows where we're going to be in twenty years? What I do know and what I have seen is that Pioneer is not scared to embrace that. They've led every step of the way." — Paul Oakenfold