Miles away from the Las Vegas Strip, Killers frontman Brandon Flowers was all smiles in a pinstriped suit in front of a crowd of friends, family and 1,700 hardcore fans lovingly known as "Victims" on Friday. At the door to the ballroom of Sam's Town Hotel and Gambling Hall, each Victim was handed a white carnation and stamped on the wrist with the image of a Desert Bighorn sheep, official animal for the state of Nevada.
"It's good to see you! I better check your credentials," Flowers joked to the wild cheering inside.
This wasn't an ordinary hometown concert for the Killers, but part of a two-day celebration for the 10th anniversary of Sam's Town, the band's ambitious and divisive second album that broke from their 2004 debut's pure New Wave pop and danceable melodies with a sweeping song cycle both personal and conceptual.
Flowers grew up in the shadow of this hotel on the less glamorous side of town, and for the weekend "Decennial Extravaganza" it was re-imagined in the Killers' image. Inside the casino, blackjack tables and $5 gambling chips were rebranded with the Killers logo, and their music videos played in endless rotation above the penny and nickel slots. A Killers pop-up store offered band memorabilia. Superfans could sign up for a bus tour of famous places from the band's early history.
Onstage the first night, Flowers reconnected with the multi-platinum Sam's Town album amid cloudbursts of shiny confetti in ways confident and melodramatic, lunging forward on the hit "When You Were Young." Between big solos from guitarist Dave Keuning, Flowers sang: "Sometimes you close your eyes/And see the place where you used to live/When you were young."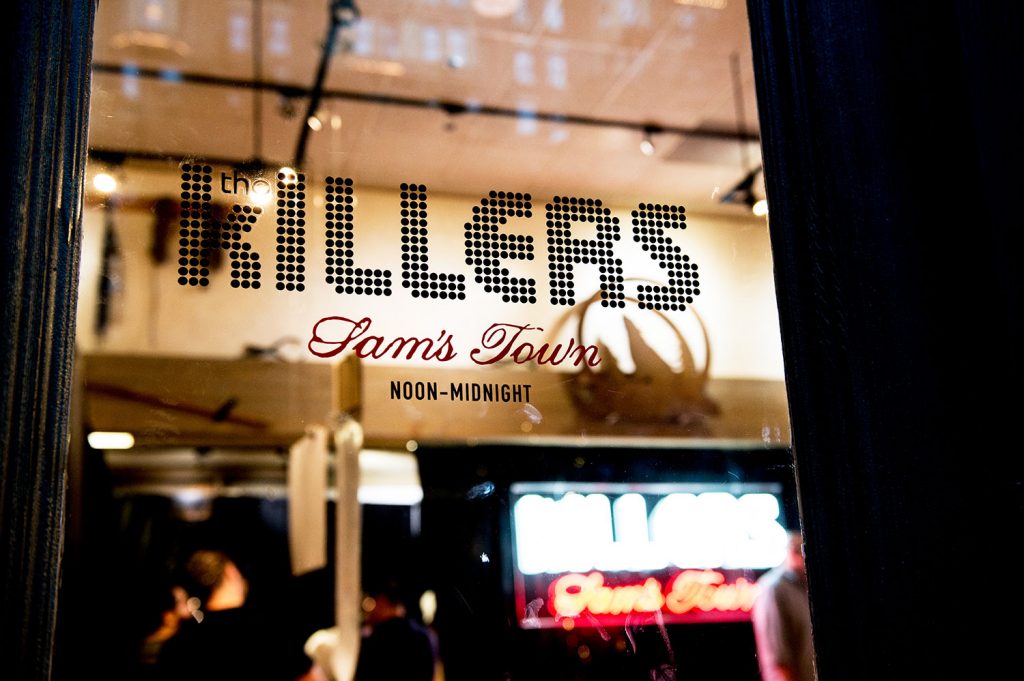 Over the last dozen years, the Killers have headlined at Coachella, the Hollywood Bowl and Wembley Stadium, but in the modest Sam's Town Live! venue, the band of locals were back at human scale. The quartet once again interrupted the recording of a new album at their nearby Battle Born Studio to look back at a fan-favorite LP named for an obscure casino that drummer Ronnie Vannucci Jr. now calls "a byword for home."
It was a reaction to sudden fame and two years of touring the world that followed the release of three-times-platinum Hot Fuss and the singles "Mr. Brightside" and "All These Things That I've Done." "We grew up so fast in those two years," Vannucci explained the next day, drinking Mexican sparkling water in the band's wardrobe room at Sam's. "When you're living out of your suitcase for two years, and you're talking to other people and learning things, you start to realize how different of a place it is you come from.
"Vegas will always be our home. I was born and raised here," said the drummer, who now spends half his time in California. He added with a laugh, "I'll always have some sort of umbilicus to this god-awful place."
The band is also marking the anniversary with an elaborate vinyl re-issue of Sam's Town, available Friday, Oct. 7, on Bong Load Records. The weekend shows in the Sam's ballroom were initially suggested as a joke, said Vannucci.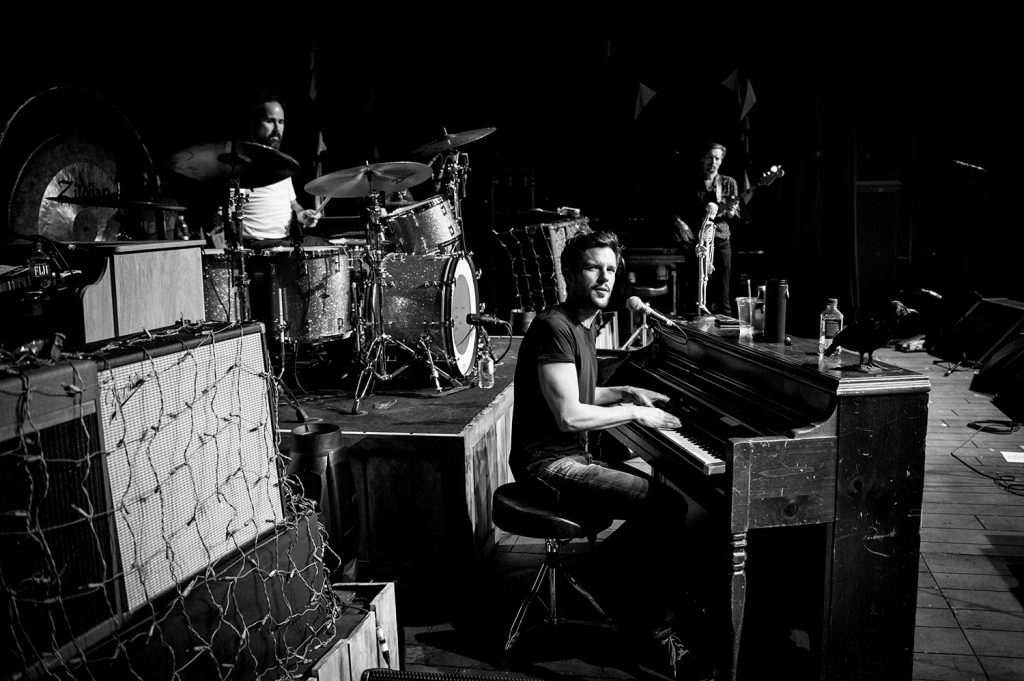 "It's not the first ridiculous idea we've had," he said. "We're not on the Twitter and socials all the time. I think finding fun ideas to reattach yourself to people who enjoy listening to your music and seeing your shows is a good thing and a more personal thing. … It's a lot of work but you end up really enjoying it." All proceeds were donated to local charities for homelessness and addiction treatment.
Within an hour, the Killers were back onstage, this time for a special semi-acoustic daytime set for Victims who purchased a VIP ticket. On a patio stage outside the main theater, Keuning played acoustic guitar, giving the two-song set added warmth and intimacy. In the smaller setting, Flowers was less the ringmaster, and back to shy performer, almost tender in such close proximity. After performing "Human" and "When You Were Young," he smiled as the band waved goodbye. "See you inside I guess," he said with a laugh.
As soon as the set ended, fans rushed to stand in line for the night's main performance, still hours away. Right up front were three women who were front-row-center the previous night, and intended to be there again. "They're my favorite group playing my favorite album," said Nikki Hovekamp, 37, from Los Angeles, holding a carnation. "It's the best album ever written: the lyrics, the music, everything. It's an emotional experience."
When the Sam's Town concerts were announced, the news spread immediately across Killers fan social media sites. Many arranged for time off even before tickets went on sale. Hovekamp got tickets for both nights.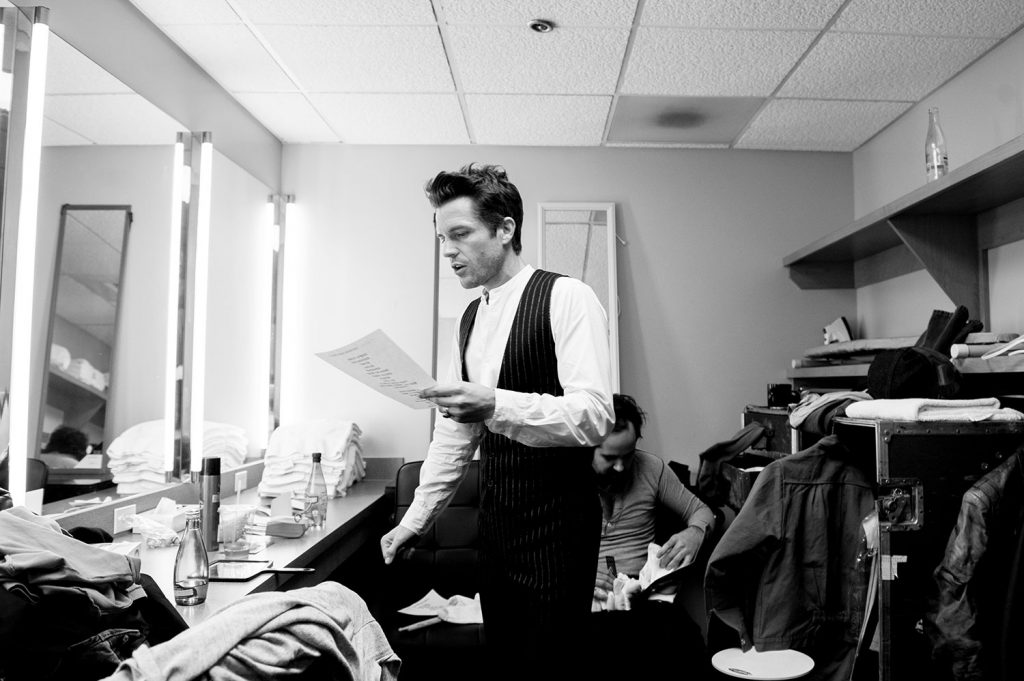 "It blew my mind," she said of the first show. "When they first started playing and the curtain dropped, the tears started coming immediately."
At Sam's Town, seats on the bus tours sold out quickly. They were led by brothers Ryan and Rodney Pardey, longtime friends of the Killers who witnessed their rise from the earliest days. First stop was the former Café Roma, a coffee bar where the Killers played their first gigs. It's now a kabob place. Still standing across the street is the University of Nevada, Las Vegas and the music department rehearsal room where the young band regularly snuck into to rehearse.
Rodney was a friend who shared a Morrissey obsession with Flowers before the Killers existed, and Ryan was the band's red-bearded tour manager for five eventful years and an occasional character in music videos. "I probably burned a few years off my life working for these guys," he announced to laughter on the bus, "but it was worth it."
The bus rolled past the former location of Tramps, a bar that hosted the Killers and other bands, and the Wynn Hotel and Casino parking garage, where Keuning's former apartment building once stood. "Mr. Brightside" was written there.
At the night's performance of Sam's Town, the band followed with a second set of hits and B-sides. One was a cover of Joy Division's "Shadowplay," recorded during the Sam's Town sessions for the soundtrack of Control, Anton Corbijn's biographical film about the British band. On Saturday, it unfolded amid billowing fog and gloomy lighting in deep greens and blues.
"Thank you to Sam's Town for letting us do this," Flowers finally said of the weekend. "It's just incredible. Thanks for everyone for coming from all over the place."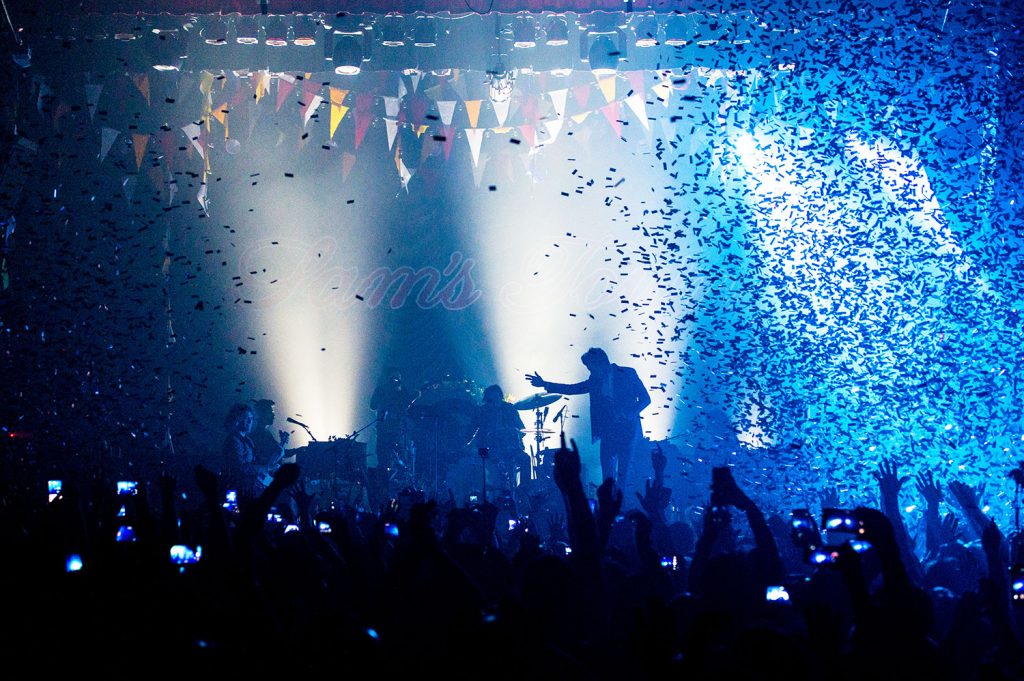 In the crowd were members of Imagine Dragons, another Las Vegas act with Grammy Awards and platinum sales. As he walked through the casino, singer Dan Reynolds called Sam's Town "one of the all-time underrated albums" and said the Killers were an essential influence on Imagine Dragons. "A lot of people said a band couldn't come out of Vegas," he said. "The Killers were really the first that put Vegas on the map. One of the reasons we stayed is that we saw the Killers make it.
"There's a little bit of eccentricity that comes out of a Vegas band. Vegas is such a weird city. There is no real culture here. The culture is void of culture. It's aliens and tourists and casinos and lights. Vegas is a campy place in all the best ways. The Killers really embody that."
The official afterparty was back on the outdoor patio, where a woman named Felice LaZae stood onstage in a long black dress. On the big screen behind her was the Sam's Town album cover, shot by Corbijn: a bikini model stares into the camera, a Desert Bighorn sheep kneeling beside her.
LaZae was a young production assistant at the recording studio at the Palms when the Killers began recording Sam's Town there. One day she was asked to pose for some pictures and ended up on the cover. She told the story again onstage and then stripped down to a bikini to recreate the moment. She called the experience "life changing," then began a set of biting soul of the Amy Winehouse variety.
She got a Sam's platinum record, which hangs at her house. "I'd never met a big band," she said after her set. "And to me it was the best band to meet at that level because they were so kind and caring. They welcomed all of us as a staff to go out. We saw Depeche Mode with them. We saw Nine Inch Nails with them. It was the coolest experience ever. It was always like, What's it going to be like today? It was wonderful."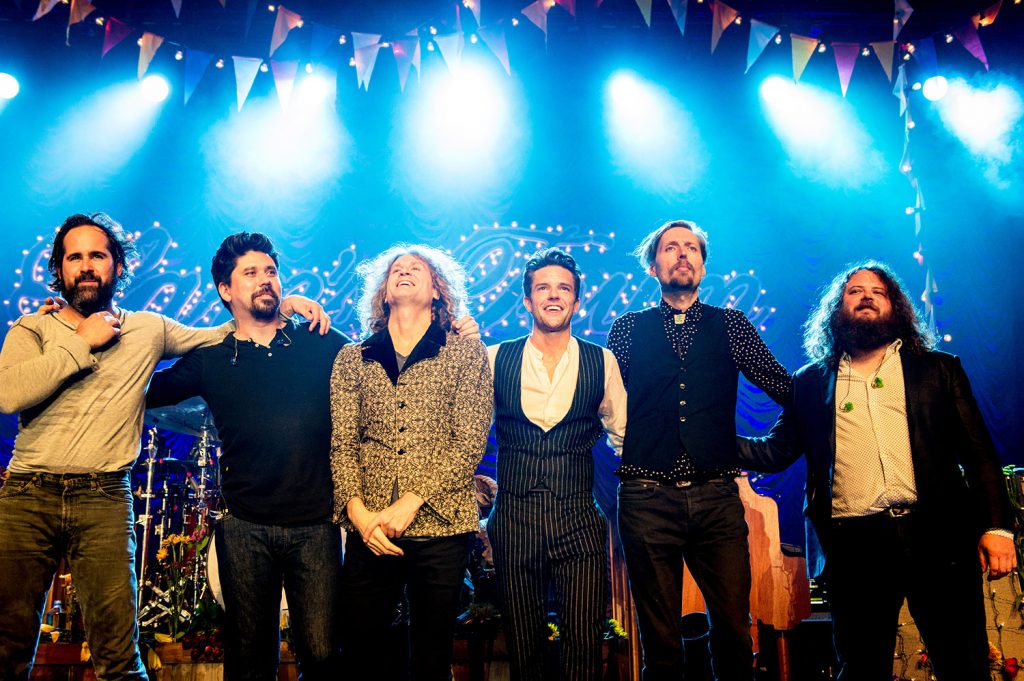 The weekend ended where the Killers began – on the local rock club scene. Ryan Pardey manages a club called the Bunkhouse in downtown Vegas, where he performed a set attended by three members of the Killers. (Flowers was rumored to be coming but never made it.) Standing outside the club was bassist Mark Stoermer, signing autographs and talking to fans.
Among the last to leave at 4:30 a.m. is guitarist Keuning, who chatted with old friends and signed whatever fans put in front of him. He said the Sam's Town concerts fit into the album's theme, which was rooted in their experiences as musicians and Vegas locals.
"It's a Vegas thing. It's an American thing," said Keuning of Sam's Town. Playing the album in full was funner than I thought. Some of the songs I didn't really miss not playing. But once we got up there and played them all, it was 'Oh yeah, this is fun.' There's some good highs and lows in there that are really nice."
Editor's note: This story was originally published in October 2016.
From Rolling Stone US