The Australian music industry is doing everything they can do ensure artists manage to stay afloat during these times of global uncertainty.
Dubbed 'Sound of Silence', the initiative sees some of the industry's biggest names working with Support Act and CrewCare to ensure that the sudden loss of income for artists – following the widespread cancellations of festivals, concerts, shows and local gigs – is not the death knell that it needs to be.
While sites like ilostmygig have revealed the current value of lost income from the raft of cancellations is currently in excess of $280m, Sound of Silence exists to put out a much-needed SOS, lest silence be all we hear in the future.
"Artist crew and music workers are facing a bleak and uncertain future and are also some of the most vulnerable with regards to mental wellbeing," explains Clive Miller of Support Act "Please help us to support our music workers through this difficult period and help them be in a position to bounce back louder and prouder than ever once the pandemic has passed."
"This is a rally cry, a call to arms – the support that the music industry receives now will be repaid with art, community, and passion for what makes our scene so special," added Morning Belle's Maggie Collins. "We will be back, and we need to ensure the artists and industry are ready for when the shows go on again."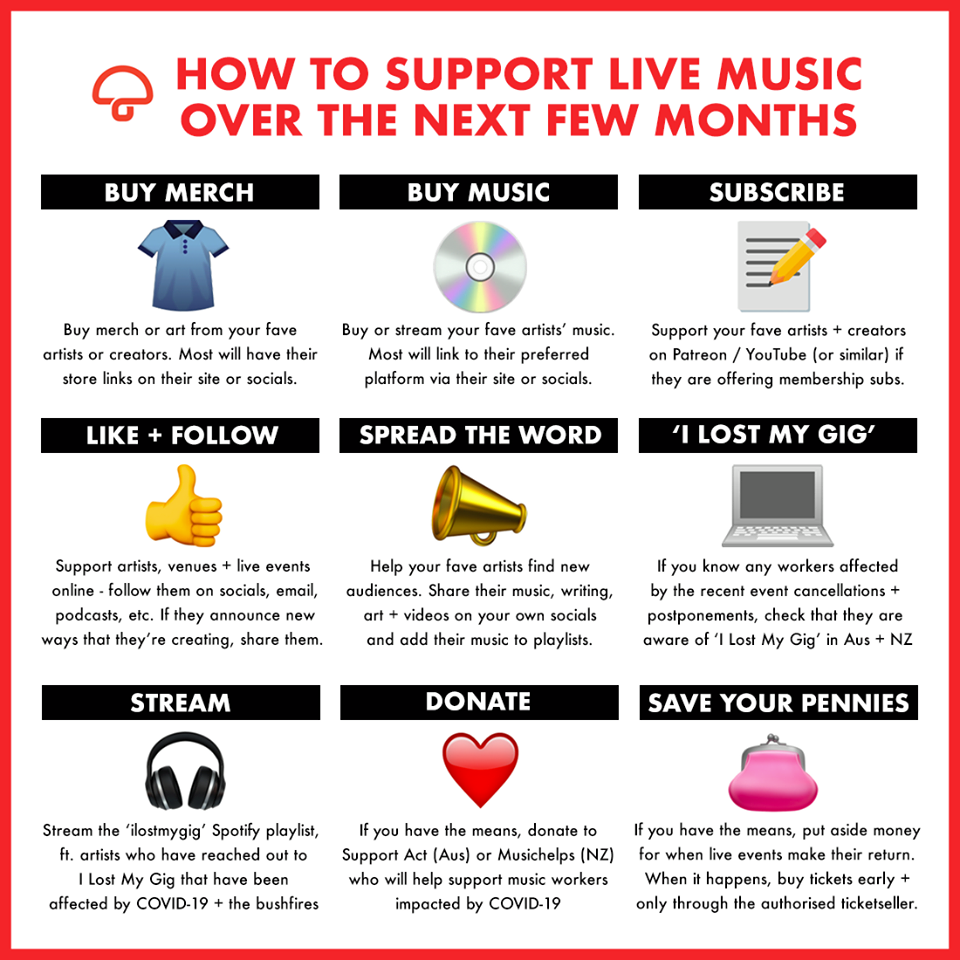 So what can you do to help? Thankfully, a number of avenues of aid have been outlined that ensure your favourite artists receive the support they so desperately need at the current time.
In addition to buying merch or music from these artists, engaging on social media, streaming local music, and spreading the word is undoubtedly a crucial step in ensuring they remain at the forefront of fans' minds at the current time.
Outside of this, Sound of Silence advises music-lovers to donate to organisations like Support Act if possible, hanging on to any purchased concert tickets instead of requesting a refund, and providing artists with much-needed words of support during this difficult time.
"The workers in our industry live from gig to gig," the Sound of Silence website notes. "Shows are their lifeblood and it will take more than the containment of COVID19 to return them to economic stability. The ramifications are far-reaching and seriously long-term.
"The music industry has historically banded together to donate time and money to those in need, as seen recently with bushfire relief efforts – they are always there to lend a helping hand. Now they need the Australian music-loving public to do the same."