It was one of the year's biggest musical events, and now, more than four months on from the ambitious broadcast, the Music From The Home Front concert has been issued as a stunning three-disc vinyl set.
Airing on ANZAC Day 2020, Music From The Home Front was as impressive as it was necessary. Created as a way to not only allow music to bring people closer together in a time when a global pandemic disallowed such an idea in the physical sense, it also served to raise money for veterans and frontline workers facing the effects of COVID-19.
The event was massive, with the likes of Jimmy Barnes, Crowded House, DMA'S, G Flip, and Delta Goodrem all performing for the concert, which was simulcast across televisions in Australia and New Zealand, and online via YouTube. All told, more than a million Australian tuned in to watch the event, which Mushroom Group and Frontier Touring chief Michael Gudinski cited as one of the highlights of his career.
"Music From The Home Front is in the top five moments of my life," Gudinski explained. "It's become something that will remain etched in Australian history."
Soon after its broadcast, footage of the performances went viral, with Mushroom's Bloodlines label announcing a physical release. A CD edition of the event was released in June, which quickly went to number one of the charts, and became the first local release to spend more than a week at the top since 2012.
"This album is a testament to the talent we have in this country, and its success shows that Australian music is a fundamental part of our national spirit," said ARIA CEO Dan Rosen at the time.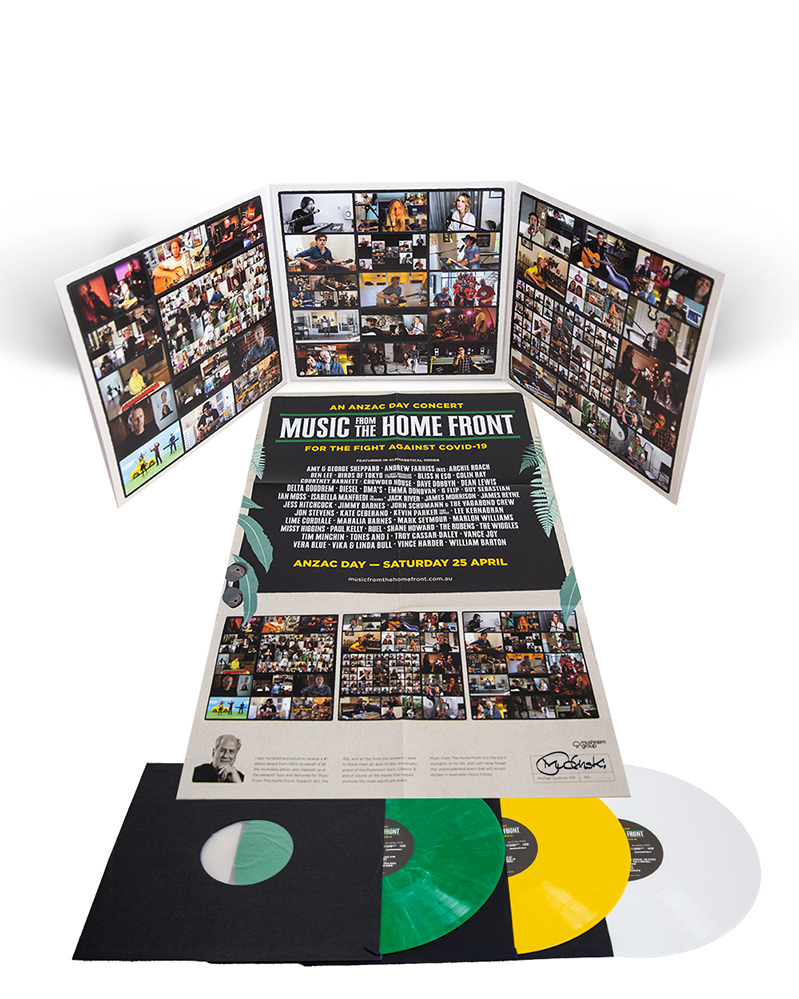 Now, the concert has been officially released as a special triple-disc, coloured vinyl release. Notably, it's also Mushroom's first triple-vinyl set since their debut release, the Sunbury 1973 – The Great Australian Rock Festival live album.
"This is an album release that we did not want to rush or compromise," explained Bloodlines Director and Co-founder Warren Costello. "The Music From The Home Front triple vinyl set is an absolute beast – with three individually coloured high-quality 180 gram audiophile and eco-grade vinyl pressings in a gatefold sleeve. They will be a collector's item and we wanted them to be absolutely spot-on."
Though it remains to be seen whether or not the vinyl edition of Music From The Home Front will also manage to top the charts, it's undoubtedly in with a strong chance of becoming one of the most popular local vinyl releases for some time. As Gudinski told The Industry Observer earlier this week, he's feeling rather confident.
"I think the album will go back to be No. 1," he enthused, "and be the biggest selling vinyl album in the modern era."
The vinyl edition of Music From The Home Front is officially available today.
Music From The Home Front tracklisting:
1. Michael Gudinski – Welcome Speech
2. Jimmy Barnes – Working Class Man (feat. Diesel)
3. Ben Lee – We're All In This Together (feat. Jack River & Lime Cordiale)
4. The Wiggles – Handwashing Song
5. Tones And I – Forever Young
6. Mark Seymour – Throw Your Arms Around Me (feat. James Reyne & Hannah and Eva Seymour)
7. James Reyne – Reckless (feat. Mark Seymour)
8. John Schumann and The Vagabond Crew & Archie Roach – I Was Only 19 (A Walk In The Light Green)
9. Bliss n Eso – Moments (feat. Kate Ceberano & Vince Harder)
10. Crowded House – Don't Dream It's Over
11. Dean Lewis – Be Alright
12. Paul Kelly – Every Day My Mother's Voice (feat. Jess Hitchcock)
13. The Rubens – Live In Life
14. Jon Stevens, Andrew Farriss & Isabella Manfredi – Never Tear Us Apart
15. Delta Goodrem & Colin Hay – Down Under
16. Vance Joy – Lay It On Me (Smartphone Isolation Version)
17. Missy Higgins & Tim Minchin – Carry You
18. G Flip – About You
19. DMA'S – Better Be Home Soon
20. Lee Kernaghan – Spirit Of The Anzacs (feat. Amy and George Sheppard & Jon Stevens)
21. Shane Howard – Solid Rock (feat. Vika & Linda, Emma Donovan, Troy Cassar-Daley & William Barton)
22. Guy Sebastian – Battle Scars
23. Birds Of Tokyo & West Australian Symphony Orchestra – Unbreakable
24. Vera Blue – Regular Touch
25. Jack River – Fool's Gold
26. Jimmy Barnes & Ian Moss – When The War Is Over (feat. The Barnes Family)
27. James Morrison – The Last Post