A month-and-a-half on from the release of their first song in 18 years, Midnight Oil have officially unveiled the details regarding their forthcoming mini-album, The Makarrata Project.
Announcing new music in February, the group revealed they had teamed up with producer Warne Livesey to record 20 songs, with a handful of these (which "shared a strong focus on the issue of indigenous reconciliation") set to be released on the forthcoming release.
Unfortunately, with COVID-19 disrupting plans for the year, Midnight Oil's special launch performance at this year's Splendour in The Grass was also affected, and they released "Gadigal Land" – their first song since 2002's Capricornia album – in early August.
Now, the group have revealed that the seven-track album will be released on October 30th, sharing both the artwork and tracklist for the record.
Collaborating with a number of Indigenous and First Nations artists, Midnight Oil's Makarrata Project sees the group working with the likes of Jessica Mauboy, Alice Skye, Frank Yamma, Kev Carmody, Troy Cassar-Daley, and even AFL footballer Adam Goodes, to name just a few. One notable inclusion is also the late Gurrumul Yunupingu, who appears alongside Dan Sultan on "Change the Date".
"All of these brilliant collaborators that we worked with delivered fresh interpretations of the songs, and brought strong new ideas to the album," drummer Rob Hirst explains in a statement. "This added immensely to the final result.
"We were particularly moved that Gurrumul's family and label gave us these previously unheard recordings of him singing. They're a real highlight."
"It's been 250 years since Cook landed, when Aboriginal and Islander peoples' children, land & waters were first taken away. Yet the impacts of the original dispossession are still widely felt," added frontman Peter Garrett. We urgently need to up the ante on Reconciliation generally and follow through on the ground breaking Uluru Statement.
"These songs are about recognising that our shared history needs settlement, and that more than ever, as the Statement From The Heart proclaims, we need to walk together to create a better future."
"The band has always liked to cover a lot of ground," concluded guitarist/keyboardist Jim Moginie, "but this mini-album is particularly diverse. The common thread comes from the subject matter and the collaborative spirit behind each song."
To celebrate the news of the forthcoming project, Midnight Oil have shared opening track "First Nation", which is available to stream on all platforms now.
Midnight Oil's "First Nation" is out now, while The Makarrata Project will be released on October 30th, with pre-orders available now.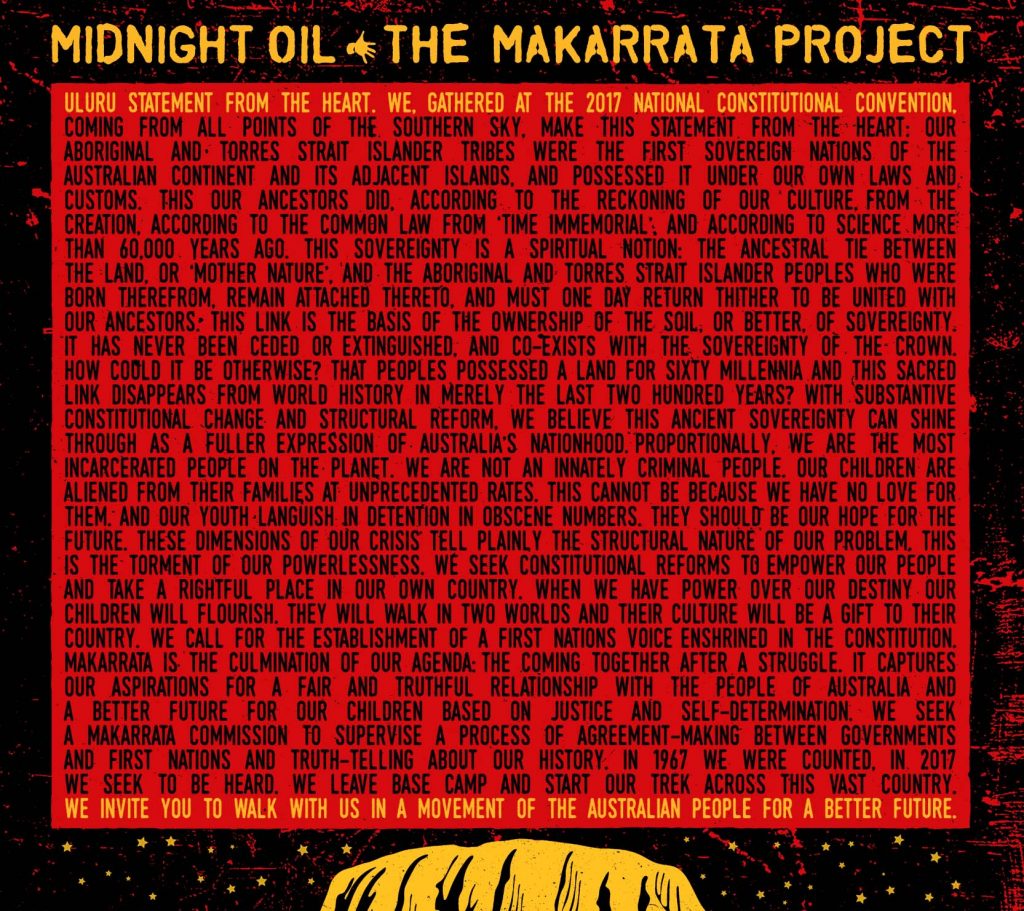 The Makarrata Project Tracklist:
1. "First Nation" (feat. Jessica Mauboy & Tasman Keith)
2. "Gadigal Land" (feat. Dan Sultan, Joel Davison, Kaleena Briggs & Bunna Lawrie)
3. "Change The Date" (feat. Gurrumul Yunupingu & Dan Sultan)
4. "Terror Australia" (feat. Alice Skye)
5. "Desert Man, Desert Woman" (feat. Frank Yamma)
6. "Wind In My Head (Makarrata version)" (feat Kev Carmody & Sammy Butcher)
7. "Uluru Statement From The Heart" (read by Pat Anderson, Stan Grant, Adam Goodes, Ursula Yovich & Troy Cassar-Daley) / "Come On Down" (feat. Troy Cassar-Daley)