Two months on from its One World: Together At Home concert series, Global Citizen has once again enlisted some of the world's biggest acts for another massive event this weekend.
Dubbed Global Goal: Unite for Our Future, both a concert and summit will air on Sunday in Australia, with the special aiming to combat the disproportionate impact of COVID-19 on marginalised communities.
"Global Citizens around the world are calling for systemic change, change that brings about justice for everyone, everywhere, regardless of where they were born or the colour of their skin. If we are to end COVID-19 for all, we need our world leaders to commit the billions of dollars needed to develop and equitably deliver testing, treatments and vaccines," explained Global Citizen co-founder and CEO Hugh Evans.
"Global Goal: Unite for Our Future — The Concert will bring the centuries-old concept of music as a motivator for change and unity, together with science and data, to honour the problem solvers – including doctors, scientists, lab workers, essential workers and human rights advocates – who are racing to not only create the cure for COVID-19, but also to ensure that it's available for everyone who needs it."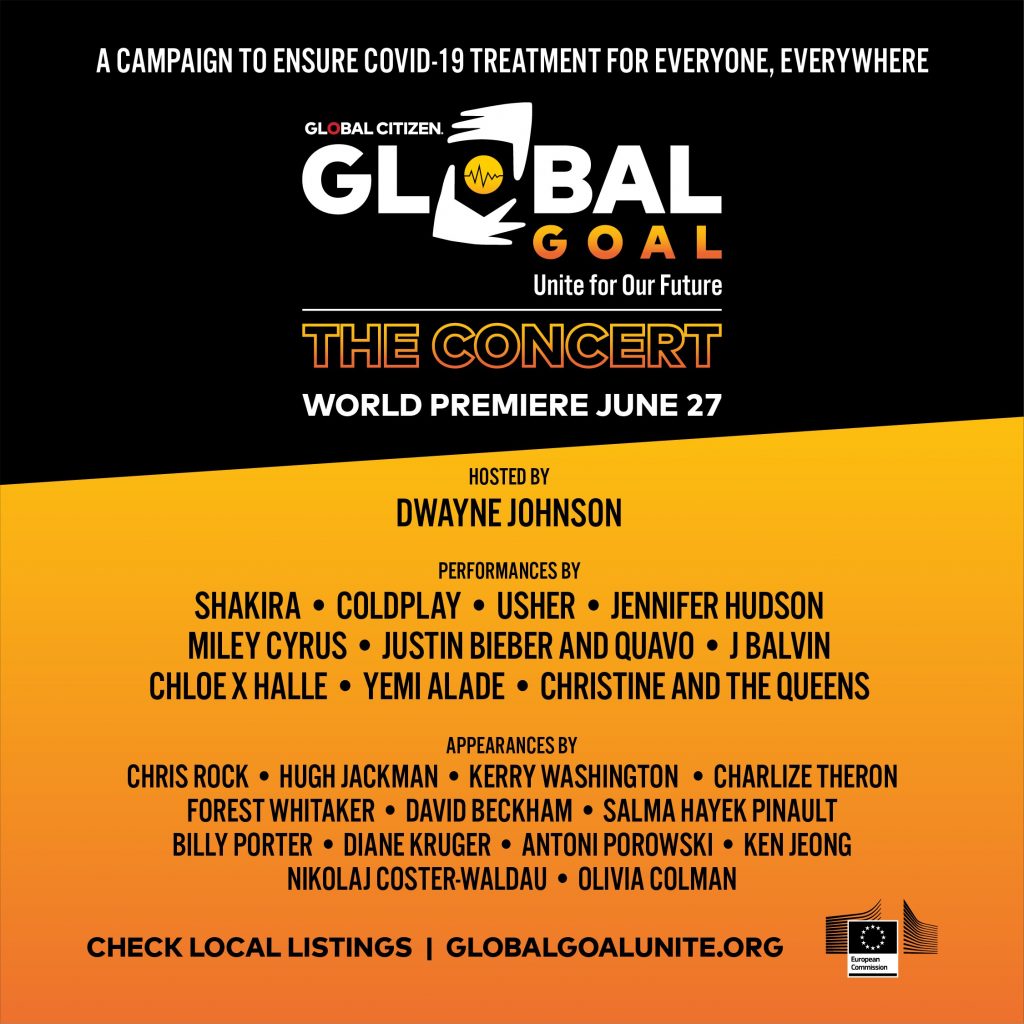 Hosted by Dwayne "The Rock" Johnson, The Concert will feature performances from Chloe x Halle, Christine and the Queens, Coldplay, J Balvin, Jennifer Hudson, Justin Bieber and Quavo, Miley Cyrus, Shakira, Usher, and Yemi Alade. Meanwhile, special appearances will be made by the likes of Charlize Theron, Chris Rock, David Beckham, Hugh Jackman, and more.
The Concert will follow The Summit, which will see world leaders, corporations, and philanthropists "announce new commitments to help develop equitable distribution of COVID-19 tests, treatments and vaccines, as well as rebuild communities devastated by the pandemic".
"Calling on global leaders to end COVID-19 for all, Global Citizens around the world are taking action to ask them to commit the billions of dollars needed to deliver testing, treatments, and vaccines to everyone, everywhere," a statement explains.
"Artists have the power to inspire change. They use their talents to serve great causes," explained European Commission President Ursula Von Der Leyen. "On 27 June, at the 'Global Goal: Unite for Our Future' Summit and Concert, artists, scientists and world leaders will speak with one voice, in a true and rare moment of global unity.
"They will commit to helping the world end coronavirus, while leaving no one behind. The European Union is fully committed to ensuring fair access to an affordable vaccine, as soon as possible, for everyone that needs it. United, I know we can make the world a safer place."
While The Concert is set to air at 10am on Nine, The Summit will follow on 9Now. For more information regarding the Global Goal: Unite for Our Future event, be sure to check out the official Global Citizen website.