Wild Turkey's Discovery Series is a new range of premium bourbon premixes. To celebrate its launch, the globally recognised purveyors of Kentucky bourbon whiskey are tapping into their love of live music and the community of explorers that surrounds it by hosting a secret acoustic session from ARIA-winning indie band Boy & Bear.
 The Discovery Series launch event will be Boy & Bear's first performance back on home turf following a tour of the UK and Europe. Keeping with the brand's emphasis on discovery and trusting your spirit, Wild Turkey wants you to guess where the event is taking place.
Wild Turkey caters to people who're determined to forge their own path, who're ambitious, independent and eager to seek out new experiences . 
The new Wild Turkey Discovery Series range consists of two new flavours —the first blends Wild Turkey bourbon with dry ginger ale and lime and the other combines Wild Turkey bourbon with sparkling lemon soda. Both flavours have been crafted with refreshment in mind and designed specifically for hot Australian summers; ideal for stashing in the Esky at a late afternoon BBQ.
And on that note, we've got three clues to help you guess the location of Wild Turkey's Discovery Series acoustic session with Boy & Bear.
Let's get started with some inspiring words to point explorers in the right direction. 
I rise in peaks, 
But a valley is where I lay
By a shimmering creek,
And a horse's neigh
You gaze at the stars
As you pitch by the hill
And know that you'll be back again 
Second, if you want to discover the location of this gig in the wild, you've got to join the dots… or maybe the numbers. In 2022, we can think of 50 reasons why it's time for you to trust your spirit and see where it leads you. It's always worth it.
And finally, this off-the-grid gig is in a spectacular location. This is a valley that's worth discovering, full of rolling hills and majestic horses. Boy & Bear can't wait to play for you there. You've just got to tune into this message to discover the location. 
Enter the competition now at wildturkeymusic.com.au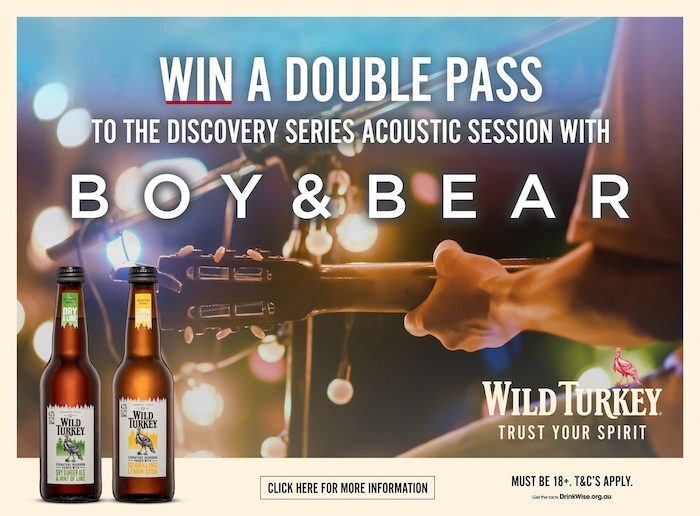 Boy & Bear formed in Sydney at the turn of the 2010s and have released a total of four albums, the most recent being 2019's Suck On Light. 
Their debut album, Moonfire, was enormously successful, achieving double-Platinum accreditation from ARIA and taking out the ARIA Awards for Album of the Year and Best Group as well as Best Adult Alternative Album and Breakthrough Artist – Album.
With a new album in the works, Boy & Bear remain committed to creative exploration. So if, like them, you're eager to seek out new experiences, then have a go figuring out the location of the Wild Turkey Discovery Series acoustic session with Boy & Bear, happening this November.
#DiscoverySeries #WildturkeyBourbon #WildTurkey