Update: The Eels have made a public statement and have called the similarities "purely coincidental". Check out the full statement on Tone Deaf.
Following the release of the Eels' new music video for "Are We Alright Again" off their latest LP Earth to Dora, the LA rockers have been accused of plagiarising a music video treatment from NZ band Goodshirt.
As reported by The Industry Observer, Eels' music video and the clip created by director Joe Lonie in 2002 for Goodshirt's 2002-released single "Sophie" are eerily similar.
The Eels' clip sees Mad Men star Jon Hamm putting on headphones to listen to "Are We Alright Again", and while he's completed engrossed in the song he has no idea of the home invasion chaos going on behind him, where all his possessions are being taken away.
Goodshirt's "Sophie", which was played consistently across Rage in Australia and New Zealand and MTV worldwide, including a notable pick-up in Japan, has the exact same concept.
Goodshirt frontman Rodney Fisher told The Industry Observer, "We were absolutely shocked to see the video! As fans of The Eels ourselves this is particularly buzzy."
Meanwhile, "Sophie" video director Joe Lonie told The Industry Observer that after he was informed of The Eels clip, he was eager to check it out.
"My first thought honestly was, 'Maybe they improved it?' A director is never satisfied," Lonie told TIO.
"[…] I'm sorry to say that in my opinion they have not improved on our video," he added. "I find this version corny, hammy and unsatisfying. I don't believe for a second that Jon Hamm wouldn't notice the burglars. They aren't even making an effort to be quiet, and they are throwing shadows across his face throughout. Who wouldn't notice that?
"I don't buy it, and because I don't buy it I can't find it funny," Lonie continued. "I could go on but I won't. I'll just say that if my concept had been elevated somehow I would be less annoyed. It hasn't been. It's a step backwards."
The Eels and Goodshirt fans alike are calling for acknowledgement from the Eels on the alleged plagiarism. But many have said their call-outs in social media comment sections have been removed by the band.
Regardless, the memes are already coming in thick and fast: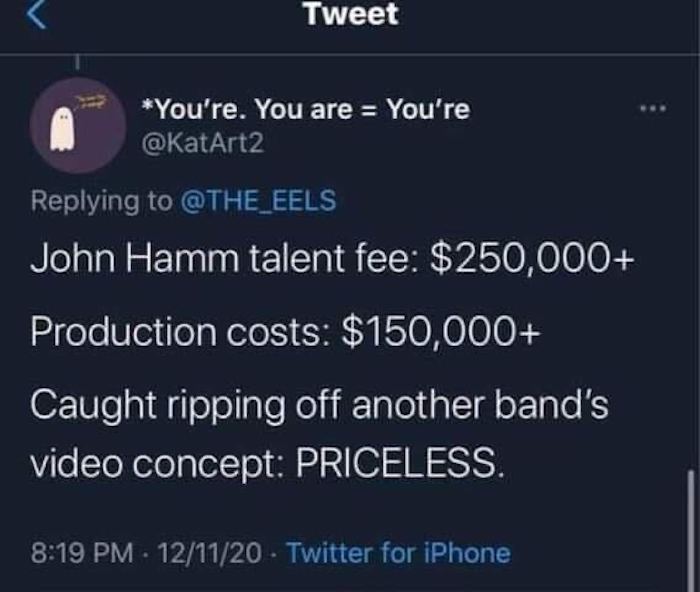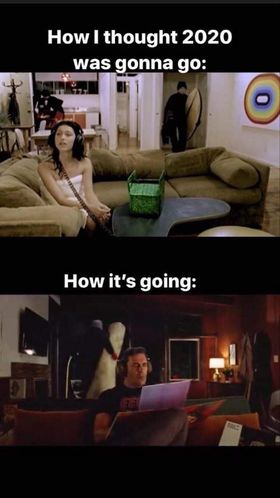 Check out both clips below and see for yourself:
Goodshirt's clip for "Sophie":
Eels' clip for "Are We Alright Again":