Having recently celebrated a decade as a band, Sydney's Boy & Bear are taking something of a look back at their past, announcing an acoustic album full of their old favourites.
"When we tour the USA we often get asked to perform our songs acoustically when we are on the radio," the group explained in a statement. "This usually involves acoustic guitars, tambourines and a toy keyboard, with the 5 of us jammed into a small studio.
"It gave us the idea to record a selection of acoustic tracks and present them as an album."
Titled At Golden Retriever Studios, the record sees the group working with famed producer Simon Berkelman (Philadelphia Grand Jury, Feelings) while utilising nothing but acoustic guitars, a bass, and an upright piano.
A nine-track release, the record features cuts from the group's back catalogue, their latest album Suck on Light, and "3 Moons", a new tune recorded during the sessions for their most recent release that didn't make the cut.
"The sessions brought an honest an intimate mood to the songs and was a great experience for us," vocalist and guitarist Dave Hosking explained.
"This song was super fun to record stripped back," he added of the newly-recorded, and recently-released version of "Bad People". "It took on a whole new life and feel which was refreshing.
"In a nice way, it loses the shimmer of the full production but gains a pleasant nostalgia and hopefully draws the listener in even more so to the story behind it."
While At Golden Retriever Studios is set to be released on July 24th, Boy & Bear recently announced a run of rescheduled Australian tour dates. Originally set to take place in March, the group's new tour dates will kick off in November and run until mid-December.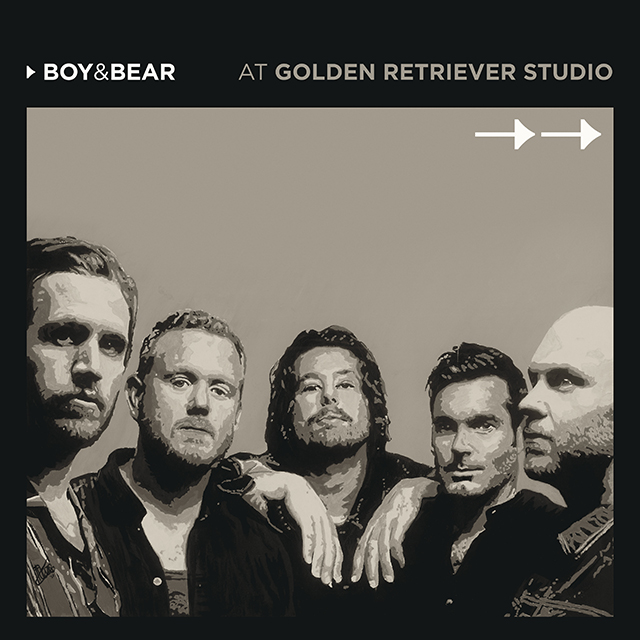 At Golden Retriever Studio Tracklist
1. 'Telescope' (Acoustic)
2. 'Old Town Blues' (Acoustic)
3. 'Suck On Light' (Acoustic)
4. 'Limit Of Love' (Acoustic)
5. 'Bad People' (Acoustic)
6. 'Hold Your Nerve' (Acoustic)
7. 'Southern Sun' (Acoustic)
8. 'Wicked Game' (Acoustic)
9. '3 Moons'
Boy

 & 

Bear

Suck on Light Tour
Sunday, November 1st
The River, Margaret River, WA
Monday, November 2nd
Perth Concert Hall, Perth, WA (AA)
Wednesday, November 4th
Tanks Arts Centre, Cairns, QLD
Thursday, November 5th
Tanks Arts Centre, Cairns, QLD
Friday, November 6th
JCU Uni Bar, Townsville, QLD
Saturday, November 7th
CBD HOTEL, Mackay, QLD
Thursday, November 12th
Enmore Theatre, Sydney, NSW (AA)
Friday, November 13th
Waves, Wollongong, NSW
Saturday, November 14th
UC Refectory, Canberra, ACT
Sunday, November 15th
Entrance Leagues, Bateau Bay, NSW
Thursday, November 19th
The Cube, Wodonga, VIC
Friday, November 20th
Palais Theatre, Melbourne, VIC (AA)
Saturday, November 21st
The Gov, Adelaide, SA
Thursday, November 26th
Fortitude Music Hall, Brisbane, QLD
Friday, November 27th
Nightquarter, Sunshine Coast, QLD
Saturday, November 28th
Kingscliff Beach Hotel, Kingscliff, QLD
Friday, December 11th
Uni Bar, Hobart, TAS
Tickets available from the Boy & Bear website