US musician and honorary Australian Amanda Palmer has teamed up with some of her musical friends to announce the release of Forty-Five Degrees: A Bushfire Charity Flash Record.
Having spent close to the last two months in Australia for her There Will Be No Intermission tour, Palmer has had a far-too perfect view of the devastation the country has faced due to its recent bushfire crisis.
While those who follow Palmer's social media accounts would be well aware of how the crisis has affected her, the acclaimed musician has now turned to some of her talented friends to create a "Bushfire Charity Flash Record". Recorded in just five days, the album sees Palmer teaming up with the likes of local musicians Missy Higgins, Montaigne, Clare Bowditch, and Fred Leone, while longtime collaborators Brian Viglione (The Dresden Dolls) and Jherek Bischoff also appear.
The first single – a cover of Midnight Oil's "Beds Are Burning" – sees Palmer working with Higgins for the first time since the latter's Oz album, and results in a moving cover that manages to showcase the raw talent of the musicians while complemented by the powerful lyrics of the iconic track.
Covering tunes by the likes of Ted Egan, Emily Wurramara, Goanna, Jen Cloher, and Rodgers & Hammerstein, many of the tunes were suggested by Palmer's Patreon supporters, while one original – "Suck It Up, Buttercup" – was penned following her Mona Foma residency in Tasmania.
"I'm an American, and an American who loves Australia deeply," explains Palmer. "Neil (Gaiman, my husband) and I landed in Melbourne in advance of my current tour a few days before Christmas, just when the fires really began to rage.
"It started with the idea of just covering "Beds are Burning" on solo piano, but then my patrons started clamouring for "Solid Rock", a song I'd never heard of, and then I called a few friends to help, and the next thing you know, well, we had a whole record. We tracked and mixed eight songs in about five days between my tour dates.
"We decided to give all of the profits to Firesticks Alliance, as a way of looking towards a more hopeful future, one where we are able to learn from the traditional custodians of this land, instead of just paying lip service.
"During my last trip to Australia in 2017, I started reading more deeply about Indigenous land rights and Australia's unique problems with the climate crisis. I thought I knew things, but I had no idea how much deeper and darker the story ran. This devastating round of bushfires simply cannot be untangled from the spiraling knock-on effects of colonialism and climate ignorance.
"If Australia is the canary in the dark climate coal-mine, I hope a bunch of artists making a response record like this, so fast and with such generosity, can provide a little crack of light."
While the record is officially released on Friday, Palmer will be hosting "A Bushfire Recovery Event" at The Forum in Melbourne on March 8. Featuring appearances from Missy Higgins and Fred Leone, alongside her husband Neil Gaiman, tickets to the event are on sale now through Ticketmaster.
Notably, news of the record follows the announcement of a similarly-themed album from Julia Stone, who shared the plans of her Songs for Australia charity album yesterday, which also featured a cover of "Beds Are Burning" as its lead single.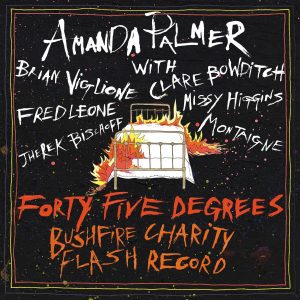 Amanda Palmer & Friends – Forty Five Degrees: Bushfire Charity Flash Record
"My Favorite Things (Bushfire Edition)" originally by Rodgers & Hammerstein
"Beds Are Burning (with Missy Higgins)" originally by Midnight Oil
"The Drover's Boy" originally by Ted Egan
"Black Smoke (with Clare Bowditch)" originally by Emily Wurramara
"Suck It Up, Buttercup" by Amanda Palmer
"Truganini (with Montaigne)" originally by Midnight Oil
"Solid Rock (with Fred Leone)" originally by Goanna
"Regional Echo" originally by Jen Cloher
Neil Gaiman & Amanda Palmer Present A Bushfire Recovery Event
With special guests Missy Higgins & Fred Leone (Butchulla Song Man) 
Sunday March 8th

The Forum, Melbourne, VIC
Tickets: 
Ticketmaster