Friday night is always a surprise – you never quite know where you might end up. Watching Punjabi superstar Diljit Dosanjh tear the roof off Qudos Bank Arena, for instance, was a surprise outing last week, but one I'm glad I took. 

A sea of some 15,000 fans packed into the arena in Sydney, all bouncing with excitement and anticipation, and for good reason. As the first Indian artist to ever play Coachella, Dosanjh is already an icon, and he certainly had a lot to live up to on his first ever headline tour of Australia and New Zealand. 
Sydney was one of the last stops on his Australasia trip, but he did not disappoint his fans with a lack of energy or effort. As Dosanjh lifted from beneath the smoke-filled stage, seated fans, who'd probably only seen the singer on screens before, stood to rapt attention. 
 

 

View this post on Instagram

 
Dosanjh then launched into "G.O.A.T.", the titular song from his 2020 album. Accompanying him on stage was every single special effect you could basically think of: fireworks, flames, smoke, lasers, more fireworks, and a huge team of incredibly joyful background dancers. 
Taking it all in, Dosanjh looked genuinely overwhelmed to be in Australia. "I love you" some fans around me called out, throwing flowers on stage. "I love you too" he responded in earnest. "Thank you for having me in Australia" he then told the crowd before jumping into his song "Caviar".
Bathed in lights, Dosanjh danced his heart out. Bolting across the stage like an Olympic athlete, he was full of buzzing energy, which the audience was only too happy to give back. A stranger suddenly threw his arms around me and showed me the moves. I felt a part of something.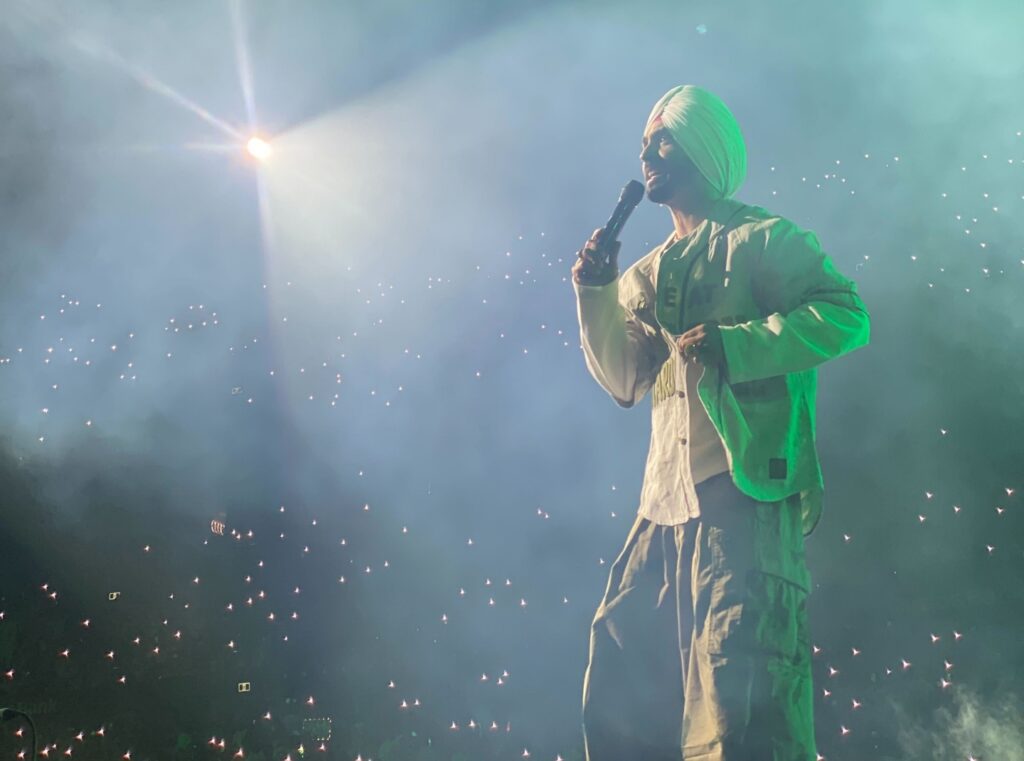 A surprise intermission followed at 9:30pm, the houselights suddenly coming up, and the crowd calmly filed out of their seats. Soon enough, Dosanjh was back, this time dressed in cargo pants and a shirt with the number 66. By the time he got into crowd favourite "Lemonade", he had the entire crowd in the palm of his hand again.
Dosanjh later brought two young fans on stage for a moving moment. One received a ring from the singer, the other lucky boy got his jacket. 
Dosanjh then announced that he was nearing his last song, and he asked for the houselights to be brought up so he could look his audience in the eyes and thank them for coming out. It was that kind of communal evening. 
I walked back to the train station in a sea of smiles, everyone beaming from watching the Indian superstar's immersive show. Dosanjh and his team wanted the performance to leave an "indelible mark," and I think they achieved that aim.