The 100 Best East Coast Hip-Hop Songs of All Time
Biggie, Cardi, Bobby, Nicki, and many more — from Eighties classics to Brooklyn drill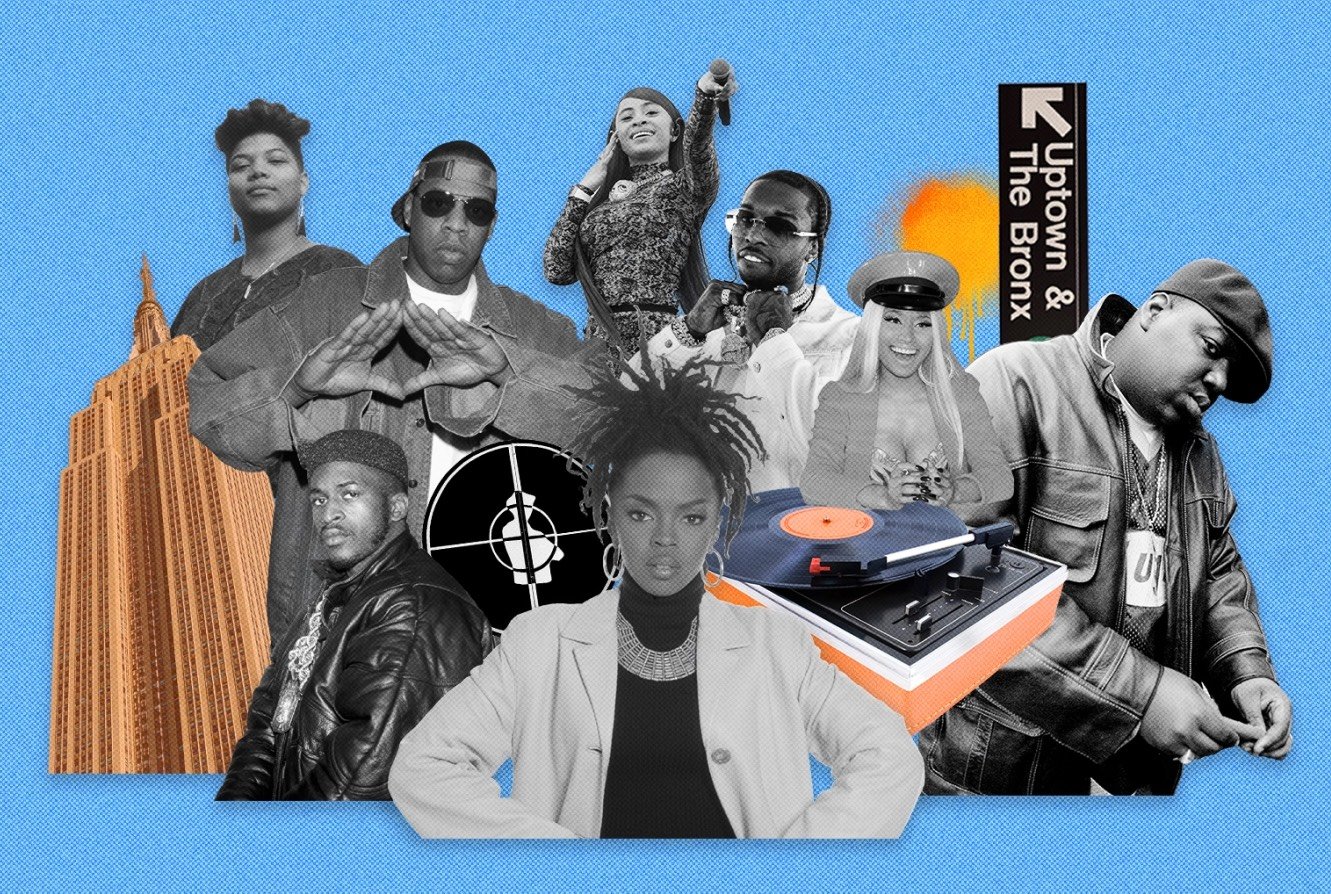 HIP-HOP WAS BORN IN the Bronx in the summer of 1973. To celebrate the music's 50th anniversary, "Rolling Stone" will be publishing a series of features, historical pieces, op-eds, and lists throughout this year.
In the early days of hip-hop, no one really talked about the East Coast. That's because there wasn't any other coast to compare it to. Hip-hop was born in the Bronx, and though rap's other regions percolated throughout the Eighties, nearly every major hip-hop artist in the music's first decade came out of New York — from old-school pioneers like Kurtis Blow and Funky Four +1 More to street-rap progenitors like Run-D.M.C. and LL Cool J, and sonic and political agitators like De La Soul and Public Enemy. When the West Coast scene threatened that hegemony in the early Nineties, the Notorious B.I.G., Jay-Z, Wu-Tang Clan, and other hard-edged, lyrically brilliant titans helped swing the pendulum back. After Southern rap rose to dominance in the 2000s, a new generation of stars like Nicki Minaj, Cardi B, Bobby Shmurda, Pop Smoke, and Ice Spice reminded the world that rap's birthplace could still be its vital center.
"East Coast" grew to cover artists like Beanie Sigel and Meek Mill in Philadelphia, Wale and Nonchalant in Washington, D.C., New Jersey favorite son Redman, and Maryland's own Rico Nasty, among others. What defines East Coast rap? For artists like Eric B. and Rakim, Pete Rock and C.L. Smooth, or ELUCID, it means innovative samples emboldened by a curative dose of boom-bap. In the case of classics like Grandmaster Flash and the Furious Five's "The Message," Lil Uzi Vert's "XO Tour Llif3," and Young M.A's "OOOUUU," it means a stripped-down sound driven home by ice-cold bravado and prickly bars. It has encompassed hip-hop at its most pop (Who's down with O.P.P.?), and its most challenging and arty (Gang Starr, Company Flow). While complex lyrics are synonymous with East Coast rap, some of the region's finest songs contain verses even your parents could recite word for word. Beastie Boys' "Paul Revere," Biz Markie's "Just a Friend," and Salt-N-Pepa's "Push It" might not dazzle you with state-of-the-art wordplay, but they're still all bona fide classics. The Sugarhill Gang's "Rapper's Delight" incorporates a rhyme about soggy macaroni, but the song still changed the face of music forever.
Our 100 Best East Coast Hip-Hop Songs list touches on all that and much more. We convened a group of RS staffers and critics to compile the list. We focused on impact, relevance, originality, and ingenuity. Some songs have been staples for decades; a few came out in the past couple of years; some were huge hits; others are obscure gems. Of course, with a musical style as vast as this, we had to make some tough choices. Some legendary artists aren't represented, and some landmark records didn't make it. Our goal wasn't to hit every historical signpost, but to end up with a list of influential records that still sound fresh, and great new songs that move the tradition forward.
After we had the list set, we wanted an expert opinion on the results from someone deeply involved with the music. We contacted rapper-producer Roc Marciano, who appears on the list as both a rapper and producer and has collaborated with Busta Rhymes and others. "I think it's in a good space," he says of East Coast rap. "I think we got that back to where it's nice and healthy." While known for popularizing the neo-boom-bap sound in the past decade, Marciano is also encouraged by the rise of drill. "Rest in peace, Pop Smoke," he says. "Before he passed, he was probably about to be one of the biggest, if not the biggest artist in the rap game." These 100 songs celebrate the East Coast's storied past while offering a crucial glimpse at hip-hop's ever-promising future.
From Rolling Stone US