Legacy tours can often be hit and miss, but when Wu-Tang Clan and Nas decided to tour the world together, you always felt that it would be an unmissable occasion.
Rolling Stone AU/NZ was at their Auckland show to confirm: "Auckland's Year of Bad Weather continued apace on Tuesday, cancelling events and causing chaos. But it couldn't stop the impenetrable force that is Wu-Tang Clan and Nas together," we wrote in May.
The show was a joyous affair, in no small part to the fact that this year marks the 50th anniversary of hip hop. When you consider that Wu-Tang Clan have been at the forefront of the genre for 30 of that 50 years, you realise that you're dealing with a monumental group.
They released their seminal debut album, Enter the Wu-Tang (36 Chambers), in 1993, forever changing East Coast hip hop, and as they celebrate the album's landmark anniversary three decades later, they're enjoying a career renaissance.
As well as continuing their global adventures with Nas, Wu-Tang have just become the latest international artist to partner with Menulog.
Wu-Tang and the delivery service have launched 'Dolla Dolla Deals', and fittingly for a group who have always been proud of their roots, Wu-Tang's partnership is all about helping Australians living on a budget.
The new partnership is soundtracked by – what else – Wu-Tang's anthem "C.R.E.A.M. (Cash Rules Everything Around Me)", which famously features the line, "Dolla doll bills y'all."
"C.R.E.A.M. was co-written by Wu-Tang's Inspectah Deck, who was more than happy to work with Menulog to help Aussies find cheap deals and celebrate his group's timeless song at the same time.
Rolling Stone AU/NZ caught up with Inspectah Deck this week, and we discussed what makes "C.R.E.A.M." such a powerful song, a potential beef with former Menulog partner Snoop Dogg, the group's recent Australia and New Zealand tour, and much more.
Rolling Stone AU/NZ: Did you think the OG "C.R.E.A.M." was going to be such a hit when you first made it? 
Inspectah Deck: No, I had no clue that "C.R.E.A.M." was going to be what it wound up being. I just know when I heard the beat, it was just so melodic and it kind of transported me to another place. And so when I hear songs like that, I know those types of songs last forever.
That tune we sampled was made, I think, in the '50s, and I remember hearing it and knowing it was going to be a hit, and that's in the '90s. So, I had that type of feeling about it, but I had no clue that it would make it to where it made it. We're still finding new ways to celebrate it almost 30 years later, and Menulog are using it as the whole vibe of their new value offering. 
What makes the song still relevant three decades later? 
I think basically because cash still rules, man, everything around us, man. And it's unfortunate that if you don't have a certain amount of money, you don't get to experience a lot of things in just regular life. You know what I mean? Don't even need to have a lot of money. Just getting a little bit of money is hard nowadays.
I spoke of it as someone coming out of the hood who was just trying to make it the normal way and just facing those types of odds. And I think that resonates with people from this generation. 
Have you had much time to reflect on the 30th anniversary of Enter the Wu-Tang (36 Chambers) this year? Do you ever listen back to Wu-Tang's debut album and think it sounds as fresh as ever? 
Yeah, I go back and I listen to our album music as well as my own music. I listen to a lot of our stuff just on the random. A 30-year anniversary is just another day for me when it comes to Wu-Tang, because I'm always playing something out of the Wu-Tang category, I mean, just to keep my own sword sharp. I'm older now. I don't rap like I used to, but I try to keep that wordplay and that hunger. 
How did the partnership with Menulog come around? 
It is inspired by the cash rules, inspired by the dollar dollar bill, man. It just made sense to team up with Menulog as they're giving out the dollar dollar deals on the daily. It just made sense. And especially when they're using "C.R.E.A.M." as a theme song in the background to give a sound to this type of movement, man.
It made sense and I'm honoured to be a part of it, to bring in the Australian fans who may not know Inspectah Deck and Wu-Tang. This is a chance for them to catch up and say, "Hey, we heard all the hype but we can check it out now. Oh, wow." It keeps the relevancy alive in today's market and today's generation of people. Like, "Hey, what's that song?"
And I think it's dope no matter when you play it, man. 20 years from now, it'll still be dope. Dolla dolla deals are helping people eat at a discount price and we're all about that man, feeding the people, giving people struggling a chance. It's dope. 
Were you aware that Snoop Dogg previously partnered with Menulog for a song? Is this a continuation of the East Coast vs West Coast hip hop rivalry?! 
I mean, nah, man, I wouldn't want it to be a rivalry, a rivalry at all. Snoop Dogg is big, man. Snoop is somebody that I have a huge amount of love and respect for. So, maybe in the future, I can team up with Snoop Dogg in another Menulog campaign. Maybe we can bring the dolla-dolla doggy-style deal, you know? You never know. Right now I'm just excited to be a part of the launch of 'Dolla Dolla Deals'.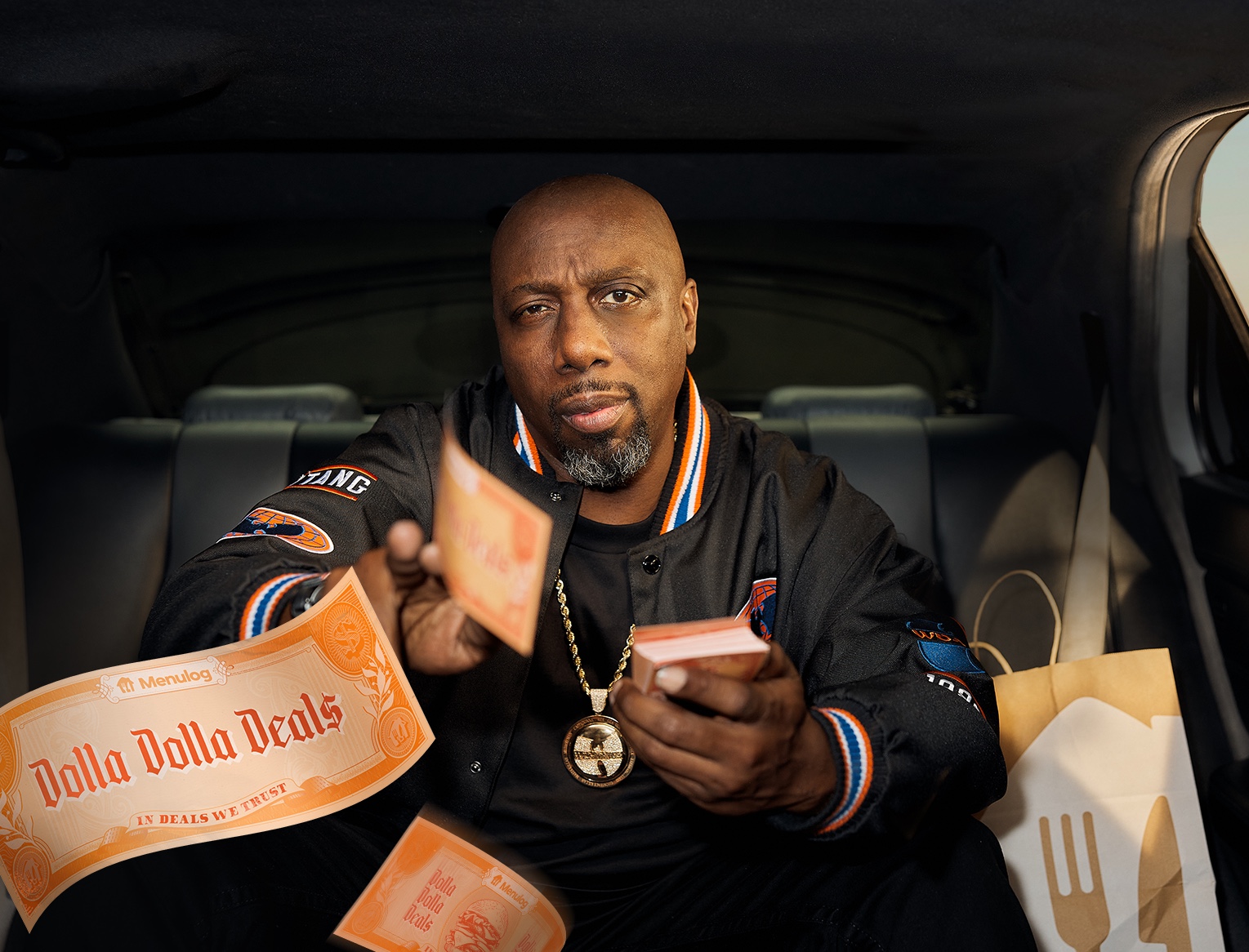 How did you find Wu-Tang's recent Australian and New Zealand tour? I saw you play in Auckland and it was an incredible show. 
Yeah, man. Outside of the journey to get there, I love coming to Australia and New Zealand. I love the Gold Coast, man, or going out in New Zealand because those are beautiful places and have some beautiful people there that always show us love throughout the years of us going. I wish I could stay longer when we take those types of trips, those types of shows, because you meet so many people that's like, "Yo man, you're staying here for two more days? I could show you this," or, "I could show you that."
But a lot of times we live the tour life. We don't get a chance to see the real city life. I still haven't really seen the real Australia. I want somebody to take me on a trail or something, see a kangaroo in person and those types of things. I still want to do that one day.
Was there a particular highlight from the tour? A city that really showed the group some love? 
Just recently we were in Bogotá, Colombia and Buenos Aires, Argentina, they were ridiculous. They made me feel like I was 25 again. The energy that was going on in that arena, they were jumping, they were going nuts. I think we posted some of it on our pages on Instagram and got a lot of good comments like, "I was in the building. That energy was electric." Yeah, Buenos Aires. 
And we even went through Copenhagen, Denmark. It was crazy, packed house, people leaping off the floor. And then the thing that I love to see is that it's all different generations – it's young kids, it's middle ages, it's old-timers like myself and they're all in one building, just going crazy together. 
How do Australian/New Zealand crowds compare to US crowds? Is there a big difference? 
There's a big difference, man. I guess in Australia, I think, and other places, life is just different. People across the world don't get into celebrity life as much and definitely don't worry about celebrity as much as America does. So, when we go to other places, it's a genuine love that I think that when they see us, it's not like they see American celebrities every day out there.
I don't think in Australian society, everyone is like, "I'm a star, I'm a star, I'm a star." I've met a lot of down to earth people that have money and all of that, but they're not just out there like that. Different vibe. 
Did you order on Menulog while over here? Takeaway must hit the spot during a busy touring schedule! 
Yeah for sure, we ordered food multiple times on Menulog, me and my brother U-God. Y'all make unbelievable Poke bowls here, when we're on tour we always use Menulog to get them while we're on the go. 
And what's coming up for you and Wu-Tang in the rest of 2023? 
Oh, man, we've still got the rest of the New York State of Mind tour with Nas and Busta Rhymes. And as far as myself, I'm just sitting back, I just took a move, I moved the family across the state. So, I'm settling in, trying to be a dad/CEO, put more time in with the kids and stuff like that while I have a chance because 2024 would be more the same. We have movie deals, all types of things on the table now. Wu-Tang has this second wind. We're just running with it.