The iconic SXSW is being held in Austin, Texas, this week, and Australia and New Zealand is well-represented. Pickle Darling, Hans Pucket, ASHY, Hope D, and more have headed to the famous festival to showcase the music this side of the world has to offer.
Kiwi singer-songwriter Georgia Lines is also there, ready to bring her R&B-inflected pop to industry professionals and music fans. After her  2022 EP, Human, a vulnerable exploration of love and loss, debuted atop the New Zealand Albums Chart last year, she's now writing and recording her long-awaited full-length debut, which should take this proudly independent artist's career to the next level.
Rolling Stone AU/NZ asked Georgia to take us through her SXSW 2023 experience, and you can read all about her third day at the festival below.
More information about SXSW 2023 is available here.
Day 4 At SXSW
I'm ending the day from my PJ's in bed hiding from the lightning storm that is currently unfolding here in Austin, eating raspberries, mango, and Reese's Peanut Butter cups. A lightning storm feels very different back in NZ compared to this. Without the slightest exaggeration, there is lightning happening every second which is absolutely wild.
There are a few key things that I feel I need to update you on before I dive deep into the recap of the day. Firstly, for those of you who have been following along with my daily blog, I do not like macaroni and cheese… which I am in the wrong city to not even be slightly interested in. I would like to clarify, I really do love pasta and cheese together and love a good parmesan load up on my pasta – even if it's melted on the pasta and I mixed it all around, I would be super happy. Just not macaroni and cheese… it makes me feel sick.
Anyway, today has been a HUGE day. It has felt like the biggest so far, with people literally everywhere on every street corner, walkway, cafe, bar, hotel lobby. It is WILD and absolutely amazing.
The band arrived at the hotel ready to go at 11am for our first show at 12:30 at Valhalla for the Planetary Showcase, and once again we set off on the voyage with all the gear, including the keyboard which at this stage is definitely creating some resentment. The boys have been absolute champs and have carried it around for me most of the time. I did manage to roll it for six blocks on the way back from the first show, which I was very proud of myself for and made it a big deal when I had started swapping hands every 10 seconds and needed help.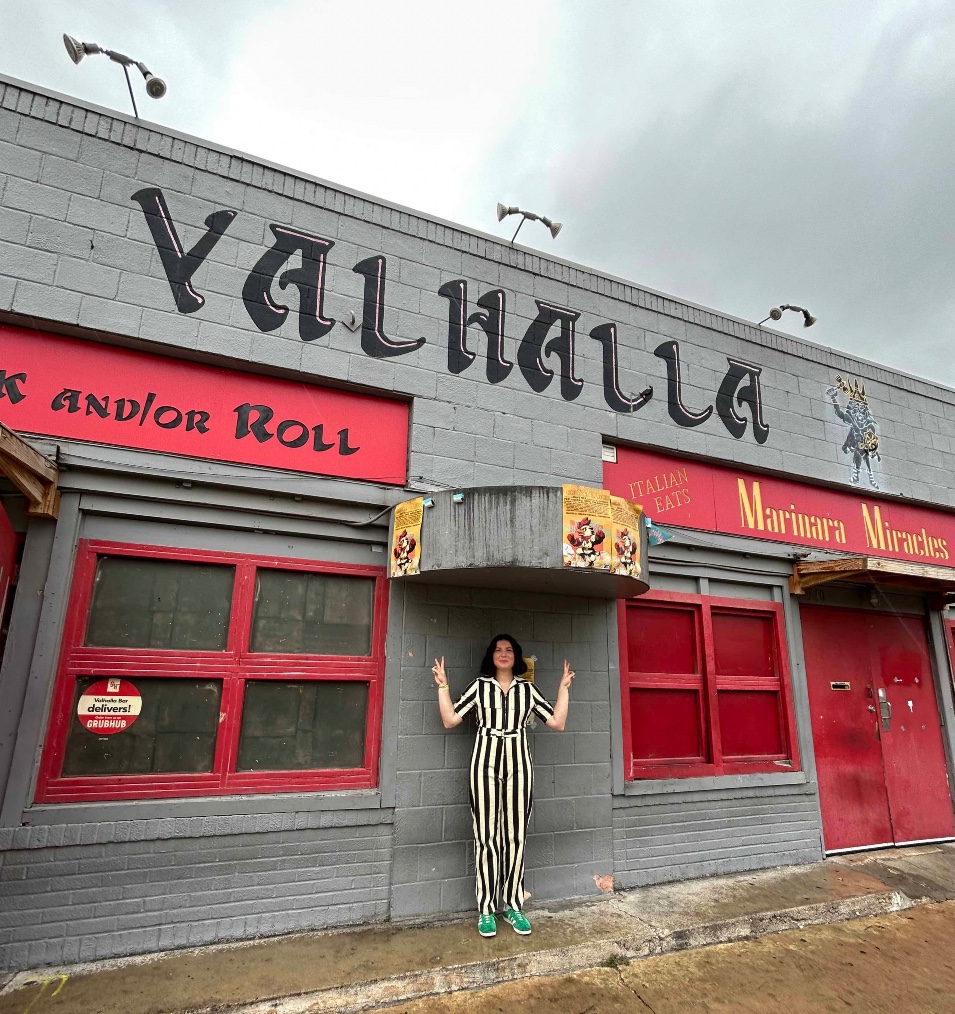 A block into our journey, it began to rain and we felt it very appropriate to play "Unwritten" by Natasha Bedingfield as we wandered through the rain with our gear en route to the show.
When we arrived nothing was set up, which of course being Kiwis we were more than happy to set the stage up. However, the sound guy at the venue (not Theo, who was our sound guy travelling with us) was very grumpy, like on a whole other level. Normally I wouldn't put things like this into a blog or even write a bad review for a restaurant, but this was well worth the mention. We weren't allowed to touch the microphones, or poor Theo (our sound guy) wasn't even allowed to touch the sound desk and had to stand next to him and give him verbal sound advice about what we needed. Fair to say it was an interesting experience for sure and one for the books.
On a side note, I've never sent any kind of food back in a restaurant or even complained if I didn't like the meal I ordered. So hear me when I say that I wouldn't normally throw the sound guy under the bus… so it must speak volumes as to how strange our experience was if I am mentioning it on here.. If somehow you are the interesting character that was mixing our show this morning, I hope you are ok?
Picking up our gear and beginning our trek to the next show, I decided to pull my weight and carry my keyboard as far as I possibly could. To be fair, we have been incredibly lucky that most of our venues have been within reasonable walking distance. In my mind I had imagined having to walk 5km to each show and needing a giant trolley ordered from Amazon to help us get through the week, which I had forgotten to order on the first day.
Amazon for me has a similar effect to Kmart – you go in for one thing and leave with 10. Dave our guitarist has made the most purchases out of all of us, ordering boxes from Amazon with travel/touring hacks and getting them delivered to the hotel. A collapsible drink bottle, which I didn't even know was a thing, a Kindle, a mini power bank (which apparently fits great into small spaces when you're packing your suitcase), air tags, a bag of 70 picks and travel adapters were some of the things he ordered this week.
Our second gig was at the International Day Stage, which was an outside venue and was one of our official SXSW showcases for the week. By 2pm the rain had stopped and the sunshine had made its way out and all of a sudden the Texas heat had greeted us and made friends with our sweat glands, producing four very sweaty humans about to play another show for the day.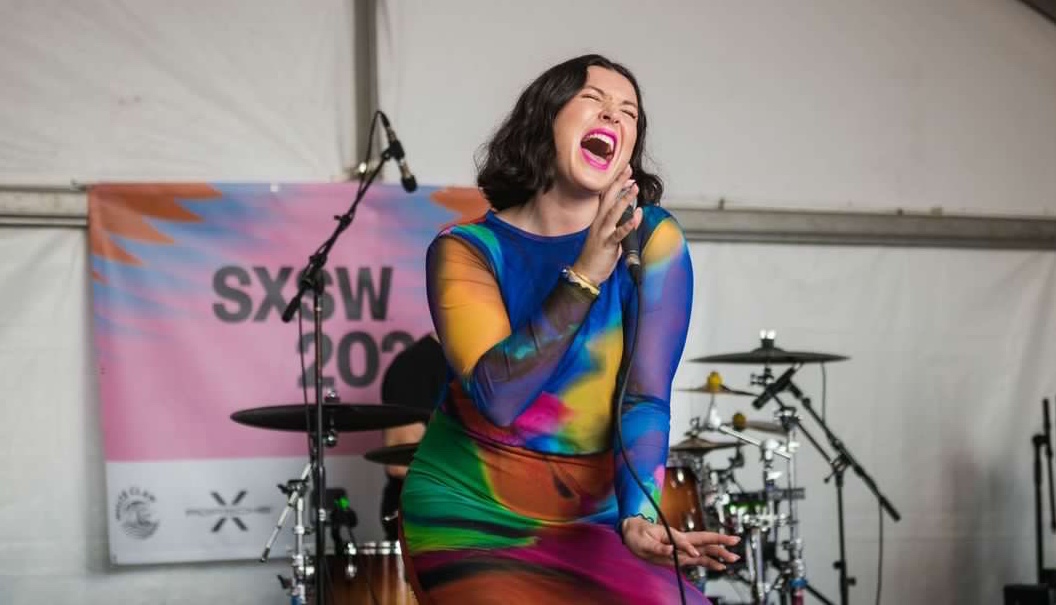 Of course I changed my outfit from the earlier gig, but what I thought was the ideal rainy day in Texas outfit, turned out to be a very sticky, sweat inducing one. It looked great, but felt less than ideal. Once again the crowd was super engaged and very present during the show, and afterwards I met two different groups of people who had discovered us at the opening party who have been following us around Austin to each show ever since, which blew my mind!
The canvas tent we played in was adding to the heat and gosh – I have never sweated during a show like I did today. The energy we threw at the show mixed with the heat literally had me with beads of sweat mixed with foundation dripping down my face as I played. Nevertheless, the gig was awesome and was another memorable show for the week.
Up until yesterday I have been pronouncing La Croix sparkling water like "Le Croy," but after finding their pop-up tent and asking about the pronunciation, I realised how far from the pronunciation I had been – La Croix is phonetically spelt like "Le Qua." I tried their Limoncello flavoured sparkling water which was delicious and I really hope that somehow that flavour manages to make it to NZ supermarkets sometime in the next five years.
Finally, for dinner we made our way to the famous fried chicken joint, Gus's Fried Chicken. This was the first place I have ever eaten fried chicken and didn't feel sick afterwards. With fried okra and fries as my sides and a bottomless cup of lemonade, I was very content heading home after such a full day. Not that this is a food blog or review, but if you're planning a trip to Austin, make sure you include a stop here!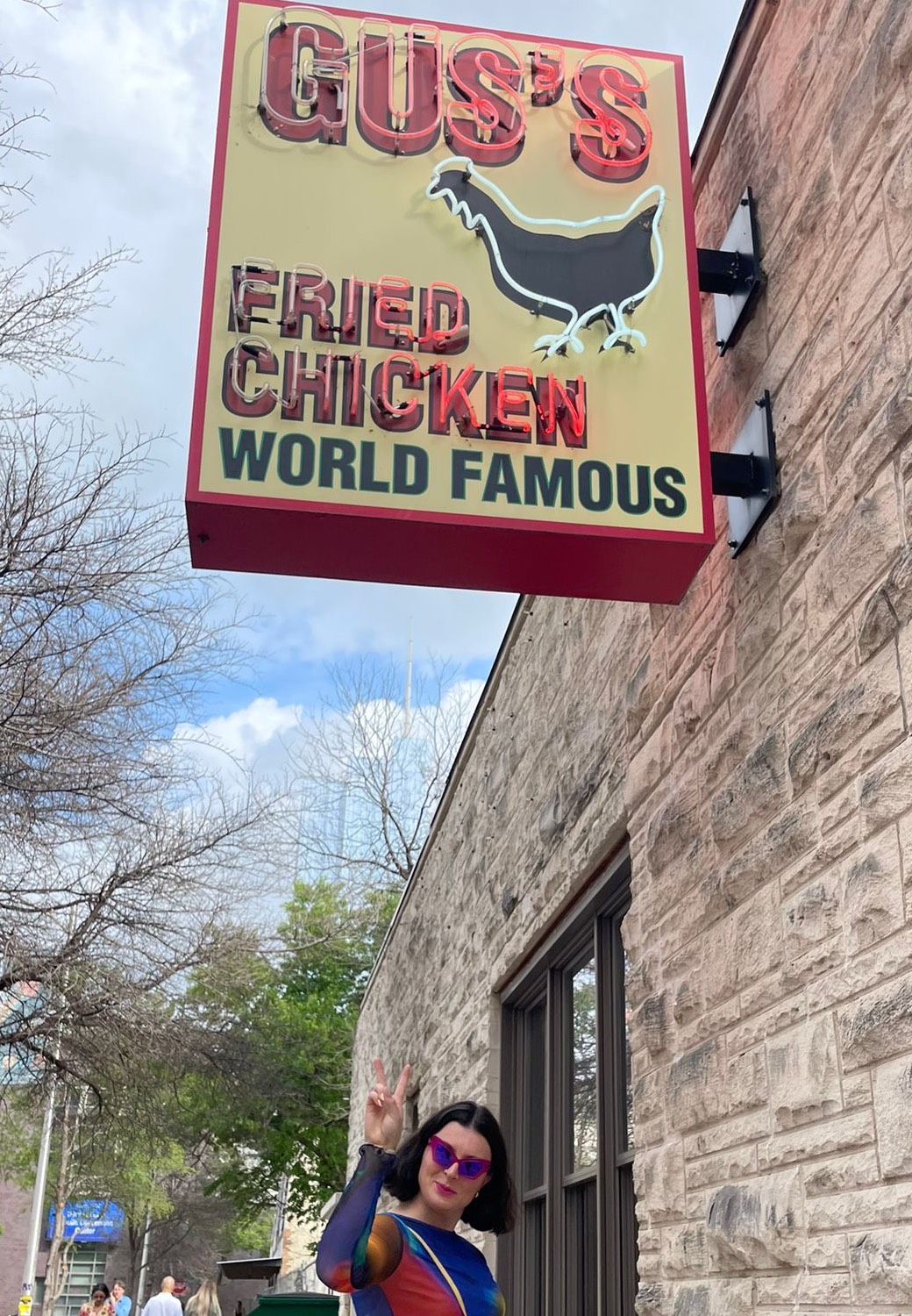 Following our dinner, we did have a meeting with a lovely PR lady from the UK at Starbucks, and somehow I left my favourite pink Poppy Lissiman sunnies on the table next to me. We left and I realised that I had left them behind, but after heading back 30 mins later, they were still sitting there.
Safe to say it has been a massive day. Once again my calves are aching and my body is starting to feel the effects of how big this week has been. Even though I have been pretty disciplined with my eating for most of the week (aside from BBQ on the first night, the cookies for dinner the other night and then fried chicken today, I've done quite well considering) and only drinking water or sparkling water for the week. I feel absolutely exhausted, but equally very full and so happy. This trip has been so amazing!
As I turn the lights off for the night to sleep, the lightning is going wild outside… and with all outdoor SXSW shows postponed or cancelled, my heart is really feeling for anyone who has lost a show tonight. I know how important each show is. Sending you all my love as I eat another handful of raspberries trying not to spill anything on the white duvet.
Until tomorrow.
Much Love,
Georgia