The iconic SXSW is being held in Austin, Texas, this week, and Australia and New Zealand is well-represented. Pickle Darling, Hans Pucket, ASHY, Hope D, and more have headed to the famous festival to showcase the music this side of the world has to offer.
Kiwi singer-songwriter Georgia Lines is also there, ready to bring her R&B-inflected pop to industry professionals and music fans. After her  2022 EP, Human, a vulnerable exploration of love and loss, debuted atop the New Zealand Albums Chart last year, she's now writing and recording her long-awaited full-length debut, which should take this proudly independent artist's career to the next level.
Rolling Stone AU/NZ asked Georgia to take us through her SXSW 2023 experience, and you can read all about her second day at the festival below.
More information about SXSW 2023 is available here.
Day 2 At SXSW
I attempted to start my diary entry about an hour ago, as I finished my first show for the week (I'll come back to that), washed my face with a double cleanse, of course, and proceeded to roll into bed, literally. On a side note, washing your face with a hot flannel has to be one of the best feelings in the world, on par with hopping into a bed with clean sheets.
Anyway, as I climbed into bed I got a call to head out to meet some people after my show at the British showcase. So, with my freshly washed face I literally jumped back into my clothes from the show and hopped into one of those bicycle cart things. I'm not sure what the official name is for it, but it meant I didn't have to add any more steps to my pedometer (currently on 14800 for the day). I stuck around at the showcase for however long it took me to drink a cup of soda water with a lime wedge, before needing to scooter back to bed.
Now I'm finally back in bed at 11:46pm with strangely sore calves, ready to recall all the moments that happened in my day to you all.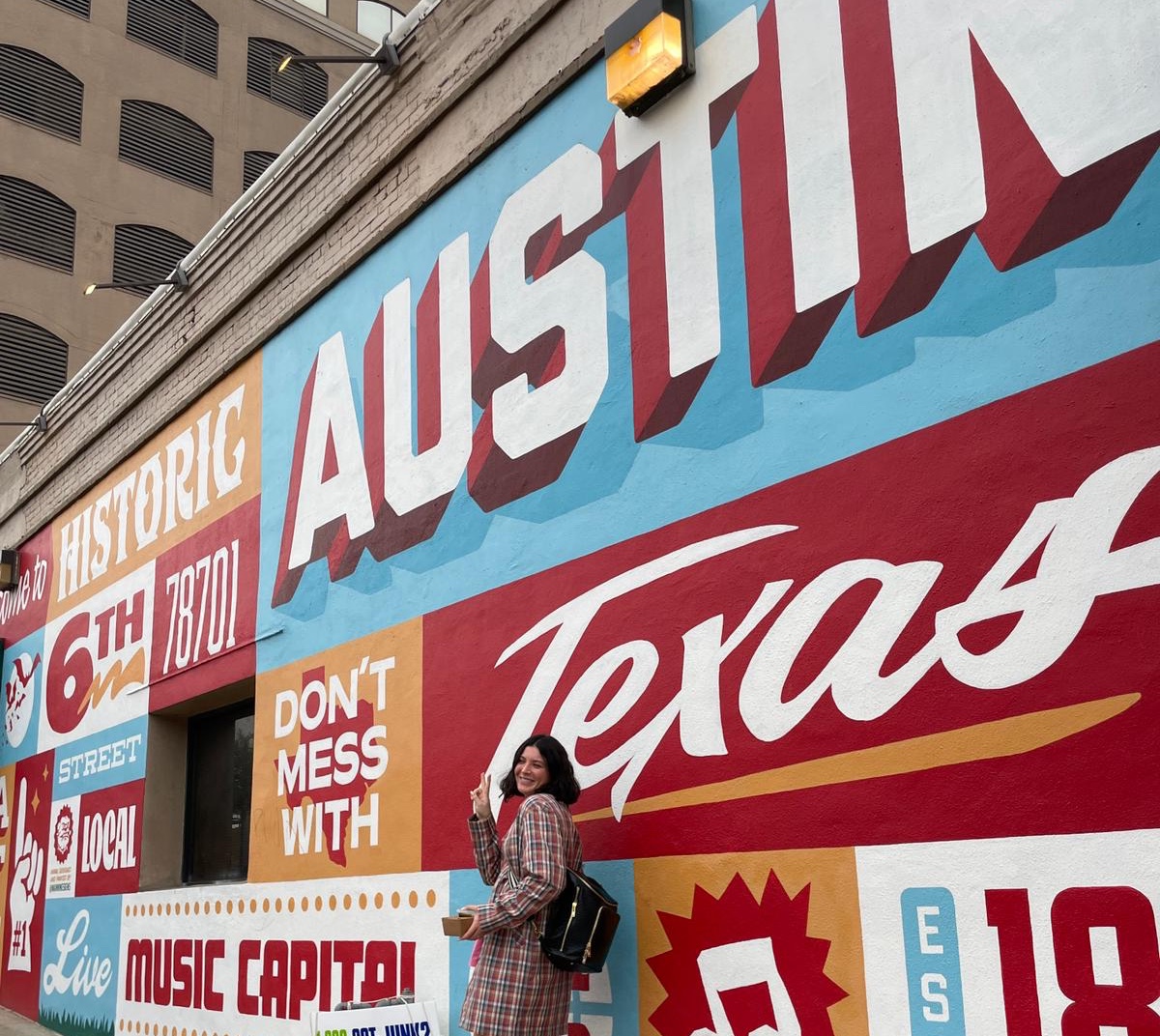 Somehow I slept for 12 hours last night, without waking up, which is unheard of for me. Clearly my body needed a big sleep and was still a little confused about what the time was in this new city. After having BBQ last night, I decided that I needed to fuel my body with anything but BBQ, so I went for my first walk of the day to Whole Foods to stock up on snacks.
Following yesterday's Hangry Georgia incident without my can of tuna on hand, I figured that I needed a snack drawer for the week. I am a sucker for organisation and beautiful packaging, and walking into Whole Foods, with colour coordinated shelves with fruit perfectly stacked and pre-cut, really spoke to me at 10:30am. So I ended up with pre-cut mango and vegetables sticks, a bag of granola for breakfast, deodorant wipes (which are not found in the fruit section in case you were wondering), bone broth sachets, protein bars, green juice, bananas, and electrolyte fizzy things which I thought would come in handy. There was also a Target conveniently next door, to which I dragged my double bagged paper bag of snacks around the store to find a few bowls and utensils to use so I didn't have to use the paper cups in the hotel for a breakfast bowl.
The afternoon rolled around super quickly, and we began our voyage to soundcheck. On the way we stopped at the Artist Lounge, which I was very excited for. I love a bougie hotel (which I can never afford to stay in, because lets be honest… I am a musician) and I also love free things. Not sure If I should admit that I am a real ferret when it comes to free things, but boy do I love walking past a conference stand to get something I may need/ possibly never use. I am also that person that will take home the free shampoo and free hotel amenities in my suitcase – which is something I also think I should keep secret.
After leaving the bougie hotel, we carried on to soundcheck, walking through the streets of Austin together as a band, carrying our gear, including my keyboard, which I love with all my heart until I have to carry it further than 5m (it's 32kg). During our voyage to soundcheck we stopped to have a little boogie to Vengaboys on the side of the road at the South American showcase (whilst still carrying our gear), but exited very quickly when I saw a yellow python around someone's neck. Snakes are my least favourite thing in the entire world, closely followed by macaroni and cheese, olives (unless they are baked into a dish) or tamarillos.
Finally made it to soundcheck, all gear and band members accounted for and ready for our show. With an hour and 15 minutes before needing to be ready for the show, a second trip was made to Whole Foods to make a salad for a post-show dinner. If you've never been to Whole Foods, there is this amazing salad bar inside that you can create your own salad with whatever you like and you just pay per weight of the box.
We all made it back to the hotel with our salads and snacks and started getting ourselves ready for the show. I wore this wonderful matching fish party set from Arthur Apparel with some yellow Marge Simpson beads and chunky green shoes (not practical for the walk back to the venue but they looked great) and some birthday cake lipgloss which was a real vibe.
To put in context what our first show was gearing up to be, it was a big one for us: the SXSW offical opening party. With 2000 RSVPs at one of the best venues in town called The Empire, I felt super lucky and privileged to be invited to play.
The show was great, the band was incredible, the energy from the crowd was amazing, we played a new song called "Monopoly" for the first time (it's not out yet….), and all the prep we put into the show before coming to Texas felt like it really paid off. A highlight of the show for me was how engaged the audience was! They were so welcoming, sang along with my sing along, did the dances that I taught them, and were so present with the show. To be honest, it was a really amazing first show!
The post-show adrenaline was a real thing – hence the strangely sore calves – but nothing that fried chicken couldn't fix. Remember when we brought those salads for a post-show dinner. well, mine is still in the fridge for tomorrow along with my snack drawer I secretly stashed in the hotel room.
Until tomorrow.
Much Love,
Georgia
View this post on Instagram