The following is an edited excerpt from Shake Some Action by Stuart Coupe. Released August 8th, also available as an eBook and audiobook.
Shake Some Action tells the story of how a gangly, music-obsessed kid from Tassie did everything and met everyone, capturing Coupe's four decades at the heart of the Australian music scene. 
From managing Hoodoo Gurus and Paul Kelly to collaborating with Tex Perkins to consuming way too much cocaine before interviewing Dylan, Coupe experienced it all. 
Shake Some Action is a book about fandom and burning to find the perfect words to pass that love on to others – and the myriad adventures, misadventures and personal costs that come with staying true.
In the below except, Coupe recounts accompanying Kelly on his first visit to New York City, including a disappointing stay in the iconic Chelsea Hotel.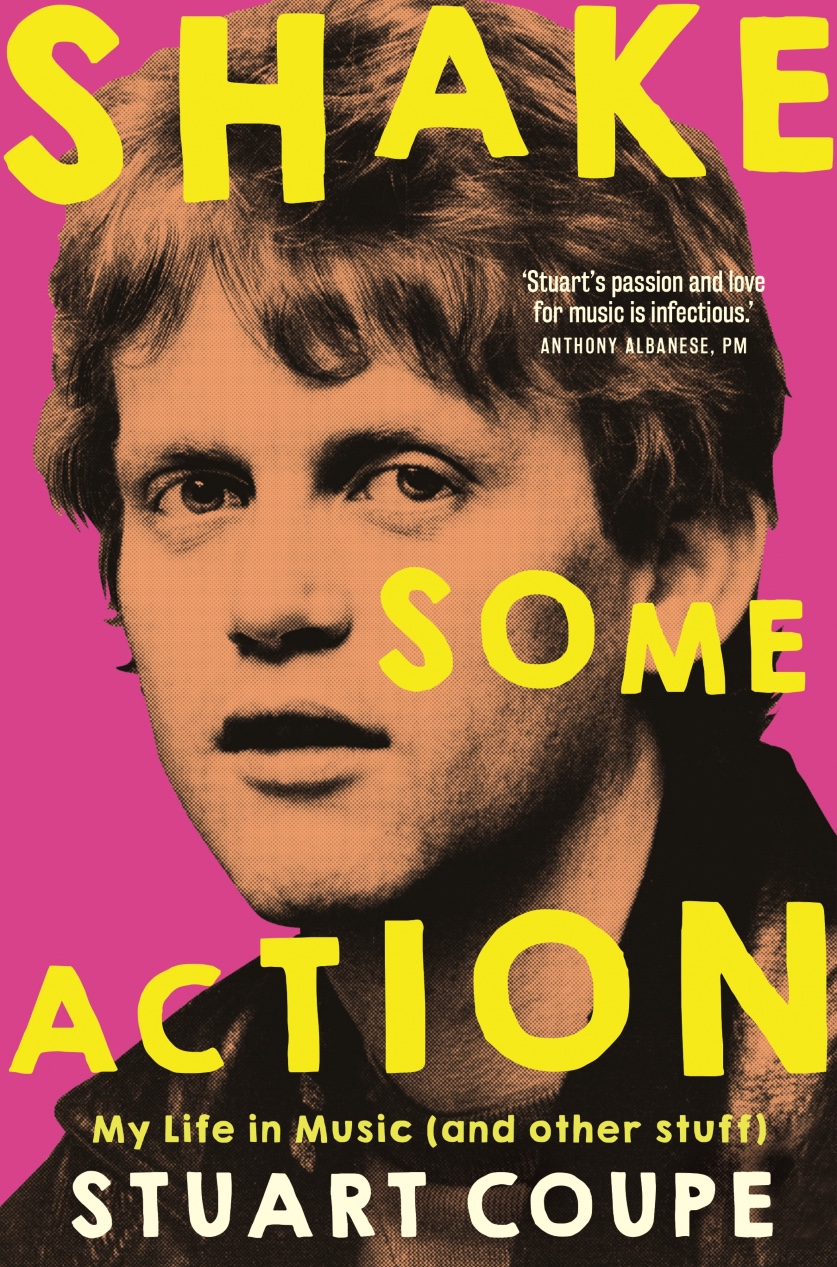 In 1987, I had a meeting with Gudinski and Mushroom's General Manager, the very affable Gary Ashley, to discuss all things Kelly (years later, Ashley would explain how he saw my relationship with Gudinski and Mushroom: "you'd go upstairs and hatch some ridiculous plan with Gudinski and then come down to my office, where we'd work out what was actually practical and doable").
So, at this meeting, Michael and Gary had a great idea. A really great idea. Remember, it was the music business in the 1980s. They thought Kelly and I should go to America for four to six weeks.
"To do what?" I enquired.
"Just drive, travel around," they replied.
Whilst the idea sounded attractive enough – both Kelly and I loved many, many things about America – the rationale seemed kind of suspect, not to mention that adventures like this cost money. Money we didn't really have. And if we did, we might want to spend it on things other than a boys' own trip around America. We might decide to make another record, or to pay the Coloured Girls more. There would be lots of options if we actually had the money in the bank. But Paul and I would be unlikely to decide to go for a drive… around America.
"Don't worry," they said. "We'll pay."
Kelly flew to New York. I had gone ahead and we met at the Omni Park Hotel in Midtown where we were staying. This was Kelly's first time in what some people describe as the Capital of the Universe. I asked what he wanted to do.
"Let's walk," he said.
We stomped 30 or 40 blocks down to Greenwich Village and had dinner. I was enjoying Kelly's wide-eyed examination of New York. I'd visited a lot prior to this and was in love with the city. Still am. Kelly was on his first date.
While in New York, we spent a couple of nights at the Chelsea Hotel. It was an iconic place – Dylan Thomas had been a resident when he died; Brett Whiteley had lived there and a painting from him (offered when he couldn't pay his bills) hung in the foyer; Sid Vicious had allegedly stabbed Nancy Spungen there. Patti Smith used it as a home base at one stage. It's also the hotel where Janis Joplin gave Leonard Cohen head and Bob Dylan stayed up for days writing "Sad Eyed Lady of the Lowlands". I could go on. It was famous – despite being a hovel. Our room was appropriately filthy, with cockroaches everywhere.
It had a drab sort of view of the back of other buildings, a door that wouldn't lock so we pulled a couch up against it at night, and a guy across the passageway screamed loudly and randomly – usually just when we were hoping he'd stopped for a while. The weather was decid­edly grey as well. So much for the romance of the Chelsea.
We had Thanksgiving dinner with the super-friendly, music-geeky Rolling Stone journalist David Fricke (who has always looked like the fifth Ramone brother) and his wife, Susan. In later years, Fricke recalled me and Kelly sitting on their couch, poring over a large road atlas like two would-be Jack Kerouacs, planning our examination of the America of our dreams. On someone else's dime. And so we did.