Cast your mind back to the carefree decade of the '70s for a moment, and you're likely transported to an era in which music was king, history was forever being made, and amongst the technological advances happening day by day, fashion was at the forefront.
A decade easily definable by the fashion that accompanied it, the '70s were an era hallmarked by self-expression, where art, music, and culture combined to create a world remembered for its freedom and optimism.
It's this very sense of bold creativity and optimism that serves as the inspiration for the new capsule collection borne out of a collaboration between Southern California-based, premium lifestyle brand, Brixton, and iconic soft drink manufacturer Coca-Cola.
Designed with the intent of celebrating freedom, good times and rock 'n' roll, the collection is inspired by the upbeat, rebellious music of the '70s, and the groundbreaking impact that it had upon the world.
"We are thrilled to be partnering with another heritage brand on this first time collection with Coca-Cola," says Brixton's CEO, Raphael Peck. "This is an exciting mashup for Brixton as our mantra is to unite people from a variety of lifestyles and what better way to do that than with Coca-Cola."
At its heart, it's a collaboration that makes sense. For almost 20 years, Brixton has been inspired by its Southern Californian roots and the collective of countercultures that paved the way for its very existence. Plus, given its own name is inspired by a song by iconic punks The Clash, such a focus was inevitable.
Meanwhile, Coca-Cola has spent close to 150 years cementing itself as a ubiquitous name not just in the world of soft drinks, but also design, marketing, and taste, with its very brand optics amongst some of the most recognisable in the world.
Together, Brixton and Coca-Cola have combined to craft a line that puts a refreshing twist on the classics, crafting men's and women's apparel which takes inspiration from the clear-eyed optimism that accompanied the '70s.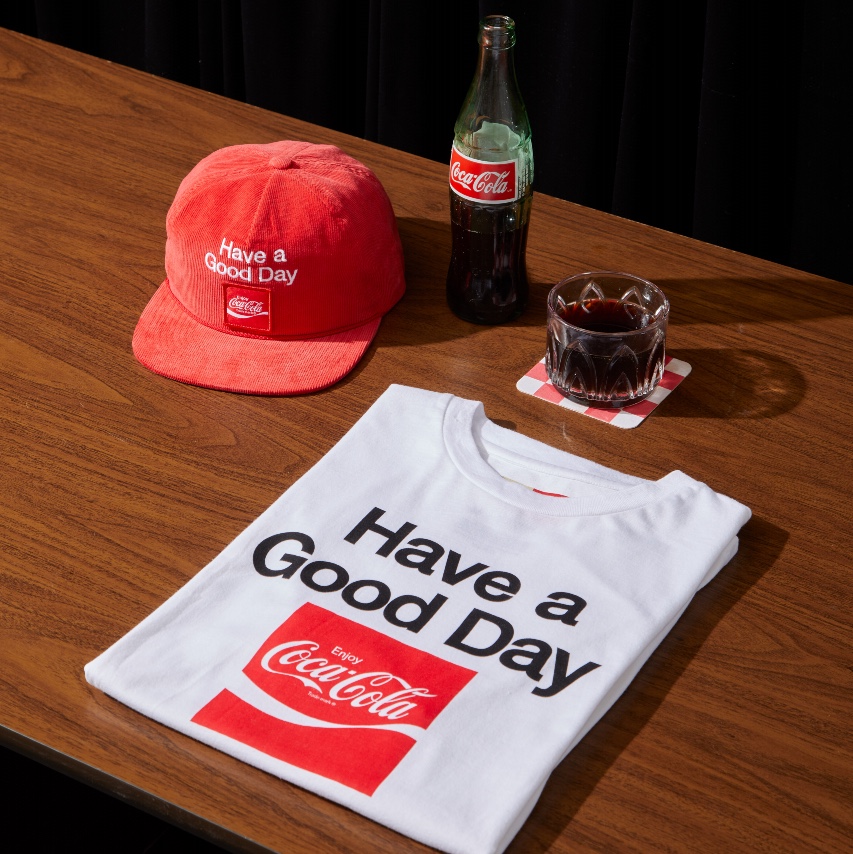 With Brixton itself having roots in apparel inspired by the spirit of classic workwear, utility gear and basic staples modelled on vintage pieces, the new line effortlessly fits in with their already-lauded pieces, albeit with the same sort of vintage and instantly-recognisable charm that is provided by Coca-Cola.
"This new collection accentuates the strengths of both brands," adds Coca-Cola's Senior Licensing Manager, Becky Anderson. "Brixton offers a contemporary interpretation of classic style, applying a modern twist to classic Coca-Cola graphics and slogans that hits all the high notes."
The new collaboration features bold graphics adorned with bright colours, and attention-grabbing statement pieces that aim to convey and reflect a carefree inner disposition, while reinterpreting classic styles paired with the classic Coca-Cola logo.
Some of the highlights from the nascent collaboration include the likes of Brixton's warm-weather styles, including their short-sleeve Olson Shirt and Carpenter Pants designed in a cotton herringbone. The outfit looks to evoke imagery of the retro delivery uniform, with its updates helping to modernise it for the current age.
Elsewhere, the collection features their Bunker Short-Sleeve Shirt, with two patterns available, including the iconic green glass Coca-Cola bottle with a starburst print, or the red-and-white checkerboard pattern – all of which are available with matching Voyage Shorts.
In addition to these, the new collection also offers a number of versatile utility gear and caps, tees and hoodies emblazoned with some of Coca-Cola's most memorable slogans, including – 'Have a Good Day' and 'Coke Adds Life to Having Fun'. Similarly paired with branding from both Brixton and Coca-Cola, the retro, carefree look not only captures the vibes of the '70s era, but matches with the nostalgic focus desired by fashion-lovers of the 2020s.
The full range of items in the new line from Brixton and Coca-Cola is available now via the Brixton website, with a versatile range available in both men's and women's options. 
While Brixton themselves will be the first to tell you that their newest collaboration is a perfect pairing, with the refreshing styles and bold designs proving that this new line from Brixton and Coca-Cola is truly the real thing.